Welcome to the first issue of Kop Treasures. This weeks article is brought to you by our highly acclaimed Kopblogger Gerry Ormonde. Gerry took over the sole running of Kopblog in 2006 which has gone from strength to strength with views and debates in a comical yet insightful way thus giving Kopblog a huge fanbase! In May 2008, Kopblog was crowned Best Football Blog for 2007-08 in the Football Fanzine Awards.
Kop Treasures
Issue 1
Written by Gerry Ormonde



Liverpool 1-0 Bruges
Date : 10th May 1978
Venue : London
Attendance : 92,000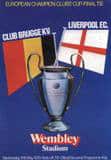 During more than 40 years supporting Liverpool I have been fortunate to have collected many special memories and I look forward to reading about some of them in this interesting new Kop Treasures series on This Is Anfield. However as I've been invited to get this series underway, I thought I'd get things kicked off with a less obvious one but it is special to me because it was my first really big moment as a Liverpool fan.
Before I get to my big moment, I better give you a bit of background. I'm from Dublin but my Father's side of the family are from Liverpool and so I got to spend a lot of time over there as a kid. My first trip to Anfield was in 1973 and it was a fantastic experience with goals from Kevin Keegan and Steve Heighway giving us a 2-1 win over Ipswich. Other games followed whenever time off from school allowed it and I loved those trips over to games so much that they became my Birthday and Christmas presents throughout the whole of my childhood and beyond.
In 1977 we were well on the way to winning The Treble. The league had already been secured and to my young mind all that remained was the 'œsimple' task of us picking up the FA and European Cups. I remember the excitement as the whole family, uncles, Aunts, cousins etc gathered around the TV to watch the FA Cup Final that year but alas it all ended in tears as the Mancs beat us 2-1.
I was devastated by that result and couldn't stop myself from sobbing like an idiot afterwards. But of course my sorrow was only temporary as a short while later we went on to lift the European Cup for the first time and all was right with the world again, although I still felt a little embarrassed about my previous tearful display in front of the family.
Twelve months later Liverpool had managed to get through to the European Cup final once again and had the chance to make history by being the first British club to retain the trophy. I got home from school one day to find my Uncle excitedly waiting for me. Somehow he had managed to score some tickets for the final and I could hardly believe my ears when he told me we were going to Wembley!

After spending the next couple of weeks walking around with a big stupid grin on my face the big day finally arrived and as we walked up Wembley Way and into the stadium, I just don't have the writing skills to adequately describe the experience. The stadium was about 90% full of Liverpool fans and the noise, the colours, the banners and the singing, created an atmosphere that was simply mind-blowing, almost dreamlike and a privilege to behold.
Once the game got underway the noise level increased to deafening proportions, but it turned out to be a hard old slog on the pitch. We were clearly the better side but their keeper was playing a blinder and we couldn't find a way through. As the game moved into the second half still scoreless, my mind drifted back to our defeat by the mancs the previous year at the same venue and I began to nervously wonder if maybe Wembley was just an unlucky place for us.
But I needn't have worried because in the 64th minute Souness played a lovely pass into Dalglish, and Kenny made no mistake with his finish. What followed was that fraction of a second of silence that you often get in such moments and then the place went absolutely ballistic! As Kenny ran towards us with his arms in the air, the noise level became ear-drum shattering . It was a magnificent tsunami of noise that built in intensity and swept over us all and I'll never forget those scenes of celebration, even now I consider them the best ever.
We had to survive a couple of hairy moments in the remainder of the game but we knew once we'd got our noses in front there was no way we were going to lose. As young as I was back then I was still aware at the end of the game that I had just witnessed history. The moment that Dalglish scored and ran towards us with his arms in the air was the moment that he became King and it was also the moment that, that team became Legends and I was there to see it!
As the team picked up the trophy and went on their lap of honour, there were great scenes of celebration on the terraces and we all sang ourselves hoarse. To my surprise I found that once again I had tears rolling down my face but this time there was no embarrassment because as I discovered on that day, sometimes tears feel great, sometimes they feel fantastic!

Click here to visit Gerry's Kopblog


Click here to find out more and get involved with Kop Treasures