This weeks Issue 3 and next weeks Issue 4 of Kop Treasures is brought to you by our TIA columnist Ste Speed where he reminisces over a special week in May 2001…. Ste is well known on TIA for his highly impressive ex-Red profiles written on players who left a lasting impression on the club! Ste also currently runs a weekly column and newsletter for the Vancouver Supporters Club.
Kop Treasures
Issue 3
Written by Ste Speed




Liverpool 2-1 Arsenal
FA Cup Final 2001
Date: Saturday, May 12th, 2001
Venue: Millennium Stadium, Cardiff
Attendance: 89,826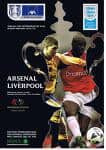 It was the week when Liverpool completed the historic treble of trophies, it started with the '˜Owen Final' and ended with the clinching of a Champions League spot at Charlton.
I watched the FA Cup Final against Arsenal at a barbecue being held at the house of family friends of my best mate Pat. It was gloriously sunny outside on that Saturday, has there ever been an FA Cup Final played without sunshine? It was the first Cup final to be held outside of England, at Cardiff's Millennium Stadium. These two team were only separated by one point in the final League table, Arsenal finishing second with seventy points and Liverpool finishing third with sixty-nine points.
Unfortunately these family friends were quite a reserved lot, unlike me and Pat, so it was difficult getting any atmosphere from them during the game. I don't recall a great deal about the first eighty two minutes except for the Henchoz handball, the Ljunberg goal and the fact we got absolutely pasted beyond belief including us clearing off the line a couple of times.
The game looked dead and buried, we were creating absolutely nothing and heads were going down fast. Then we got a free kick and when Gary McAllister stepped up to take it we sensed something magic about to happen. McAllister was in the middle of an unbelievable spell of goals and man of the match performances at the end of that season. Starting with the last second winner in the derby, he seemed to score the winner in a series of important one nil wins against Bradford, Coventry and most importantly Barcelona in the UEFA Cup semi final.
The free kick was knocked in an Arsenal defender headed the ball into the air it bounced off Babbel and fell in an amazing position to the one man you would bet your house on to score. Pat and I went absolutely berserk, our hosts were clearly happy and excited but managed to maintain their dignity as Pat and I jumped all over the furniture almost landing on people's heads!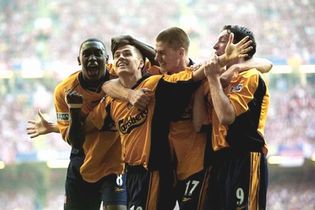 We managed to compose ourselves and sit back down for the restart just hoping we wouldn't blow it and hang on for extra time. We barely had time to discuss the goal when Berger hit a long ball over Arsenal's midfield. We saw Owen sprinting onto it but clearly Adams and Dixon easily had him covered. How wrong we were as the entire season flashed before our eyes when the ball crept past Seaman and into the corner of the net.
Oh my god, the house went insane as Pat and I burst out the patio doors and into the garden, shirts flying in the air in our dance of jubilation.
Lovely moment as Fowler and Hyypia invited club captain Jamie Redknapp, out injured long term, down onto the pitch to help lift the trophy. I remember his dad Harry, was commentating on BBC at the time and he had tears in his eyes at the moment, as did we. Incredible scenes that never seemed to end as the music was blasted the cans of ale were cracked open and the party just went on and on.
Team: Westerveld, Babbel, Henchoz, Hyypia, Carragher, Murphy (77), Gerrard, Hamann (60) , Smicer (77), Heskey, Owen. Subs: Fowler (77), Berger (77), Arphexad, McAllister (60), Vignal
The next few days went really fast and in a blur as the anticipation built for the UEFA Cup Final in Dortmund against unfancied Spanish side Deportivo Alaves. It had been sixteen years since our last European final and the hype building up to the game was massive. I don't think I've ever felt as excited before a game as I was feeling before this one.
Dont miss next Thursday's Kop Treasures when Ste continues this article in Part 2 of the 2001 Treble journey where he reminisces over the unforgettable UEFA Cup Final against Alaves…