Liverpool enjoyed another win courtesy of goals from Kuyt and Gerrard but missed several clear cut chances to kill the game off much earlier. Here's what the back pages are saying about the win:
The Guardian writes "Ignore the doubters, this Liverpool title challenge is for real." Before going on to praise the in-form Xabi Alonso:
"Such has been Alonso's form this season, it beggars belief that Benítez was happy to let him leave for Juventus in the summer and would have replaced him with Gareth Barry. His deep-lying midfield partnership with Javier Mascherano is seen in some quarters as a weakness for Liverpool in the Premier League, in that they do not commit enough men into attack, and as a result do not score enough goals to kill teams off."
And goalscorer Dirk Kuyt too:
"Heavily criticised over his inability to contribute goals as a top-level striker in his first two seasons at Anfield, Benitez has transformed him into a workaholic right-sided player, effective at both ends of the pitch. Kuyt was central to the three best moves of the first half: striking the crossbar after a wonderfully incisive counter-attack, presenting Robbie Keane with an unmissable chance (which he missed), and inbetween heading Fabio Aurelio's cross back past Jussi Jaaskelaininen to give Liverpool the lead."
Patrick Barclay in The Telegraph also praised Kuyt, describing him as "the true match-winner".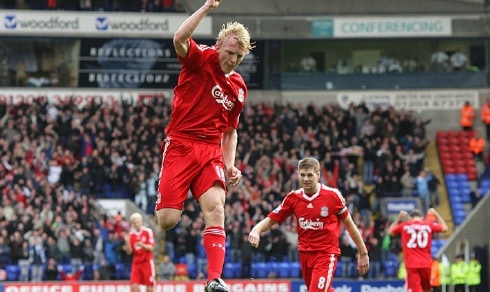 One man who wasn't so heavily praised was striker Robbie Keane who produced one of the misses of the season and was described as "hapless".
Both The Guardian and The Telegraph paid tribute to Benitez's side and the players' knowledge of the roles:
"His players clearly understand their roles at the moment and the holding midfield combination of Javier Mascherano and Xabi Alonso, who was outstanding here, is fundamental to their solidity as a unit."
"The manager who famously rotated his team for 99 successive matches is no more; now he merely changes the team when it is necessary. Unlike the other three members of the top four, there are few quibbles over what Liverpool's first-choice team is. Consequently, every player knows every detail of his role."
The Guardian concludes nicely:
"This win was achieved without two first-choice defenders, Alvaro Arbeloa and Martin Skrtel, and with the world's best striker, Fernando Torres, on the bench for the first hour. Liverpool have already proved this season that they can remain in contention even without the Spaniard and Gerrard in top form. The class with which the pair clinically constructed the second goal intimated they may just take the Reds beyond contention for the first time in 18 years."