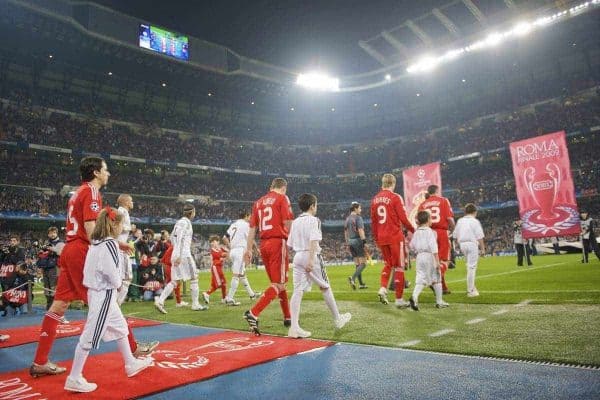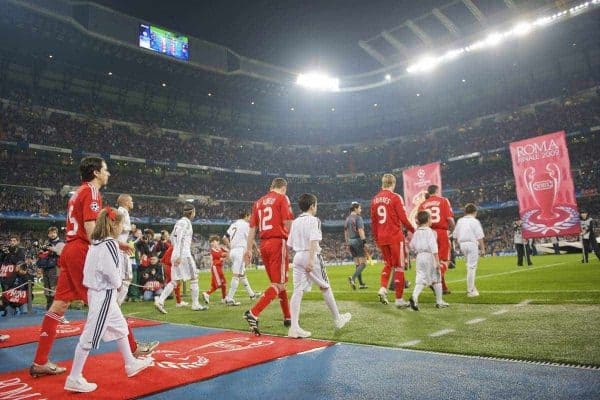 After a frantic day surrounding reports of Rafa Benitez's future, and with the bookies suspending betting that he'll be gone by next season, tonight we could eventually get down to concentrating on what today should have been about all along. Our match with Los Merengues.
And what a match it turned out to be. Although not a classic in terms of goals or overall entertainment, it was a good match. And it proved that we can play football. When we want to that is!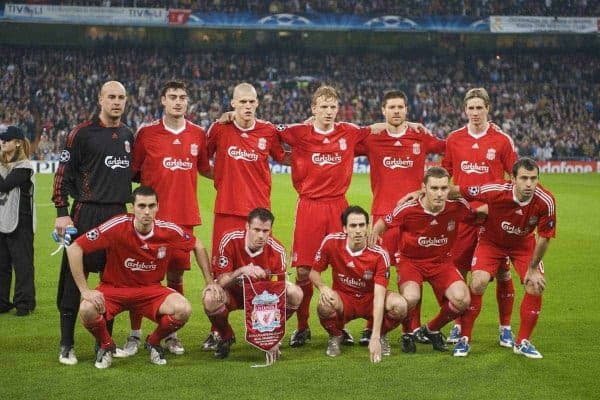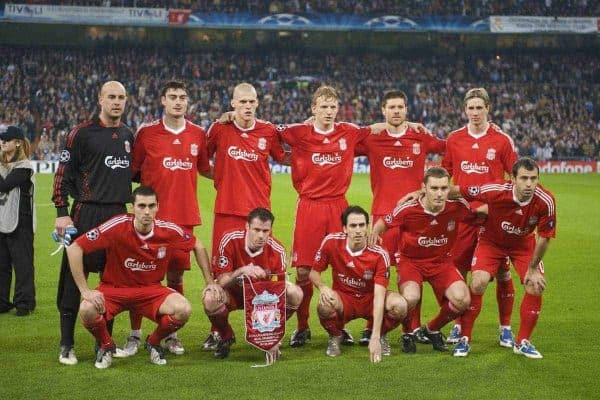 Overall, Real Madrid were a shadow of the team that thrashed Betis 6-1 last weekend. Even though it was the same team. Juande Ramos dropped no-one. Although Madrid's president did drop a huge clanger in the pre-match press conference yesterday by proclaiming that Los Blancos would win 3-0 here in the Bernabeu, and 2-1 at Anfield. Remind me not to ask him for help with my lottery numbers!
The leading scorer in the Champions League, Raul, was snuffed out by our central defensive duo of Jamie Carragher and Martin Skrtel who did a great job of containing both him and his strike partner Higuain.
Aurelio also deserves praise for nullifying the threat down the right wing of Arjen Robben. We know how lethal Robben can be from his time at Chelsea, so it was to Aurelio's credit that he kept him quiet all night. And Arbeloa did similarly well on the opposite side of the pitch.
After 60 minutes, with the score still 0-0, Fernando Torres went off injured with an ankle problem. Ryan Babel took his place up front. Our midfield bossed the game, and Xabi Alonso even had the cheek to try and beat Iker Casillas from long range. Almost worked too! But the man of the match, in the eyes of many fans, was Yossi Benayoun. He showed great movement all game, and he put in a beast of a performance.
All topped off with a goal on 82 minutes, after Dirk Kuyt was wrestled to the ground by one time Liverpool target Gabriel Heinze. Aurelio whipped in a fierce free kick from the right hand side of the pitch, and Yossi Benny Onion evaded and climbed above the entire Real Madrid back line to plant the header squarely in the centre of Casillas' net. Although I'm being kind to Madrid there, as they didn't really look like they were that bothered at actually defending the free kick, giving Yossi all the space in the world.
Real Madrid did try and get back into it with a free kick of their own at our end of the field almost directly afterwards, but it was fired way over the bar. Gerrard and Lucas got a few minutes run out as the game reached conclusion. 3 minutes injury time, and Rafa was spotted 'doing a Fergie' on the touchline – grabbing the fourth offical, pointing at his watch and moaning about the time added on!
In the end it didn't matter. 1-0 Liverpool and the vital away goal to bring back to Anfield in 2 weeks time.

On the forums, Zoky gave this post match analysis of how the team played:
Reina – Did well with a few crosses and corners when he came out, slipped a couple of times, but his goal kicks (usually one of his better aspects) were awful tonight.
Arbeloa – Okay performance, but nothing more than that. Obviously we were happy with him only to do his defensive job properly and that's what he's done. Looked a bit nervous in some interceptions.
Carragher and Skrtel – Very good understanding between the two, they've learned how to play together and are on a different level than before. They didn't have much to do to be totally honest.
Aurelio – Proved why he's our first choice left back whenever he's fit. Had Robben in his pocket, great strength, calm on the ball, and great delivery for the goal. Please stay fit.
Alonso – Hasn't seen much of the ball as usual, but off the ball he was really good. It was a little surprise when I saw the stat at about 75-80 minutes in the game – he had more than 10 kilometers covered, more than anyone in our team.
Mascherano – My man of the match. From the start he broke a dozen of Real's attacks. That's more of a Monster we've used to watch, hopefully he can raise his form even more in the coming games, he'll be crucial for us.
Benayoun – Hot and cold, but in the end, he gets you the winner, and in a game like this, it's priceless. Fought as hard as he could, yes he has lost possession a couple of times, but you need to be prepared to see that happen, because he actually tried to make something happen.
Riera – Probably alongside Torres, did nothing. Never really got into the game, and looked like Bamby on ice when he was in possession. Apart from being a help to Aurelio in a defensive way, that was all he did really.
Kuyt – Not the "headless" Kuyt we're used to, but a solid performance. He's looking sharp in the last few games, I love the way he's starting to show that turn with the ball in the first few yards and go forward.
Torres – Never got into the game too. Should have done better with the chance, it was amazing to see how far Pepe was when Torres got the ball and how he managed to almost block the shot. He'll need time to get back to his best, and it won't be soon in my opinion.
Babel – Probably the rarest time when I felt confident with him going on. Showed some willingness, pace and strength, but clearly you can see that tactically he's still pretty weak for his age.
Real Madrid: Casillas, Sergio Ramos, Pepe, Cannavaro, Heinze, Robben, Gago, Lassana Diarra, Marcelo (Guti 46), Higuain, Raul.
Subs Not Used: Dudek, Saviola, Sneijder, Metzelder, Miguel Torres, Van der Vaart.
Booked: Cannavaro, Gago.
Liverpool: Reina, Arbeloa, Skrtel, Carragher, Aurelio, Benayoun, Alonso, Mascherano, Riera (Gerrard 88), Torres (Babel 61), Kuyt (Lucas 90).
Subs Not Used: Cavalieri, Dossena, Hyypia, Ngog.
Booked: Torres, Mascherano, Riera.
Goals: Benayoun 82.
Attendance: 85,000
Referee: Roberto Rosetti (Italy)