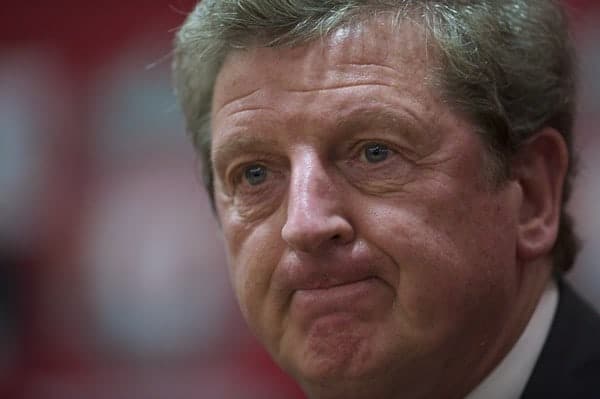 Roy Hodgson is an intelligent man. He went to grammar school, speaks several languages, has a rich vocabulary and commanding turn of phrase and – as he often reminds us – 35 years of experience in football management.
See also: How Hodgson blames everyone but himself
So why is this intelligent man behaving the way he is, and has been throughout his tormented reign as Liverpool manager – failing to acknowledge his deficiencies, blaming the club's problems on anyone he can find, stubbornly insisting that he's doing his best and acting with incredulity when others suggest it's not good enough?
The answer is entitlement. He thinks he's owed it. He believes that the Liverpool job is the crowning glory of a storied career and that not only can his fabled methods not be questioned, but they should be allowed limitless time to flourish.
And the problem – of course – is that the fabled career he's thinking of is one that's been faithfully and fancifully reported by his friends in the press, fuelled by his own imagination and hubris, and yet not borne out by his actual record and certainly not by his time at Anfield.
We've already heard him retell his palm-fronded arrival at the club last summer:
"someone who had been brought in with the pomp and circumstance, and the money it took them to release me from my previous contract, and being feted as one of England's best managers
Except of course he was grudgingly welcomed at best, by a group of supporters willing to give him a chance but knowing he was no Benitez, Mourinho or Wenger.
And since then he's upgraded himself from Emperor to Deity:
"having defied people they have started to crucify me"
Perhaps most famously, he took great umbrage at his management style being questioned, betraying both his ego and the journeyman nature of his career in his response:
"What do you mean do my methods translate? They have translated from Halmstad to Malmo to Orebo to Neuchatel Xamax to the Swiss national team. So I find the question insulting. To suggest that, because I have moved from one club to another, that the methods which have stood me in good stead for 35 years and made me one of the most respected coaches in Europe don't suddenly work, is very hard to believe."
Little wonder, then, that while he still maintains that he will not change the methods that worked so "well" at Fulham and that he "can't work better" than he is, he still quite regally brushes off the complaints of people who think that 12th place, Route One football and a team and support close to revolt is unacceptable. This despite taking charge of a squad that got his predecessor sacked for coming seventh and spending half the money he was given to improve it on Paul Konchesky and Christian Poulsen. People without those 35 years experience just don't understand:
"Fans are waiting for a man with a magic wand that can turn all of the ills that everyone has seen into something different. Those of us who work in the game and have been working in the game a long time know that magic wand doesn't exist."
But this isn't new in Hodgson. This isn't just the Liverpool job swelling his head and clouding his thinking. Here he is, interviewed by the Independent back in 2002:
"Of course, my track record, if people bothered to study it, would put me in the same category as [Sir Alex] Ferguson enjoys today, but people don't talk about what I've done outside England. Here, they just talk about Blackburn Rovers, but that's just a very small part of a 26-year career. To most English journalists it's the only part. I've got an excellent track record in Sweden, Switzerland, Italy and in Denmark, where FC Copenhagen was my last job before I went to Udinese. We won the league there by seven points."
Sound familiar? There's more that he's recycled since:
"You can be touted for future glories, then maybe a manager's fortunes change and the whole attitude towards him changes. Of course, it's wrong. If you've got the ability to be a good manager one minute, then unless people's judgements are totally wrong, that ability doesn't just disappear a few months later."
But here's the killer – the real clue to the entitlement that festered and festered, that was brought to the peak by a Manager of the Year award that to the rest of us was clearly an Underdog award or for Lifetime Achievement, but for Hodgson was pomp, circumstance and deification. Here he is discussing the England job, given to Sven-Goran Eriksson:
"I was sure he'd do a good job, as has been proven the case. But if you've been a candidate for the job, and you'd be happy to take it and somebody else gets it, then obviously any feelings you have for them are going to be mitigated by the fact that you wish it had been you. It [not being selected] didn't bother me. I didn't put myself up as a candidate. I was just pleased to hear that I was being considered. That was an honour in itself. It would have been an even greater honour if they'd said, 'You're the man'. But I understood that I was in competition with some other very strong candidates, names like Sven, [Terry] Venables, [Arsène] Wenger, all the top people in the game and you can't always expect to come out on top. I'm pleased they went for a good man and that it's working out because I would have been disappointed if they'd passed me over and given it to someone who wasn't very good and the team had done badly."
Manager of Liverpool is a late substitute for the career-capping job so far cruelly denied him. He should have had it then, and before, and since.
For it was always predicted that he would. Back in the pre-Sky era, when "continental football" got little press coverage, no TV coverage and YouTube was unimagined, Hodgson was always portrayed by his journalist friends as the dark horse for the England job. The well-kept secret of a brilliant English manager succeeding overseas.
No matter that his success was with small nations and small clubs in poor leagues, and that his one attempt at a big job (with Internazionale) was short-lived and ignominious – it was a great story, and one that fed on itself. He was brilliant – grammar school, five languages, league titles in Sweden – and he would one day land the biggest job of all for an English manager.
So when he lucked into one of the biggest jobs in club football – hired by men who don't understand the game, just looking for someone who wouldn't agitate and generate bad press like the last one – he took his house-of-cards history and bulletproof ego with him.
He can't be wrong. It's the players' fault, Benitez's fault, the owners' fault, the fans' fault.
The hoof-ball style of play, lack of width, unwillingness to press, disenchanted team, disenfranchised fans, woeful league position, future deteriorating every day he stays in the job – no one should mind him disclaiming responsibility and demanding patience.
He's entitled.