Ian explains the need for Liverpool supporters to stick together and avoid the negativity surrounding the club in the media.

The current negativity regarding the recruitment of our new manager comes across very much like a concerted attempt to eke out every possible angle with which to sling mud in the direction of the new owners and create divisions within the club. "Chaotic" and a "scatter gun approach" is the sort of terminology used regularly now with tangible cynicism in headlines such as "Liverpool snubbed again" and "does anybody want the Liverpool job?"
That uncanny ability to snipe from all sides, damned if we do, damned if we don't, knows no bounds. Whether it be manufacturing candidates, criticising the lengthy number of potential interviewees or condemning the process itself if one of the names rebuffs us, their disparagement is unwavering. If FSG thought they were conducting a thoroughly professional approach to finding the right man for the job, well the bad news is that the British media and others have other ideas. Conversely, had we chosen a successor immediately, I have no doubt there would have been stories now of clandestine "Klinsmannesque" type meetings behind closed doors while Kenny was still in charge and outpourings of how we rushed the appointment in panic mode.
But the criticism is not confined to the newspapers. How come the world and his wife also seem duty bound to stick their oar in? Whether they are wannabe journalists, fans forums or whatever, why are they so bothered? I am not sure about you, but if it doesn't affect us, I couldn't give a toss about what happens at other clubs but everyone seems obsessed if we are having a bad time and feels duty bound to take the opportunity to score points.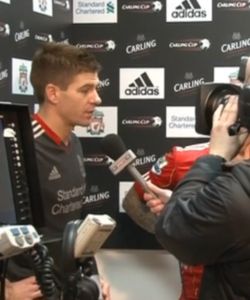 For example I have just read an article from some Wigan fan implying our success was only limited to the Shankly era in the days of black and white television, decrying Kenny and aghast at a perceived reluctance amongst some of us to accept that their current manager is not the best thing since sliced bread and wondering why we aren't welcoming him with open arms as our saviour. Equally we have articles from a Newcastle web site, drunk on the rarefied, dizzy heights of fifth place & wallowing in their fifteen minutes of fame to score points against Kenny and salivating at his demise.
Obviously our friends across the park are delighted with their new found supremacy on Merseyside and the situation at Anfield, that was a given, but they are oblivious to the fact that in our worst season in living memory, we beat them three times, won a trophy and only finished 4 points behind them. Still when they rush out the video "above the RS, were having a laugh" they can airbrush out those facts and blame it all on the referees, can't they?
Seriously though, if thick skin and a sense of humour is all that is required for this type of banter, what pisses me off more than anything is our ex-players coming out with damaging statements to provide ammunition for our critics to come back at us. A case in point is an article attributed to Steve McManaman where he states that the likes of Pep Guardiola or Jose Mourinho are "unrealistic" candidates stating that it is not like "twenty years ago". The irony was not lost on me that this was roughly the time when our "Macca" lined his own pockets by engineering a free transfer to Real Madrid by running down his contract here. The subsequent loss of his transfer fee played a direct part in our inability to compete at that time and contributed in no small part to the continued success of Jose Mourinho's current employers.
How the likes of him, Jamie Redknapp, Stan Collymore et al in their privileged positions have the nerve to criticise our club, when they were all directly responsible in some way for the position we now find ourselves in, defies belief. Of course I am not asking them to be "yes men" and tow the LFC party line, but they certainly need to take a long hard look at themselves in the mirror and remember that their inability to succeed in the nineties played a part in our downfall from the golden era of the seventies and eighties and led directly to the prominence of Manchester United from then on.

So with Kenny now gone again but Fergie still there, the most important thing is to back the new manager to the hilt regardless of your perception on the merit of the appointment. We all have our opinions and for what it is worth, I agree with what we are being told is the "type" of candidate preferred: i.e a young, hungry ambitious man who can develop & inspire a dynasty for years to come. I believe he should be given the means to develop and stamp his name on a side with a mandate for bright attacking football and unqualified support over the long term from everyone at the club and fans alike but more especially, the senior players.
Time and time again, we have discussed pivotal seasons and appointments in getting us back to what we believe is our rightful position in football's top table. Perhaps I am one of the very few who think we are only a midfield dynamo and a twenty goal man away from taking our seat again. But whether I am right or wrong, suitable investment in terms of the right person for the job and the means in the transfer market, is what is required now from John Henry and Co at FSG along, of course, with the decision on the stadium.
Important decisions indeed and that process should not have to be carried out under a back drop of dissension, especially within the ranks of those people over here purporting to have the best interests of the club at heart.
Significant times to be a red.
Liverpudlian