After signing from Roma for a reported £10.4million last summer, it's fair to say that Fabio Borini hasn't had the easiest of first years at Liverpool.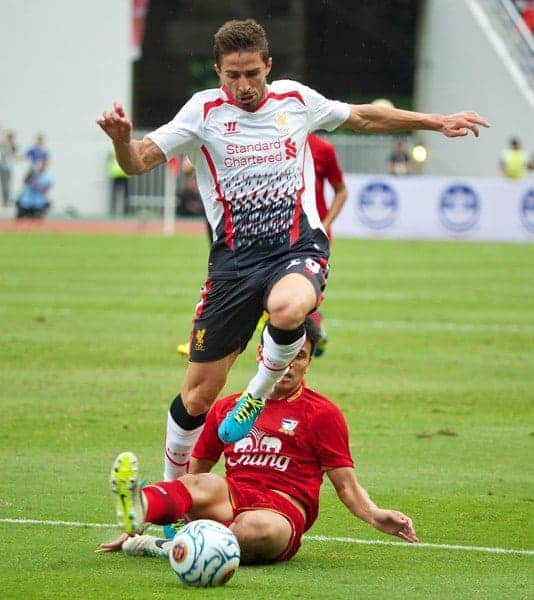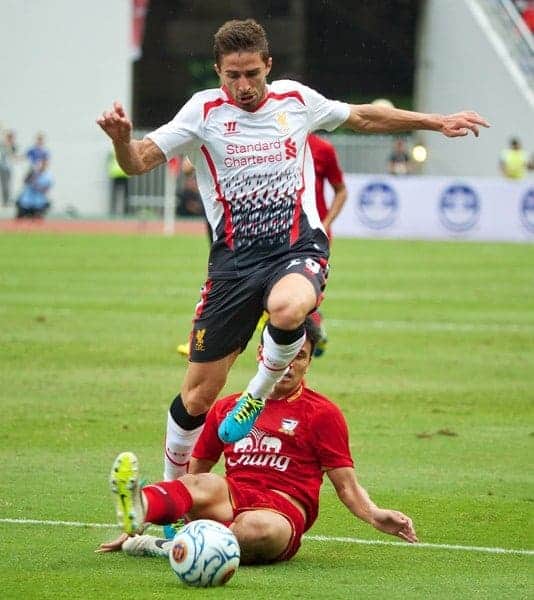 An injury ravaged campaign, coupled with the excellent form of fellow strikers Luis Suarez and Daniel Sturridge, saw his on-field opportunities limited and those who made their minds up from the handful of appearances that he did make, slated him off the pitch with some even calling for the Italian international to be sold at the earliest opportunity.
With reported interest from his previous clubs' city rivals, Lazio, there is no doubt some fans are hoping that a move does materialise but it does seem unlikely that Brendan Rodgers' first signing will leave so early into his Anfield career.
A move to Merseyside and a long term contract had hoped to provide stability for Borini, who had already played for 3 clubs at the age of just 21, but unfortunately a number of factors haven't fallen in his favour which led to him missing out on the sound footing everyone involved craved during his first year at Anfield. The problem we have now is that over a year on, things still aren't working for Fabio in a Liverpool shirt.
Internationally however, it is a different story for Borini. In the recent under 21 European Championships, he started three of Italy's five games and scored two instinctive goals – a very respectable return, but for us last season, in 10 starts and a further 11 appearances in all competitions, he scored the same amount. So why doesn't it come together for Borini at Liverpool?
The Italian actually has some underrated attributes that really suit the style of play Rodgers wants to achieve – the reason the new manager parted with the money to bring him in. Joining a team that was starved of attacking talent at the time, the new recruit was already under enough pressure but when Rodgers somewhat naively declared that the supporters "will love him" analytical eyes everywhere honed in on Borini even more so.
What those scrutinising would have found, is that Fabio is an intelligent player – he makes himself difficult to mark by getting in between defenders constantly, makes good runs in behind defenders and gets himself into good positions in the box. He's also athletic and he possesses decent pace which often sees him to get to the ball before backtracking defenders where he then holds the ball well, allowing players to get up in support and the team to push up as a unit. He has a direct style about him – pressing defenders when out of possession and always looking to move forward to cause problems for the opposition when we attack.
Another thing Borini certainly is, is an unlucky player and that's before even taking the injuries into account. Countless times in games and especially in the friendlies so far, he has made some great runs, but the ball never seems to find him with even Coutinho misplacing a pass! (Not forgetting the blatant penalty Fabio should have been awarded in the second half v Thailand!)
A tweet I read during that game alluded to this point magnificently (with @BreakfastPercy stating):
"To be fair to Borini, Aspas makes one run in behind and gets found. Borini makes it every five minutes and not even Coutinho finds a decent pass."
Clear cut chances are therefore few and far between for the Italian poacher and even though he doesn't help himself with some poor finishes at times, such as against Preston two weeks ago where he shot wide from 8 yards with just the keeper to beat, he never seems to get a redeeming opportunity.
His all-round play is scruffy and frustrating at times, wasting possession with misplaced passes which is undoubtedly another factor contributing to the increasing voices of discontent. But the loudest shouts of disapproval come in the form of his goal threat, or more to the point, the lack of.
To put it bluntly, the man with the knife between his teeth is in a spiral going nowhere. Going for periods without goals and positive contribution means relegation to the bench, which naturally effects confidence, further limiting game time which then gives less chance of scoring and improving.
So how does Borini get out of this spiral? The answer is game time. For me, the only way he can move forward is by playing his way out of the bad form. It is obvious that he is struggling as he looks out of sync with the rest of the squad but Fabio Borini desperately needs something to spark some confidence into him to get him firing. As cliché as it sounds, he needs a goal.