Marco Lopes take a realistic look at Liverpool's current situation and what the unspectacular 2012/13 campaign actually meant for the club.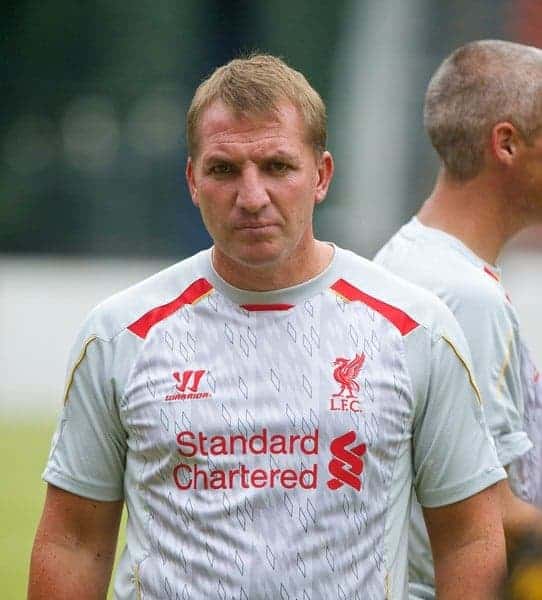 "Our idea is to pass teams to a standstill so they can no longer come after you. Eventually you wear them down."
Ah, the Brendan Rodgers anecdotes.
I remember being taken in myself – he sold it very well. The idea of "death by football", and some very basic, but immensely effective footballing principles. These notions that aren't easy to argue against given the successful application of such tactics in their purest form by Barcelona and Spain in the past few years.
Fast forward 12 months, and the sentiment is varied and curious. Rodgers has his doubters, some of them sensible ("7th isn't good enough for Liverpool FC"), some patient ("performances improved, squad being developed, progress is there") and some possibly seeking mental help ("Hodgson > Rodgers; plan B = hoof it to Andy").
Whatever your opinion, some key truths abide. Liverpool aren't title winning material – yet. They've been true title contenders for arguably 2, maybe 3 seasons in the last 20 years. There have been damaging managerial spells and even more devastating ownership reigns which threatened the very core of the club. The latter in particular started and ended during a 10 year spell in which the Premier League's competitiveness increased substantially, with the emergence of Chelsea and Manchester City as title contenders (fast-tracked by absurd money), the consolidation of Arsenal as trophy-shy bridesmaids (who are nonetheless consistent into getting into the top 4), and the smart spending of Tottenham Hotspur, punching above their money class and looking most likely to break into the top 4.
Rebuilding for Dummies
Liverpool have been trying to find a proper strategy to rebuild for 20 years. Multiple routes to rebuild have ebbed and flowed, but ultimately worsened and the decline has peaked in this horrid spell since 2010. However – the signs could be finally apparent that Liverpool have started rebuilding properly towards becoming the club they are supposed to be.
The rebuilding started off the field with FSG, and while many have been suspicious of FSG's intentions, all I see is a group of inexperienced, but interested and invested owners. They've been prudent, which I don't think is unfair to expect, given how complex Liverpool's case is. It's unusual to own a club that hasn't been in the Champions League for so long and yet ranks in the top 10 of the richest clubs in the world according to the Deloitte Money League.
Liverpool is one of 5 English clubs in the top 10 – but the lowest ranked of that group. If it wasn't for Liverpool's excellent commercial revenues, the gap would be wider than it already is between Liverpool and the other 4 clubs. Liverpool therefore need to get better results with less money than their main competition for Champions League places – no simple task. And in the same way a lack of Champions League football isn't attractive for certain transfer targets (Mkhitaryan), it also affects the appetite of commercial partners to sponsor or participate in the club's activities (remember Adidas?). Yet somehow, FSG and Liverpool have kept the commercial appeal of the club healthy to bring in much needed money.
The excellent piece by Nazareth Da Gama highlights other financial aspects of the club's recent accounts. Key considerations include the loan by FSG to Liverpool to assist in the management of debt (would disinterested owners do such things?); the frustratingly consistent compensation packages that have been required to arrange the departures of Benitez, Hodgson, Kenny and their respective staff; and the active efforts taken to reduce the wage bill in the interest of ultimately making funds available to strengthen the squad properly and effectively.
FSG's "gamble" on Brendan Rodgers wasn't – and still isn't – welcomed by many Liverpool fans who believe a manager with a better track record would have been a better appointment. But as the great piece by Simon Steers recently explored, bold decisions like that can pay off – if you back the manager, and allow him to build something that's not just an idea on the pitch, but off it as well. Rodgers' manifesto hasn't just translated into bringing a version of tiki-taka to Merseyside shores – it's a philosophy which is affecting the club's approach at all levels, from how the youth teams play, to how players are recruited, and which qualities the team prioritises.
It's a strategy, which in time, could pay off exceptionally well. High risk, high reward – but the signs that it could succeed aren't sparse if you examine them carefully.
Premier League Heavyweights
In the early days of the Premier League, despite not winning a title, Liverpool were considered heavyweights alongside Arsenal and the Mancs. Since those days, the top 3 changed to a top 4 (Chelsea) and now a top 6 (Manchester City, Tottenham) and even that's a tough argument for Liverpool's inclusion since they've only finished in the top 6 once in 4 years.
Brendan Rodgers' first season with a weak Liverpool squad, with issues in depth ("lack" of strikers), mismatches in talent (Downing vs. Coutinho), and the process of adapting to a new style of play amassed 61 points, 7 points shy of Liverpool's average points tally per season since 2000-01 (68) and a further point shy of the average points tally (69) for the 4th place finishing team per season since 2000-01.
Is it Liverpool standard? No, it isn't – it's a mid-table return for a team with many mid-table players, the majority of which were recruited by the past 2 regimes. However, it's also indicative of the "small" numerical gap that Liverpool have to close – made exponentially more difficult by the increased competition around them.
Liverpool aren't going to overturn the gap to 4th, let alone 1st by throwing insane amounts of money at the problem when they ultimately have less money to spend (or waste) than 4 of the clubs finishing above them. The prudent strategy would be to encourage stability in management, appoint a manager with solid footballing ideas that can apply in both the short and long term, employ more prudence in spending money wisely and efficiently (e.g. Coutinho, Sturridge), all while maximizing the obvious revenue drivers (e.g. the Liverpool brand) to bring in additional revenues.
Maybe I'm just refusing to be cynical – but the above is exactly what I see FSG, Rodgers, and ultimately Liverpool trying to do. I believe the seasons of regression are over, and a proper period of transition is now finally underway – but the lack of progress comes from a far more difficult task in a far more competitive league.
Tears Over Transfers
Naturally, one of the key elements to making Liverpool competitive in reaching the Champions League spots is that of transfers. The positive emotions from the start of this summer's transfer window have been replaced by the cynicism that comes with missing out on "big" players and the possible departure of Uruguayans with brains in their feet. Liverpool seem to be making the right messages, with Ian Ayre and Rodgers suggesting more signings are imminent. The squad's general health and composition don't lack for much – but Liverpool's biggest issue is creating a squad that can kick on and get those extra 7-10 points that could likely claim 4th place or higher.
Of course, it doesn't help that the club can't really approach the players they want due to the lack of European football. For example, while I'm being cynical, I never once expected Luis Suarez to hang around too long. Liverpool is a shop window for his talents, and whether he's scoring goals from the halfway line, dancing through Manc defences or biting Serbians, he's got the attention he's ultimately wanted. At his stage in his career, he'd rather be a bridesmaid than miss the entire wedding on the European stage, so to speak.

The frustrations in missing out on Mkhitaryan, and the rumours that players like Bernard won't even consider Liverpool due to the lack of Champions League football need to be tempered by a few considered facts. Liverpool aren't where they need to be, but they need to leverage the improved scouting network to build up to that point.
Consider this bold – but appropriate – comparison. At the beginning of the 2010-11 Bundesliga season, Dortmund signed two youngsters – Lewandowski and Kagawa, joining Gotze and Sahin in a young but well balanced side. Those players were in a side that wasn't going to play Champions League football that year. At that point, they weren't proven, expensive superstars with huge wage demands. No-one knew if they would blossom that quickly. They were pivotal to Dortmund's title success that season.
Now I'm not suggesting Liverpool will win the league this season, and I fully accept that the Premier League is a far more competitive prospect by comparison. However, it's a reference that Liverpool should be learning from, because smart scouting, smart spending and proper prioritization in the league campaign are critical to Liverpool's next few years. Rodgers has proved he can get great performances out of the young talents in the side (e.g. Sterling, Coutinho, Wisdom) and this is a good thing, given that Liverpool will need to rely on the development of youngsters, balanced by clever signings of experience (e.g. Kolo Toure) to properly develop the squad for future success, without the shackles of significant cash demands. The latest piece by Cameron Downer explains the importance of these "layers" of different levels of players in creating the squad.
It means that for some time, Liverpool will have to accept that the Cavanis, the Higuains, the Mkhitaryans and the Bernards will ultimately end up at the other clubs… for the moment. Ironically, nothing stops Liverpool, from going back to those clubs should those players be lining the benches and be crying for first team football in coming years (ala Coutinho).
In managing the transfers, Liverpool also need to take the hard line with getting mediocre players out and better players in, and so far, the signs haven't been lacking in that respect. A key issue is that of player amortization – and understanding just how much the overspending of Comolli and Kenny still cost the club. The large transfer fees and relatively high wages for players like Henderson and Downing (and previously Carroll) represent significant costs in amortization. Selling all 3 would make that money available for better value in players.
The idea of selling Henderson may be ludicrous to some, and will split opinion significantly, but I struggle to see him fitting into the Liverpool team in the long term. He has energy, and it has made a difference to a counter attacking style. Ultimately, however, I would expect Liverpool to play a more intensive possession based style, where Henderson lacks the technical abilities of a Joe Allen (or someone similar) in a "metronome-type" role, and he won't displace Coutinho in a central attacking midfield role. He ends becoming an expensive squad player given his wages and the transfer fees Liverpool have to accommodate for. Liverpool should rather invest that money in finding a more physically imposing defensive midfielder with the same energy, better defensive abilities and superior technical skills.
Liverpool have already done some excellent business with the departures of Shelvey and Carroll. Henderson, Downing, Spearing, Coates, Flanagan, Assaidi are the names in particular that I would highlight as the players who Liverpool could – and should – likely offload to bring in money to purchase better players. Downing may have improved under Rodgers, but a good day for Downing will never surpass a poor day for Coutinho (or similar) – so Liverpool have to ensure his wages go somewhere more valuable. Also, while many of us have a soft spot for Reina, cashing in on him is something Liverpool can only realistically do for one more season to receive a fair amount of money back.
I'm hopeful that Mignolet, Toure, Aspas and Luis Alberto turn out to be signings like Coutinho and Sturridge in particular, not least for their cost-effectiveness and instantly visible impact on the pitch. The pre-season game against Preston provided a highly encouraging glimpse of all the new recruits. Hopefully, Liverpool's remaining signings address possible gaps in central defence, fullback (either side), defensive midfield and – depending on what happens with Suarez – another striker or an additional attacking midfielder / right sided forward.
Transition vs. Regression
It's clear that Liverpool's lack of progress in past years hasn't been helpful in establishing the club at the top levels, and save for a brief period under Rafa, the club hasn't approached the concept of rebuilding correctly in the last 20 years. Too many fans would like to believe that rebuilding is simple – just buy all the current superstars, and you'll automatically rise to the top. Rebuilding to stay at the top isn't as easy as it sounds, and spending near-offensive amounts of money to get there in a quick burst isn't as sustainable as it needs to be. For all the millions he's spent, Abramovich has burned many a Pound / Euro while he plays an elaborate game of "Monopoly" with Chelsea. Even he needs to see returns at some point.
Too many Liverpool fans do not understand that this was the first PROPER season of transition. Years under Hodgson and Kenny were not transitional – they were seasons of regression, which occurred at the same time that Manchester City and Tottenham improved, further widening the gap. Liverpool have established a good foundation from which Rodgers can hopefully move the team further up the table next season – and if he does achieve this, it will be all the more impressive how quickly the team has recovered from its regression in one of the most competitive leagues in the world.
2012-13 didn't set our hearts alight with trophies, Wembley visits and dramatic title deciding matches – but in the grander scheme of Liverpool's future, it could be as important to the club because of the foundation it started. And with a sudden shakeup in England with the retirement of Ferguson, new managers at City and Chelsea, and uncertainty in North London, the opportunity may not come better for history to start asking new chapters to be written for Liverpool.