With the new season now just a few days away, Marco Lopes shares his seven wishes for Liverpool FC's forthcoming season.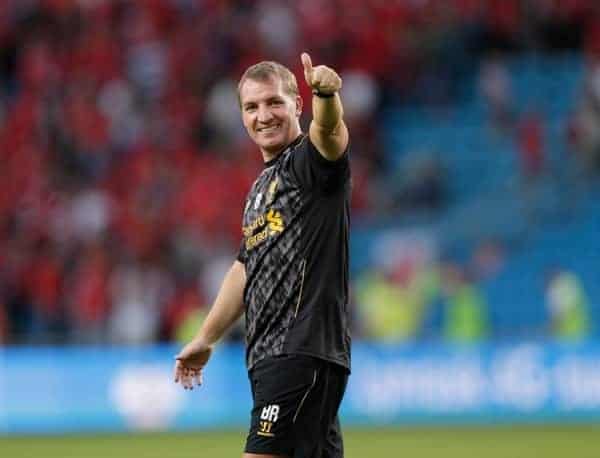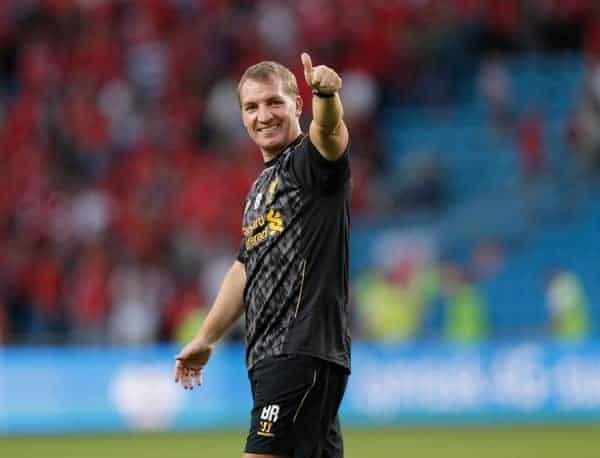 Finally it approaches.  No more dull empty weekends.  No more "appetizer" international tournaments.  No more pre-season fixtures to tease the football palate.
The tipping point is here.  The season is about to begin, bringing with it – for some Liverpool fans, at least – a renewed optimism and hope that despite the challenges the club faces, there are many reasons why we should be feeling positive about the season ahead.
With that in mind, I've got some requests to make of Brendan Rodgers and his young team. Some of them involve lessons (hopefully) learned from last season and some may feel like wild ideas.  Here's a season 2013-14 wishlist, from me – in the end, just another enthusiastic fan who's desperate to see great football deliver great results.
Tactics – Make set pieces a key source of goals
If there's one aspect of Liverpool's play that still leaves something to be desired, it's set pieces.  I'm not talking about direct free kicks – but rather all the opportunities Liverpool often get, particularly from the corner flag.
Something the Mancs got right last season was making corners a consistent and efficient source of goals. Given how often Liverpool win the opportunity to feed a ball in from the corner flag, their conversion rate of opportunities from corners is particularly sparse.  Across all competitions, Liverpool scored 10 goals from corners last season – which isn't a great statistic in itself.
It's not of course to suggest that Liverpool particularly need this – after all, last season Liverpool's "sub-par" attack (by comparison to other clubs in the league) still outscored 3 teams above them (City, Spurs, Everton).  But it couldn't hurt Liverpool to have the ability to punish teams with a well-delivered set piece.  Consistently doing so could give teams some defensive pause for thought when giving away corners against the Reds, or even be the difference in propelling the club to finish higher in the league.  Luckily Toure looks handy at corners, at least!
Tactics – play the high defensive line

"You win the ball back when there are thirty metres to their goal, not eighty."

Pep Guardiola
The high pressing principle does much to change the dynamic of Liverpool's attacking and transitional play. It speaks to creating different kinds of opportunities in the opponent's half, and a completely new level of dominating play.  Pressing high in practical terms forces more mistakes that can lead to goal-scoring opportunities, less time between possession-regains, and forcing opposition defenders into dangerous passes across their central channels or pointless long balls forward in the hope of finding a target man up the pitch.
Pressing high, of course, is dangerous.  Liverpool gave up more than enough goals on the counter last season to illustrate the danger of using a high defensive line.  Hence why it's correct execution is so important.  Tactics expert Jed Davies @TPiMBW has in a few of his articles cited the notion of zonal pressing – there's little point pressing on your own, but if a group of players presses together at the right opportunity, you're giving opponents less options to play a clean, low-risk pass to a teammate or forcing them to try their luck beating a man one-on-one.
The high defensive line doesn't just make a difference to defending – it speaks volumes about controlling the game, and being able to shorten the space between players.  Shortening spaces help conserve fitness levels, creates the opportunity for less risky passes and ultimately lends itself to maintaining dominance in ball retention, which is like bread and butter to creative talents like Coutinho who you ideally want to touch the ball often in and around the 18 yard area.
Fellow TIA writer @Kopology illustrated this perfectly with a couple of graphics.  To compensate for Carragher's lack of pace, Rodgers adjusted the team's shape to sit deeper (http://t.co/mRHGveS60e) in the second half of last season.  The results improved, but the risks of this shape and direct style were exposed as well.  Big spaces as pictured give fast, skillful players (think Aguero, Bale, etc) the space and opportunity to run at a relatively deep-set, static Liverpool defence, with little time for the midfield to retreat back to assist.  From an attacking perspective, being more compact (http://t.co/cPaviFxf18) allows for considerably more passing options for each player on the pitch, and with clever movement, Liverpool start being empowered to score goals in the fashion of Enrique's goal against Swansea.  It's a style which when executed properly, is just about impossible to stop, save for bad luck in finishing.
But it all starts with the high defensive line.  The signing of Toure (who is faster than Carra, at least) along with either another new centre back (hopefully) or, as the season develops, an improved Andre Wisdom, could easily empower Liverpool to start experimenting with this shape, especially against the weaker teams in the league, as a route to dominating them and making sure of the 3 points.
Tactics – Use the metronome
If there's one of the current crop of largely underestimated and maligned players Liverpool have in their ranks that I'm especially fond of, it's Joe Allen.  Many a fan has managed to forget his excellent performances – out of position – in the first few weeks of last season.  Many others ignored him in those matches because the results were unfavourable, but that was hardly Allen's fault, given how he played and the team's general discomfort with the new playing style at the time.  One also has to bear in mind the overall's squad's compatibility – or lack thereof – with Brendan's approach at that time, but many of the square pegs have been moved on to square holes since.  But Allen isn't just a round peg – I think his technique and understanding of the style could make him more pivotal if he's used in the right way.
To elaborate by way of comparison – the player I most enjoy in the tiki taka system employed by Barcelona is Xavi.  The Spanish maestro's role is a fascinating one to me, in that he operates not only as the coordinator of the orchestra's direction, but critically – the tempo.  In that is the clue to an expanded role for Allen.  As fellow TIA writer @Kopology wrote recently, Rodgers' Liverpool is a team of "two tempos". The team's ability to anticipate and execute a transition of style between patient possession and quick counter attacks will be critical to achieving the results required.
Allen's technique, passing ability, and general awareness makes him my choice to be the central channel through which many of these transitions should be decided and managed.  Allen's opportunities to play this role may be limited however, given that most of the time, I expect Rodgers to favour Lucas and Gerrard as the double pivot in midfield and Coutinho in a central attacking midfield (when the Brazilian isn't being using at left-wing-forward).  But while the chances to see the Welsh metronome may be few and far between, I hope Allen gets a few turns to conduct Liverpool's tune.
Transfers – Keep the trend and make January a great window again
When confusion and pandemonium caused Liverpool to miss out on Clint Dempsey, the fan outrage was extensive as if Liverpool had missed out on a "marquee signing".  12 months later, and Clint Dempsey's move to Seattle wasn't big news, if nothing else for the fact that those who lamented his move to Spurs didn't seem to bat an eyelid.  Don't get me wrong, I'm not endorsing the miscommunication that led to the deadline day drama in 2012 – but I'm certainly in favour of the idea that Liverpool don't buy players for the sake of buying them and that they prioritise value for money instead of glamorous reputations or impressive stats in only a handful of seasons.
The comparison, of course, is the January window of 2013, when a Chelsea misfit and a rough diamond from Inter were signed for less than the price of one petulant Uruguayan.  The rest is history.  Sturridge's goalscoring efficiency has been ruthlessly pleasant to watch, while Coutinho has produced passes and touches that are so sexy in football terms that they represent age restricted viewing.  Liverpool's January window was a resounding success. Not only for its timely inclusion, addressing some critical issues in the squad at the time (a tired Raheem Sterling, an attack over-reliant on Suarez for goals), but also because of its excellent balance in value for money.
Come January 2014, I'd love to see Liverpool repeat the trend.  Hopefully by that point, Liverpool have kept relative pace with the top 4 and are no more than 5-10 points adrift (if not less).  If at that point, Rodgers finally chooses to address the issues of a proper left back and defensive midfielder (cause he certainly doesn't seem to think they matter right now), those inclusions could be the difference between hoping for mistakes from the teams above Liverpool vs. crashing the top 4 party.
Transfers – Don't strengthen the competition in January
There's an ugly side to any transfer window obviously, and especially after recent weeks, Liverpool may be fairly excited to kick off their season and put behind them the theatre of dealing with transfer business.  This window has thrown up some key considerations – especially in the way of risks of players leaving.
Much has already been – and probably will still be – written about Luis Suarez's situation.  I don't think it's inconceivable that the Uruguayan will ultimately toe the line – for a bit – and eventually get his way back into the team, assuming a club doesn't snap him up before the current window.  But there's a theory in my head (or perhaps a hope?) that Liverpool manage to placate the striker into making a strong charge for the Champions League, and then he leaves at the end of the season for that move abroad he craves.  If it is possible to keep Suarez until the end of season 2013-14, I think Liverpool, and Suarez's ultimate asking price, could be better off for it.
Liverpool also need to hang onto other key assets.  This includes vice captain Daniel Agger, whose excellent defending, and ball playing skills seems to have luckily flown under Barcelona's radar until recently.  The need to retain the services of Coutinho are self explanatory.  I'd also keep a close eye on Glen Johnson.  Experienced fullbacks who can play this style in both fullback positions aren't very common, and Glen is – bizarrely – a highly underrated member of the Liverpool setup.
(This obviously assumes nothing dramatic happens before the end of the current transfer window… yes, I'm looking at you, Barcelona.  Stay away from Daniel Agger!)
FSG – Stick to what you're doing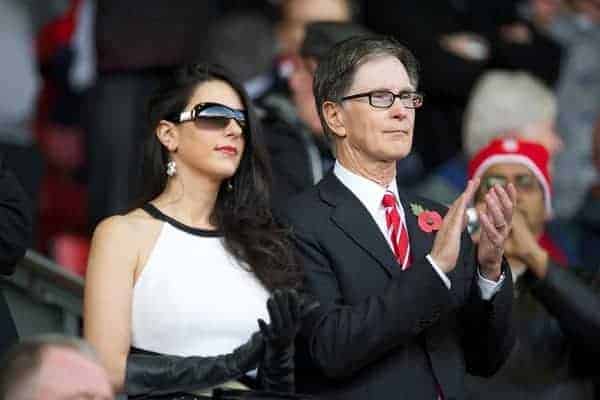 While the FSG doubters are still in out relative force, there's no doubt that the preseason performances and the team's application of the new style is slowly but surely winning the optimism of various Liverpool fans.
The strategy behind the squad meanwhile continues to show clues of FSG's ultimate intentions.  The purchases of Coutinho and Sturridge represent investments in qualified potential, guided by the assessments of the transfer committee, brought to life by Rodgers' management on the pitch.  The sales of players like Carroll, Shelvey and Spearing illustrates the hierarchy's idea of maintaining a squad of players that can and will add value to the team's results given the investment made in them.  It can feel ruthless to some, but just because certain players appear to be "decent blokes" doesn't mean they can play football to the level desired by Liverpool.
The most recent signal of FSG and Rodgers' intent and principles is the handling of Suarez.  The Uruguayan's failure to follow the reasonably standard process of putting in a transfer request and initiating mutually beneficial negotiations with the parties involved, combined with his attempt to drive a Liverpool trial by media has backfired. Not only by way of a considerable lack of sympathy towards Suarez from the media (how ironic), but also the firm stance by Liverpool to not sell.  Assuming it isn't media mind games, it's clear that FSG and Rodgers consider Suarez an asset that must contribute to the club's footballing fortunes, or its financial ones through a sale, but on the club's terms (as opposed to his own).  It's an approach that has illustrated considerable courage, even if it means that right now we're unclear as to whether or not he'll stay, let alone play in a Liverpool shirt again.
You'll always have those who are still suspicious of FSG.  The only reason I'll disagree with them is because FSG haven't yet done something significantly contrary to their often communicated strategy of building for the long term.  They've invested money (both in clearing debt and transfer money), listened to the fans to the point of appointing their chosen manager a couple of seasons ago, and they've made mistakes along the way.  They've been slow to move on the stadium issue, but they've moved.  They haven't implemented sufficient leadership.  Their communication is inconsistent.  But they've learnt from their mistakes along the way.  They're making less and less of them too.
Campaign – Prioritise the league
The football landscape has changed significantly in recent years. The explosion of the sport's financial growth has affected how clubs prioritise competitions and the way they build and apply squads in their respective campaigns.  One only needs to look at the financial significance of the Champions League – matchday revenue, broadcasting revenue, commercial revenues, reputational leverage, attracting quality players – to understand how suddenly a simple table placing surpasses a glorious day out at Wembley.
There was a charm and a romance about Kenny's second spell as manager, but even though Liverpool had the chance to win two trophies, the season had damaging consequences to the club's future competitive outlook, particularly in terms of the money spent in the respective transfer windows.  It's not to say that the currency of Liverpool has changed from trophies to money.  But it has changed to the right trophies, and those trophies are, quite simply, the league and the Champions League.  The club has to build to compete and win those trophies because it is only those that matter.  And to do that, the club relies on the finance and the prestige (amongst other sources of money, naturally) of elite European competition.  It's not about becoming the next Arsenal – it's about learning from them (and other clubs who prioritise in similar fashion) to get the club to where it needs to be in the long term.
For that reason – I'll make a bold suggestion.  The romance of domestic cup glory is unfortunately just that – romance.  There's only one competition that matters – and should matter – this season.  It's the one with 38 games, with the most favourable schedule in recent memory, backed by a strong pre-season showing, and the first time in 5 years that a Liverpool manager's managed to be there at the start in successive seasons.
It's not about missing out on an open top bus parade – it's about making the steps that need to be made in this season, and the next, that set up and build up the club to the point where it's challenging consistently for the open top bus parades that really matter; the ones that get sung about, the ones that create legends and the ones that defined Liverpool football club in the first place.
Bring on the new season – the next step.  Make us proud, Liverpool.  Make us proud.