Liverpool Football Club have confirmed that the trend in shirts being sold at the official club shop is continuing – in that 'COUTINHO 10' is the most sold name and number.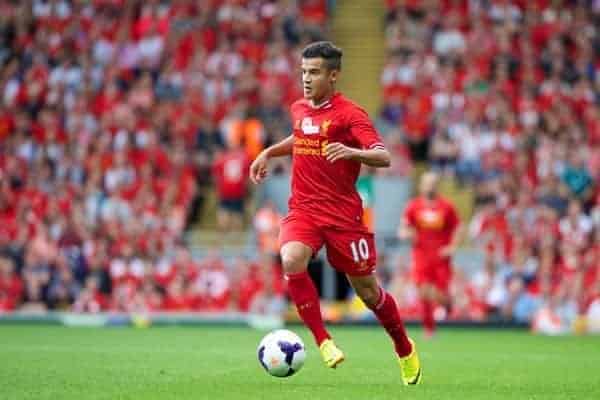 As the new season approaches, and Liverpool's new home shirt is selling like hot cakes, more shirts with the Brazilian attacker's name on the back are being sold than any other player.
Reds boss Brendan Rodgers says he has noticed the difference in the city of Liverpool.
"You look around the city now and there are so many kids and people who have 'Coutinho' on their shirt," he told the club's official television channel.
"They obviously love watching him like I do. I'm fortunate enough where I get the chance to see him every day.
"He's a wonderful talent, a player that creates goals and scores goals. He's a joy to watch. He'll play a big part for us this season."
Speaking after Liverpool's 2-0 victory over Olympiakos on Saturday, Rodgers said that he was delighted with how the squad was shaping up during the pre-season games.
He added, "I've been delighted with the appetite and determination of the players. That's five games we've played now in pre-season and we haven't conceded a goal.
"Today's opponents are Champions League opponents. It was a really good test for us in where we're at in our conditioning.
"We've still got a couple of weeks to go before that first game but everything is going along really well and we're in good shape."
[table id=24 /]