A somewhat downbeat Brendan Rodgers this afternoon answered questions ahead of Saturday's trip to Villa Park, expressing the need for signings to improve the first eleven.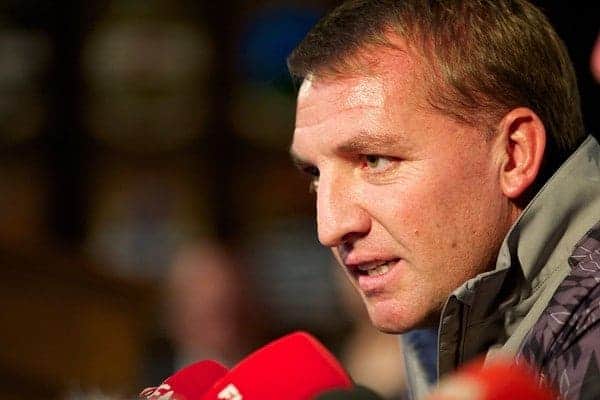 Rodgers, usually upbeat and positive in his press conferences, explained that the club had been ambitious in their targets this summer but now must move on after failing to land them – namely, Henrikh Mkhitaryan, Diego Costa and most recently Willian.
"If you're going to climb the league, you need quality," said the Liverpool manager. "We've got 11 days to go, we have to do everything we possibly can."
These words followed on from his comments urging the club to sign such "quality" over the past month.
11 days ago, Rodgers was confident of new signings and spoke of the need to improve the first eleven, rather than just the squad:
"The players we have brought in have added great depth and support to the team, but that bit of quality now coming into the group could really set us up."
That quality has not been forthcoming since, with only Aly Cissokho arriving as cover for Jose Enrique at left-back, another to improve the squad rather than the starting 11.
Last month, Rodgers explained similarly:
"It's not really about numbers, it's about quality."
Now, with less than a fortnight remaining, Rodgers appears to be unhappy at the failure to bring in that quality he has urged the club to sign.
Rodgers also spoke of the need to sign a centre back, saying that is an area they are certainly looking to bring in a player – which would then enable Andre Wisdom to go out on loan, as planned:
"It's something that we're looking at, certainly, a player to come in in that position [centre back]" he explained on Thursday.
Rodgers said a month ago:
"We want that extra bit of quality at the top end of the field.

"If we can do that over the next number of weeks we'll be happy."
That quality hasn't arrived, and Rodgers does not seem best pleased.