Sebastian Coates is like some act that was destined for great things but has somehow ended up on the bleak club circuit, writes Neil Poole.

The Uruguayan hasn't been performing on the stages he had hoped for or as often as he would have liked and he's caught in a rut. His act has just died on his arse, he steps up to the microphone and he says, "I'll get my coat." But as he steps off the stage to go to his next gig were things might work out a bit better he trips and knocks himself out. A pissed man, stands over him and sighs, "You're going nowhere son."
Things just haven't gone to plan for Sebastian Coates since his arrival at Liverpool in the summer of 2011. There's little sign of an upturn in his fortunes anytime soon. Having damaged his anterior cruciate ligament whilst playing for Uruguay against Japan last week, he now faces 6 months on the sidelines.
It may be a rather agricultural way to assess the success of a player but its telling that Coates has been at the club two years and every other fan still mispronounces his name. It's fairly easy to establish his name is no longer at the forefronts of many people's minds and not on the tips of their tongues; they simply haven't had to use it that much. Coates has not made the impact he would have wished for, and while some of this must be of his own making I still can't help but feel sorry for him.
It should have been different.
Coates arrived at Liverpool aged 20, already with real pedigree and full of promise. He had worked his way up through the ranks at Uruguayan club side Nacional from the age of 11 and was an ever present in the side from the moment of his debut in 2009 against Bella Vista. In 2010/2011 season he scooped the Uruguayan Championship Player of the Season and Defender of the Season awards.
Furthermore, he turned up in Liverpool fresh on the heels of personal international recognition in the Copa America where his assured and mature defensive displays had seen him win the award for the Best Young Player of the tournament.
At a time when eyebrows where being raised for the over-priced signings of Stewart Downing for £20 million and Jordan Henderson for £16 million, the £7 million acquisition of Coates seemed to represent real value. Furthermore, the promise of unleashing the untapped potential of the young Uruguayan set the pulses racing of the more romantic Liverpool fans far more than the similarly priced Charlie Adam who we all knew wouldn't be able to improve on his previous season at Blackpool.
In addition, and as is the trend in football, he came from a nation going through a footballing purple patch that was spouting out good players left right and centre. Just like France in the late 90s or Belgium or Spain in more recent years it seemed (and still seems) that picking a player from Uruguay improved the chances of success. Suarez and Cavani weren't bad after all were they?
But fast forward two years he has only started 17 games for Liverpool, making 24 appearances in total. Last season he made 12 appearances, only 5 of which were in the Premier League.
Sebastian Coates exists largely lost and forgotten in the shadows at Liverpool Football Club. Nowhere is this better illustrated than when recalling Coates' stand out moment in a Liverpool shirt. 99% of you will know what I am about to write but I'm willing to bet the majority haven't discussed it in the pub many times: his goal against QPR in March 2012; a spectacular overhead scissor kick from the edge of the box.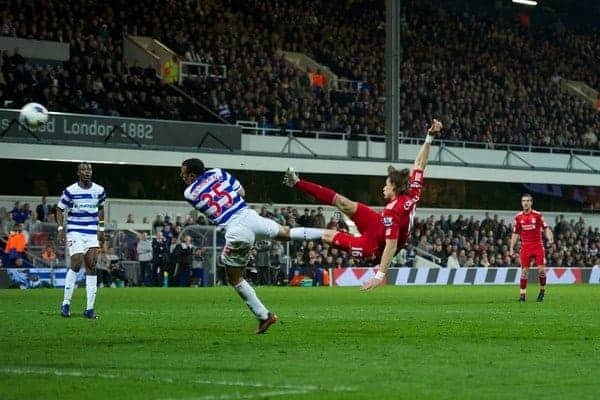 The football Gods have a cruel way of ripping up the script and making quirky quiz questions out of potential threshold moments in players' careers. That goal should be talked about for years to come. But it won't. The reason being it was ultimately a very feint silver lining on the thunderous black cloud that was the complete defensive capitulation to a poor QPR side that was very lucky to escape relegation that year. Had we won that game, had the second half of the 2011/2012 league season not been so soul destroyingly bad we would joyously recall the goal. Now, it just reminds us of what came next.
But why hasn't it worked out? You may cry out because he's s**t! You're entitled to your opinion. However, if we work from historical evidence that he is at the very least a capable player, it is arguable that he is both a victim of circumstances, but has also failed to make the most of the few opportunities he has had.
Players bought under a previous regime often suffer when a new manager derides into town, critical of what has come before and wanting to shape the team in his own way. The highest profile casualty in the summer of 2012 was Andy Carroll, sent on loan to West Ham. Charlie Adam was sold to Stoke. Jordan Henderson would have gone too if he hadn't resisted the attempts to ship him out to Fulham as part of the proposed deal for Clint Dempsey. Stewart Downing was well on his way to being kicked through the door in the January transfer window if it hadn't been for a late reprieve.
It is the survival and the relative flourishing of Henderson during the 2012/2013 season and the temporary stay of execution awarded to Downing which is indicative of why Coates wasn't similarly able to force himself into the team.
When given the chance Henderson and Downing upped their game and in threadbare squad, at least to some degree, flagged up their use to the team. For Downing, his interviews at the time revealed that his slight improvement was because he didn't want to be sold. For Henderson, you get the feeling that it's the more noble and virtuous act of wanting to prove that he is actually good and can be a Liverpool player.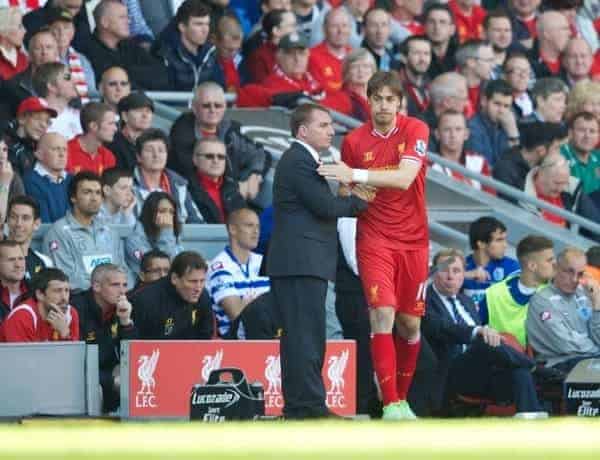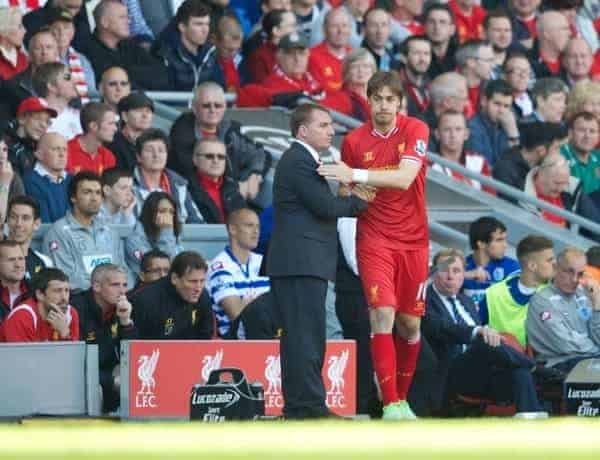 Coates was some given some chances in the Europa League and the League Cup in the earlier parts of last season but he did little to convince Rodgers of his worth to the team. A string of shaky defensive performances coupled with poor results led to limited game time.
Football is a team game and every goal or every defeat can't be put down to Coates just because he took part in those games. But simply put, if you are Sebastian Coates, a central defender, taking parts in only a few games and in those games the team concede 3 goals against Young Boys, 3 goals in defeats to both Udinese and Swansea, and a goal apiece in a defeat to Anzhi and a nervy win against Mansfield, it just doesn't look pretty.
Then Oldham in the fourth round of the FA Cup happened. There were many culprits that day but there is no denying that Coates had a torrid time as he was run ragged by Oldham's Robbie Simpson and Matt Smith in the depressing 3-2 defeat.
After that game Coates didn't then play again until the dead rubber and penultimate game of the season on May 12th against Fulham. He then got a run out as a late substitute for 4 minutes on last day of season against QPR.
Unfortunately, for Coates he plays in a position were mistakes lose games and those mistakes are clear for all to see. Under the microscope that is Liverpool Football Club it is difficult for any manager to give a central defender too long to bed in or adjust to a particular style of play. Whether rightly or wrongly neither Dalglish nor Rodgers saw enough in Coates which made them persevere and ride out the storm until his confidence came back and his talent could come to the fore.
And so it was, it looked like Coates was on his way out. You felt that he just needed to start again, probably in a different league better suited to his game and give himself the chance to become the player it looked like he could two years ago. Then he gets this serious injury, scuppering any chance of a move.
He was about to get his coat and leave. But someone has hidden it. I hope for his sake he has a change of luck and he is able to wear the same Coate he wore in his Nacional days and often puts on when playing for Uruguay.