10 days to go. The transfer window remains open and Brendan Rodgers is keen to do business. Here's the latest round of Liverpool FC transfer rumours.

Luis Suarez
It had all gone quiet on the Suarez saga of late, Arsene Wenger had admitted Arsenal had given up their pursuit of the player, and Liverpool were busy posting pictures of the Uruguayan sporting a beaming smile on every media platform available.
Then on Thursday evening The Guardian teased that they would have news of a "twist" in the saga. That "twist" is that they claim Real Madrid will bid for Suarez.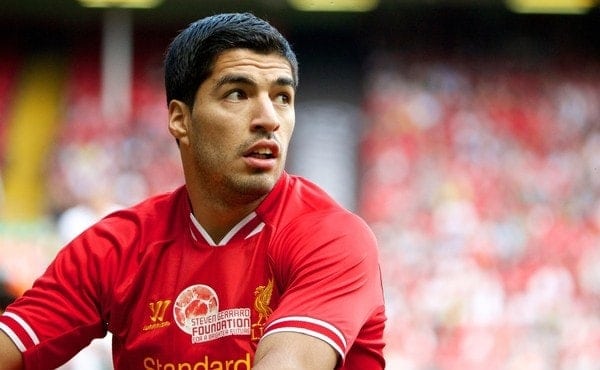 Let's be honest here, anyone who didn't think Real would come in for a bid for Suarez late in the window was being naive at best. The Guardian write:
Brendan Rodgers has said Liverpool are prepared for a Real Madrid bid for Luis Suárez but has reiterated John W Henry's claim that the striker will not be sold.
Rodgers is quoted:
"It's very difficult at this time (for a Suárez bid to succeed). We are trying to get one or two more quality players in through the door. If we lose Luis at this stage it would be difficult to replace him. There might have been a point a few months ago where there was time to do it but with 11 days to go it would be difficult to replace him."
Willian
Rodgers has admitted defeat in his pursuit of the Brazilian attacker, who is now subject of interest from Chelsea, having had a medical at Tottenham on Thursday. Rodgers, again speaking to The Guardian explained:
"It wasn't a football reason [why the deal collapsed] and I don't really want to go into it. That's for us as a club really. The bottom line is he hasn't come here for whatever reason and we move on."
The Liverpool manager also explained that owners FSG have the final say on deals:
"The club pushed as hard as they felt they could financially but it wasn't to be. "It's the owners' money and they will always have the final say because it's they who run the club. What they have taken on here is a huge job
There have been signs that Rodgers is frustrated at the lack of "quality" signings to improve the first team at Liverpool this summer.
Will Hughes
Derby County manager Nigel Clough has denied reports linking their 18 year old midfielder Will Hughes with a move to Liverpool, claiming no bid has been received for the talented Englishman:
"We have had no bids or contact from anyone. Nothing has changed."
On a potential fee, Clough said:
"Would it be more than £6million? Yes, I think it is fair to say that. We just think it is going to be a very, very substantial figure to tempt him away."
Reports on Thursday claimed Liverpool were prepared to sign the player but allow him to remain at Pride Park to continue his development this season.
Mamadou Sakho
The French defender, currently at PSG, has "made it clear to PSG this week that Liverpool is the only club he is interested in joining, and had ordered them to let him move to Merseyside" according to The Metro newspaper.
Sakho, 23, would be an interesting signing. Being left-footed he would have seemed a superb addition prior to Aly Cissokho's arrival as he can also play left-back. But such a signing – which could cost close to £10m – would seem odd to pair him with Daniel Agger, two left-footed players, in the centre of defence.
Martin Skrtel
Meanwhile, manager Brendan Rodgers claimed on Thursday he was not aware of any bids for Martin Skrtel, as quoted in The Metro:
"I haven't been told anything about that whatsoever. It was mentioned this morning but it is the first I have heard of it.

"Ian Ayre, our managing director, does a terrific job and he always informs me straight away of anything. I haven't heard anything."
The Slovakian centre back was reportedly the subject of a £10m bid from Napoli on Wednesday.
Adem Ljajic
And finally, Italian media Tuttomercato claim Liverpool are interested in Fiorentina's Serbian winger Adem Ljacjic, 21.
Their president is quoted admitting the player could leave:
"There are several options. Next week we will get a definitive answer regarding the question.

"We must understand the player's desire. It is not said that he will stay here in the end as we are evaluating everything."
Galatasaray are also interested in the versatile attacker, who would fit in with Rodgers system.
[table id=24 /]