Joe Hale talks us through the top ten most sold Liverpool shirt names of the summer – an insight into player popularity at LFC?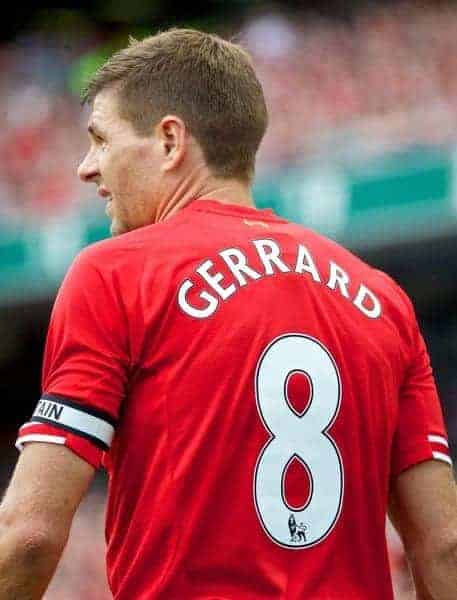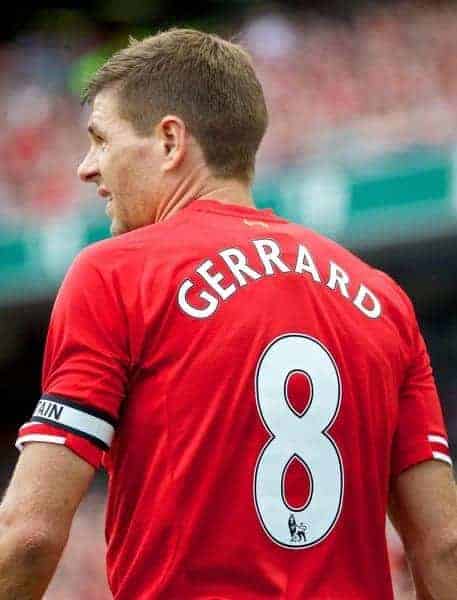 As announced last week by Liverpool themselves, the official top 10 most bought Liverpool shirt names of the new 2013/14 kit have come to light, with a very familiar number 1.
Back in June, Phillipe Coutinho and his number 10 shirt topped the shirt sale sales as number one, however he managed to drop to second place within the standings, however this is a great achievement in itself for the little 21 year old Brazilian, who has shone at Liverpool since his arrival back in January, and the fans have definitely taken to his style and his performances.
A personal favourite is third place in the rankings, as despite his retirement, Jamie Carragher's infamous number 23 shirt is right up there, showing Liverpool fan's continued support and adoration of the solid centre back, who has shown his legacy will be kept at Liverpool for many more years, as we still hold him in high regard as one of Liverpool's best ever defenders.
In fourth place is another inspiring January signing, Daniel Sturridge, and his number 15 shirt, in which he managed to score 10 goals in 14 appearances since his arrival, including a hattrick in the final month of last season.
In a surprising addition, a man said to be training with our under-18's, apparently called Louis or Luis something is number 5 in the shirt sales list. Pretty funny seeing as he doesn't seem fit to wear the Liverpool shirt at the moment, as he'd obviously rather go to Champions League powerhouses Arsenal. Fair play though, who wouldn't want to play alongside world beaters such as Per Mertesacker and Wojciech Szczesny. However he may be a bit rocked as he will be unable to form a partnership with Marouane Chamakh, as he has gone on to bigger and better things in signing a one year deal at Crystal Palace.
Our new vice-captain, another fan favourite too, Daniel Agger with his number 5 shirt comes in at sixth place, which is more than deserved, especially as he has shown how committed he is by supposedly rejecting Barcelona in favour of staying put at Liverpool, which you may feel after recent times displays of such loyalty may be harder to come by in other players.
The new number 9 since Andy Carroll's departure to West Ham this summer comes in at 7th, and the ex-Celta Vigo striker has shown a lot of promise in pre-season, with Brendan Rodgers expressing his delight in his performances. Welcome to Liverpool, Iago Aspas!
Despite not being a well-loved figure in his early days at the club, Lucas has come on leaps and bounds and is definitely becoming an 'adopted Scouser' like those such as Pepe Reina, Xabi Alonso, Dirk Kuyt and Didi Hamann before him. His number 21 shirt is the 8th most popular so far this summer.
As we have lost Pepe Reina this year, we now have a new number 1, or in this case a number 22, in the young goalkeeper Simon Mignolet, who has has the Ninth best-selling Liverpool shirt.
And 10th is maybe the most surprising addition in Jordan Henderson, who really started to show just some of his capabilities in the last season, hopefully in which he can improve upon this year and really try and cement his place within the Liverpool starting line-up.
However that leaves us to first place, who would be none other than Steven Gerrard, a truly magnificent servant to the club, and one of the best club captains ever. Despite nearing closer and closer to the twilight of his career, he is still seen as the man to push us forward and help us achieve greatness once more.
A lot of these stats will probably have been taken from the kid's football shirts and kits as many parents treat them to the new kits every year, and it is a great indication of who is inspiring our younger generation and who is their idols, much as we did with our Liverpool idols.