It was always destined to end like this, writes Paul McCabe.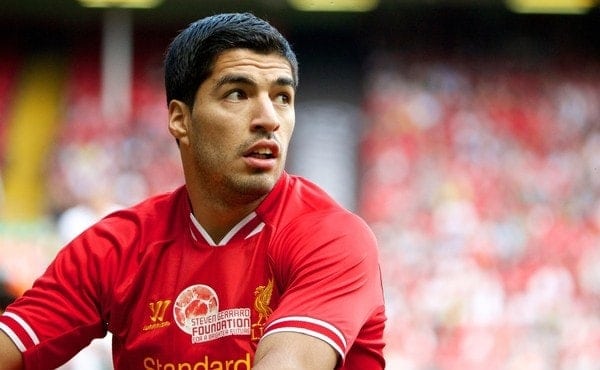 The expression "once bitten, twice shy" could comfortably sum up the situation. As predicted by many, Luis Suarez's time at Liverpool looks to be coming to a premature and bitter end. Like a Hollywood marriage, it has had its spectacular highs, but it is ending in acrimony, bitterness and no shortage of tears, tantrums and drama. Liverpool Football Club has been here before, its fans buying into the Torres fairytale before suffering the sting of his perceived betrayal. The first cut is the deepest; Torres' manufactured departure from the club devastated many fans who believed the hype, so the Suarez snub (given his "baggage" and penchant for histrionics) might be somewhat easier to stomach. At times like this, many fans look for someone to blame and anger to unburden. In reality, what is needed is perspective and understanding.
The perspective is this: Liverpool is a tremendously well-supported club, rich in tradition, past success and culture. The passion of the fans is virtually unrivalled, and true legends are never forgotten. True Liverpool fans hold the club very close to their heart. To them, it is like a family member. It is part of the DNA, a function as important to their existence as a heartbeat. Players, such as Luis Suarez, may have enjoyed playing for the club and the adulation it brings, but playing for Liverpool is not a lifelong dream for Suarez. That is just an empty platitude. For players like him, playing for any club is not a passion or an end in itself. It is a job, one in which he excels and where he is impressively compensated, but a job nonetheless.
Sadly, the club is not the juggernaut it once was and it has not been for some years. The club is not competing for the best trophies, involved in the Champions League or currently attracting the world's top footballers. That can certainly change, especially with players like Luis Suarez in the squad, but the club is in a critical stage where it really cannot live on its name recognition. It is becoming less relevant. 7th and 8th placed League finishes are not going to satisfy fans and they are not going to attract the world's premier footballing talent.
Because the club's brass is not pursuing the "crème de la crème", you can understand Suarez's perspective, especially when the likes of Chelsea and Manchester City are spending like Financial Fair Play is not even being enforced (perish the thought). It might be a long, yet financially prudent, road back to even a semblance of former glories for Liverpool. Meanwhile, he is one of the most mercurial talents in world football and that talent burns brightly and impatiently. A footballer's career is a relatively short one. A sublimely gifted footballer, he is a joy to watch and would be an asset to any team from a merely footballing standpoint. He knows this, of course. His "people" are keen to remind him of his worth and his interviews certainly do not point to a lack of self-belief.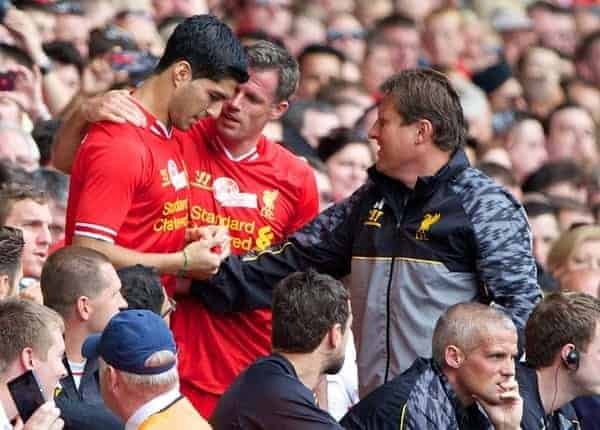 Conversely, Suarez does bring his fair share of problems, as well a history of infringements that the British media will never let its public forget. A ferocious temper coupled with some, ahem, quirks of behaviour almost guarantee Suarez time on the sin bin. The club and the supporters stood by him through his various misdemeanours, so a return on that faith would have been refreshing but the opportunity has been spurned by Suarez and his "people."
But he was cheered, revered…The club stuck by him. How disloyal can he get?
Really, loyalty is a wonderful concept, but it is always conditional. In football, it is usually conditional on success and/or money. A player will "loyally" sign a new long-term contract with a club, but typically the new contract will be significantly more lucrative and allow a player to open talks with a club after they bid £40m and £1 (just, you know, for example). Fans will be more loyal to a player who is, well, brilliant. That is the quirk of loyalty and it cuts both ways.
Liverpool fans are generally more loyal than most, but some called for the sacking of Rafa when they bought into the negative PR that was spun about him: how he rotated the squad unnecessarily, had lost the dressing room and was (and is!) a "bad manager." Similarly, FSG dispensed of one of the club's most loyal personalities and successful figures when they fired Kenny Dalglish after one very bad league campaign. That was even despite helping the club to its first trophy in six years and remaining fiercely loyal to Suarez
Two of the most revered and successful personalities in Liverpool's recent history were cruelly discarded when their own high standards fell short for one season. Suarez was there for Kenny's dismissal, of course. From his perspective, the club itself is just as loyal to those who underachieve as he is – not at all. If they can get rid of the King when he falls short, you could assume that Suarez would have been on the transfer list had he suffered through a particularly poor season. That is modern football. It is "dog eat dog." To put it more bluntly, we can support and appreciate many of the fine talents who are fortunate enough to pass through the club and don the great shirt, but ultimately it is the pursuit of money that dictates what happens at the clubs.
But Suarez lied. He said he wanted to stay for many years and now…this.
So, Suarez wants out. From a public relations standpoint, it would have been nice if he had gotten his narrative straight. For one thing, it does make him look disingenuous, given all those interviews he has done where he said he adored the club and wanted to be here a long time. It is all doubletalk and image. That is what has angered most fans. There are fans who see the sort of acclaim that Suarez gets and the princely sort of money he garners playing for a club that they would happily play for free. To them, his attitude smacks of ungratefulness.
First, Suarez insisted he wanted to leave because of the terrible British media. Scratch that, it is because he wants to play for Real Madrid. Wait, no, that is not true either. He wants to play in the Champions League and compete for the best prizes in Football. And yet, we are expected to believe that he would be happy to punch below his weight at Arsenal, a club that is rarely competitive in the Champions League and has not won a trophy since 2005. Something does not add up. Either Suarez or his "people" have confused their propaganda or have simply forgotten which lies they have told.
What is important to note that is that there have been many lies told at the club in recent years. For every "stake in the ground within 60 days" whopper that gets flagged up to rightly demean the previous ownership, remember also that FSG assured the fans that Kenny Dalglish's job was safe weeks before sacking him.
More recently, Brendan Rodgers insisted that Andy Carroll had a future at the club, before selling him to West Ham. And he assured the supporters that Pepe Reina was staying at the club to compete with Simon Mignolet. Some lies might be palatable, especially when Rodgers genially fills his speeches with "like I say", "the wonderful supporters" and "the group", but they are still lies. If Suarez himself has been lied to, that is unfortunate. Two wrongs added together do not equal a right.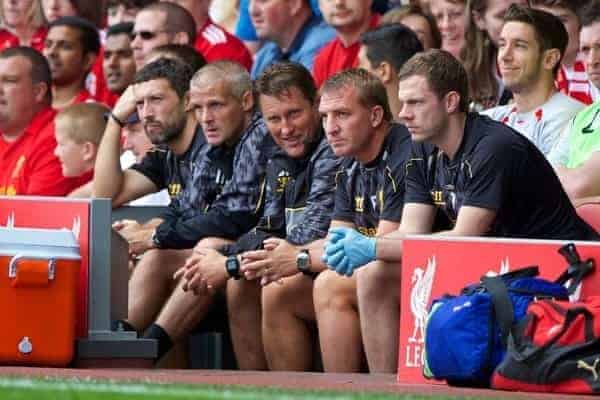 For now, the focus is on Brendan Rodgers. He has done some fine work at the club, has promoted some brilliant young players, speaks brilliantly and has had the team (and Suarez) playing some exceptional football. If he did verbally guarantee that he would let Suarez leave if the club failed to finish in the top 4, that is a mistake. Perhaps the promise was borne out of naivety or maybe Rodgers would have said anything to keep his star player. Either way, the focus is on how Rodgers manages Suarez's inevitable departure – both verbally and in the transfer market.
So, now we sign another "marquee" signing, right?
It all seems so simple, but real football is not as straightforward as fantasy football. Liverpool's position in world football at the moment makes it difficult to sign the sort of player who will make an immediate difference. That considered, this has been perhaps used as an excuse too. Really, footballers will be drawn to ambition and money. Look no further than someone like Falcao. If clubs throw enough money at a top player, most of them will have a price. Do this enough times and suddenly a club looks ambitious. That ambition might lead to actual success on the pitch. If it does not, however, a club is left with a mountain of debt and a team full of mercenaries who only followed the money trail. It is a balancing act, not an exact science.
The solution might be a mixture of what the club is doing now and showing a bit more ambition in the transfer market to "speed things along." If the team is full of average-to-good players and one world class player (a la Suarez), it is only natural that the star player will eventually want his ambitions to be achieved elsewhere. The club has done excellent work recently in building a "team" and an ethos, but a couple more world-class players ought to be tempted, so that the same situation that happened with Torres and Suarez does not recur every two years. It is a gamble but, with so much riding on Champions League football, perhaps a gamble that needs to be taken soon.
In the end, the fans have done the right thing by Luis Suarez and the club supported him through his "trials by media." He is doing what is right for him and his family. Maybe he is not doing it with the grace we would like and maybe it is beneath the standards you would expect of a Liverpool great, yet it is important to recognise that football is now a business, full of scheming agents and self-serving PR. There is little point in hurling abuse at a player who, on the pitch, has been excellent for the club. His mistakes are his mistakes and he gets to choose his legacy. He might not be leaving in the manner we would have liked or with the blessings his talent deserves, but given the nature of the man and the nature of the game:
It was destined to end like this…