When Luis Suarez looks in the mirror, what he sees back is not exceptionally pretty, writes Gavin Cooney.

The large teeth; the gnarled features; it's not exactly a sight for sore eyes. This, by the way, is not a spiteful snipe at a man who wants to leave my football club. I am not ready yet to descend into the whole 'I may be fat but you're ugly, and at least I can diet' paradigm of petty revenge. These are realities. Most will agree that Luis Suarez is not in the pantheon of superficially aesthetic athletes.
When Liverpool fans look at Luis Suarez, they see something altogether more ugly than a Uruguayan with big gnashers. On one hand, we are looking at the modern game and its lack of loyalty. One of the world's best footballers is throwing the loyalty shown to him by thousands of supporters and one King back in our faces.
Suarez has endured more than one swirling maelstrom of rubbish in his time at Liverpool, yet the club and its supporters have stuck by him. We couldn't get enough, you see. We all became experts in Uruguayan slang in the Patrice Evra affair. We saw him bite another human being in front of the Kop and still sang his name. And after all that, he wants out.
This then, is modern football. This is what we see when we look at Luis Suarez. We see that there is no loyalty in the modern game. Luis Suarez is the modern game. Break every rule to win, don't win enough and move on. Players are enticed by the glitter of gold coins and silver trophies. If one of the greatest clubs in the history of the game ridicule themselves regularly to protect you, but can't offer you a chance to win a few cups, then why stick around? It's a short career at the top, why waste it trying to play one-twos with Stewart Downing?
Yet the lack of loyalty in the modern game is not a phenomenon pioneered by Suarez. Atletico Madrid fans saw it when the Fernando Torres they groomed for years took calls from Rafa Benitez while he was still their player, and eventually moved left them for Liverpool in pursuit of trophies. What is new to Liverpool fans is that now the players are leaving them. For the first time, Liverpool FC are less a bastion of invincibility and more of a springboard to success elsewhere. This is the ugly figure we see when we look at Luis Suarez: the decline of Liverpool, and the breeding of mediocrity.
Mediocrity tramples all over morals. Kenny Dalglish appeared on television wearing a t-shirt and had to apologise to Geoff Shreeves because Luis Suarez was not mediocre. Do you think we would be fighting to hold on to Jay Spearing if it was he that sank his teeth into Ivanovic? The club defended Luis Suarez blindly and occasionally stupidly because he was one of the few very good footballers in a mediocre squad. This is what is sad. Through their actions, the club have admitted that while the crest on the front of the shirt may be more important than the name on the back, without the name the crest won't soar. When we look at Suarez we see a great club have had its morals corrupted by mediocrity in the hope that by compromising themselves, they can escape this wretched cycle.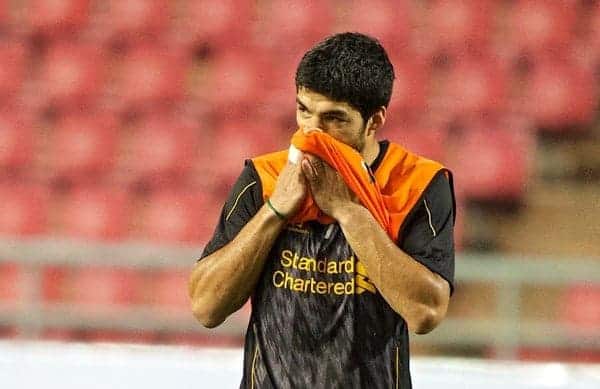 The Suarez saga is sad. Yes, it hurts that he wants to leave, despite all the supporters and the club have said and done for him. It also hurts that it seems he is off to our main rivals for fourth place, the escape route from this cycle of mediocrity. Joining Arsenal only adds oil to the hysterical hinges of Anfield's exit door. Yet his departure is inevitable.
Put simply, one of the world's best footballers wants to leave the seventh-best team in England. When it is put like that, the realities are as sad as they are stark.
When we look at Luis Suarez, and tweet our rage at his brazen betrayal, we are masking our pathos and anxiety at the decline of our great club. What is more, deep down we all know it. We can rage all we like at the loosening tethers of contracts, loyalty and human decency, but in reality, we know the game. Luis Suarez holds all the aces, along with a mirror. Liverpool no longer belong to the elite. When we look at Suarez we see the ugly decline of Liverpool Football Club.
As Suarez cries and we tweet, a Liverbird squawks desperately for a long-lost perch.