Liverpool boss Brendan Rodgers has demanded an apology from Luis Suarez to the club and his teammates before he can move on from this week's events.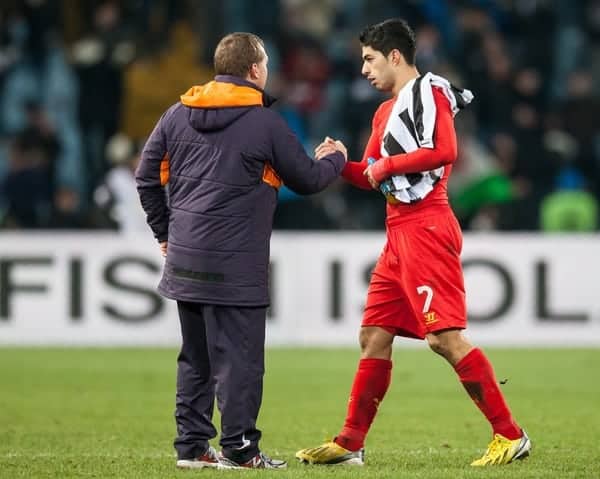 Suarez spoke to two British newspapers, telling them he had been "betrayed" by Liverpool and had in his contract, a buy-out clause.
However, Suarez was proved wrong by the PFA's Gordon Taylor, who denied such a clause in the Uruguayan's contract.
Suarez had also threatened to hand in an official transfer request by the end of the week if Liverpool did not step aside and allow him to "amicably" join Arsenal.
It is Sunday now and Suarez is yet to hand in a transfer request. Instead, he has been ordered to train alone and firmly denied an exit by the club's hierarchy.
Speaking after Liverpool's 1-0 defeat to Celtic in a pre-season friendly in Dublin on Saturday, Rodgers told press he is waiting for an apology from the 26-year-old to move on from the saga.
He is quoted on the club's official website as saying, "Initially there will be a recognition and apology to his teammates and the club.
"Once we get that commitment that he's ready to fight as he has always done.
"Luis Suarez has fought tirelessly for this club. The Luis Suarez we've seen over this period of time is not the one I know and we need to protect the group and the fans and great supporters of this club.
"He spent a few days working on his own. When he comes back from his international trip with Uruguay, we'll assess it."
Rodgers also reiterated the club's standpoint on not allowing him to leave to fellow Champions League place contenders, Arsenal and revealed the lack of interest in signing Suarez this summer.
"He won't be going to Arsenal, that's for sure. We want to keep him," Rodgers added.
"He's a world-class striker and when he's committed to the cause of playing for Liverpool we'll welcome him back with open arms.
"There's been a lot of speculation about all these clubs. I was made aware at the end of last season that we were going to have a number of clubs come in for him.
"We've had one, that's it. Our intention is to keep Luis Suarez."