Scott Taylor continues to look back at former Liverpool academy graduates who never made the grade at Anfield and find out where they ended up plying their trade.

Phil Charnock. A name that many Liverpool fans may not remember or this may be the first time a Liverpool fan has heard of him. Charnock was a northern lad, born just under an hour away from Anfield in Southport, and played most of his career as a midfielder. His career started promisingly, when he arrived at Kirkby aged just 12 and remained there until he was 21, a loyal 9 years with the club, something that is very rare in modern football.
During his time with the Reds, Charnock played most of his games in the reserves, but did break a record while he wore the red of Liverpool.
In 1992, manager Graeme Souness gave him his first team debut, in a Cup Winners' Cup match against Cyprus' Apollon Limassol. This meant that he became the youngest ever player to play for the Merseyside club in a European competition, breaking the record set by injury-prone Jamie Redknapp a year earlier. Following this phenomenal achievement by the young midfielder, his Liverpool career unfortunately didn't take off, as he was put back in the reserves.
This may sound negative but you have to remember that Charnock was just 17 years and 9 months old when he made his debut, so if he was to be a 'player who shook the kop', then he would need valuable game time, something he wouldn't get in the first team as he was so young. Although he was playing in the reserves, he was issued a squad number from the 1993/94 season, which meant that he was clearly in Graeme Souness' plans, but when Souness left and new manager Roy Evans took over, it seems all the plans Souness had for Charnock were gone, as was the players' Liverpool career.
Previously on 'Where Are They Now?'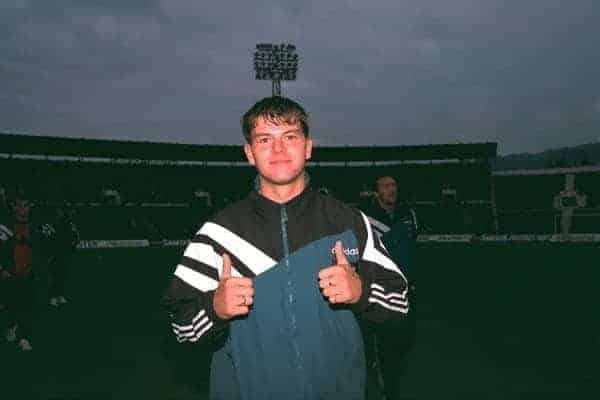 After failing to make any appearances since he debut, Charnock was loaned out to Blackpool for the end of the 1995/96 season, and played 4 games for Sam Allardyce's side. He was not loaned back to Blackpool and instead signed for Crewe Alexandra in December 1996 after a loan spell from August to December, ending a very frustrating Liverpool career that lasted almost a decade.
This transfer for Charnock was to be the start of something good for the midfielder, as in that season he made 36 appearances, scored his first goal for the club and played a major part in the second Divison play-off final at Wembley, as Crewe beat Brentford 1-0. This was his first major honour in his playing career. In the following season, he also contributed to Crewe's success, making 35 appearances and helping the 'Railwaymen' finish in the top half of the First Division, a great success considering it was their first season. The club then stayed in the First Division in the 1998/99 season, his most successful season as Charnock made a significant 50 appearances, suggesting his Crewe career was becoming even more successful by the minute.
Unfortunately for Charnock, he made only 21 apperances in the 1999/2000 season, and was dropped from the squad from November onwards, the reason being unclear. He was also snubbed by Crewe manager Dario Gradi a season later, as the talented midfielder made only 9 appearances in the 2000/01 season, and they were at the end of last season, during the stage of the season when the main players were rested and the reserves were played.
In the 2001/02 season, Charnock's miseries looked to have ended as he made 26 apperances but then was surprisingly released in April 2002, after Gradi informed him that he was not in his plans, a decision that was clear from November 1999. Charnock looked very settle at Crewe, and played regularly for many seasons, accumulating 155 appearances and scoring 8 goals.
He then moved to Port Vale, but only lasted 1 season with Brian Horton's side, making 24 appearances scoring only 1 League goal. He was then looking for a new club to try and emulate his form at Crewe Alexandra, and found himself at third division side Bury. However, he only lasted a month for the 'Valiants' making only 3 appearances before moving to Northern Ireland, where he went on to win a couple on major honours for Linfield. In the 2003/04 season, Charnock and his Linfield team-mates won the IFA Premiership title before finishing runners-up the following season.
After that , he moved to Ballymena United on a performance based contract and since he was talented enough for the league he was playing in, he played consistently throughout the 2005/06 season. His career was inevitably coming to an end and unfortunately for him he picked up a terrible injury which meant that he was sidelined for a whole year, similar to injuries that former Red Richie Partridge picked up throughout his career and returned to England to begin his rehabilitation. Charnock then had brief spells at Leigh RMI and Mossley before injury forced him to retire.
Overall, Charnock had a very promising start to his career breaking records and looked to have found his perfect standard of football at Crewe Alexandra, but was then surprisingly dropped from the squad, which lead to the downfall of his career. Although being born on Valentine's Day, Charnock did not deliver the charm to be a success at Anfield.
Thanks for taking the time to read this feature on Phil Charnock and if you enjoyed be sure to share it and check out other editions of 'Where Are They Now' simply by clicking here. Also, for any suggestions on who you want me to cover for the next edition of 'Where Are They Now', be sure to leave your suggestions in the comments section below.
Finally, for more updates on Liverpool's Academy and various other Liverpool FC News, then be sure to follow me on Twitter @scotttayloruk.
Until next time Reds…
Previously on 'Where Are They Now?'