Steven Gerrard celebrated his testimonial with a 2-0 victory over Olympiakos at Anfield on Saturday afternoon.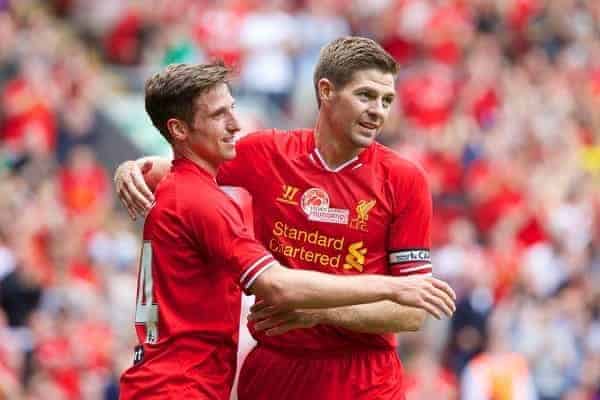 The match saw Robbie Fowler return to the club, and Jamie Carragher play the last half an hour after retiring this summer.
A host of former players and mangers returned to Anfield for the occasion; Roy Evans, Gerard Houllier, Roy Hodgson, Phil Thompson, Emile Heskey and John Arne Riise were all in the directors box.
The match also marked home debuts for new signings Iago Aspas, Luis Alberto, Simon Mignolet and Kolo Toure.
Amazing day at Anfield with my lovely fiancé ? pic.twitter.com/tYMjaTpAIY

— John Arne Riise (@Johnariise3) August 3, 2013
Today its a very special day. The best player I'ever seen and very glad to seen him everyday in training!!SG8!! pic.twitter.com/pkkhegu1rX

— suso30fernandez (@suso30fernandez) August 3, 2013
My first match at Anfield. Something that I´ll never forget. Mi debut en Anfield, algo inolvidable. #YNWA #LFC #Happy

— Luis Alberto Romero (@14_luisalberto) August 3, 2013
Great win for Stevie today. It is so good play again in Anfield.

— Lucas Leiva (@LucasLeiva87) August 3, 2013
Delighted to make my debut today at Anfield! But today it was all about Stevie. Very pleased for him! #gerrardtestimonial

— Simon Mignolet (@SMignolet) August 3, 2013
After finishing a HT chat with old friends, Gerard Houllier mistakenly started making his way down to the dressing room #gerrardtestimonial

— Liverpool FC (@LFC) August 3, 2013
President of olympiacos has just donated £100,000 to Steven Gerrard Foundation

— James Pearce (@JamesPearceEcho) August 3, 2013
There was also praise from outside of Liverpool and from former players:
Steven G is awesome. Best P.L. player I've ever played against but I can't watch no more friendlies. I'm watching Championship today! :-)

— Vincent Kompany (@VincentKompany) August 3, 2013
Sat with @MCATEER4 – we've just discovered that it was an injury to Jase that created space in squad for Steven Gerrard to make his debut

— John Bradley (@JBcommentator) August 3, 2013
Congratulations to Steven Gerrard, captain and number "8" of the Reds, for his 15 years at the club. "YOU NEVER… http://t.co/qGvzeO0pbC

— Luis Garcia (@LuchoGarcia14) August 3, 2013
And fans gave their thoughts:
Good performance. Fluid playing style, good passing, more triangles etc. Allen & Lucas very good. Coutinho & Sterling showed sparks.

— MrBoywunder (@MrBoywunder) August 3, 2013
If "the Liverpool way" means anything, we saw it today at Anfield when the fans made it clear to Suarez that if he stays, he's one of us.

— Kop·ol·o·gy (@Kopology) August 3, 2013
Whatever your feelings on Suarez, his applauding of a great cross-field ball before he had even received it today was pure entertainment.

— The 37th Row #LFC (@PooleNeil) August 3, 2013
This from Mark Halsey, IMO, is what football should be about #LFC pic.twitter.com/iXsK9Pg3iJ

— Simon Steers (@sisteers) August 3, 2013
Maybe it was nothing but I was sure I saw Suarez stare at the Kop when he came on today. I think he was genuinely shocked by the reaction.

— Michael Sweeting (@M_Sweeting) August 3, 2013
Interesting in Stevie's programme in the nine men that made him – Rafa doesn't feature. #LFC.

— Simon Steers (@sisteers) August 3, 2013
You'll never love a scouse footballer like Gerrard again. Enjoy it while it lasts @SGF08

— Thomas Fairclough (@Tom_fairclough9) August 3, 2013
Gerrard: Hopefully we'll have 1 or 2 new signings in the coming weeks. pic.twitter.com/QpCJ8JkFhj

— This Is Anfield (@thisisanfield) August 3, 2013