Andre Wisdom has impressed at centre back this pre-season so far, he was linked with a loan move earlier this summer, what does 2013/14 have in store for the youngster?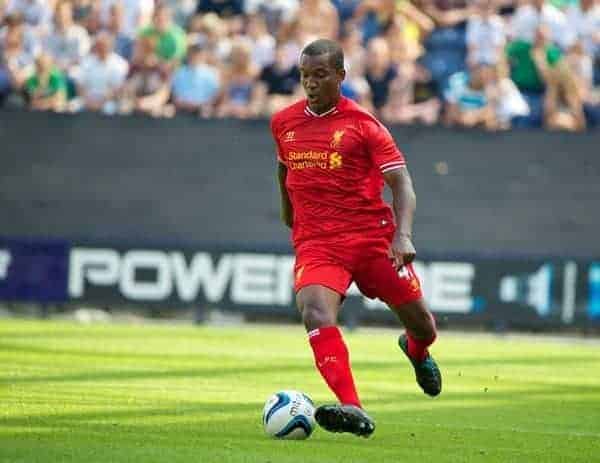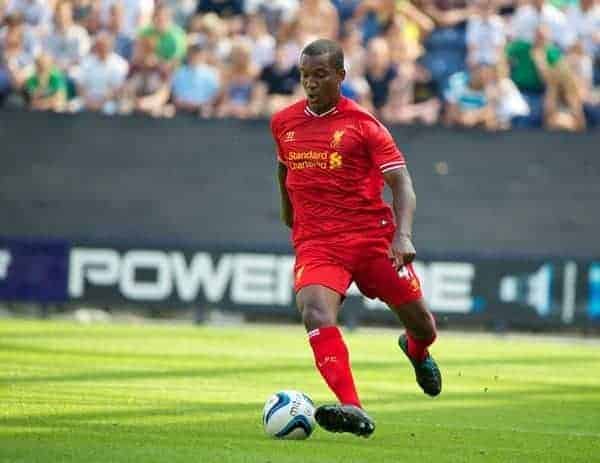 In my last article I wrote about Suso and what would be best for him over the 2013/14 season. In that article I suggested he go out on loan, if possible, to a good Championship team. Only 8 days after my article was posted Liverpool confirmed that he was going to go on loan to newly promoted La liga side Almeria, so I wasn't too far off! In this article I will be talking about another one of Liverpool's talented youngsters, Andre Wisdom, and what would be best for him this season.
Wisdom is a 20 year old defender who can play at either centre back or right back. I think most Liverpool fans would agree that in the long term centre back would be the better position for him, but last season almost all of his 19 games came at right back.
Liverpool's first choice right back is most definitely Glen Johnson and barring injury I can't see Wisdom ever starting ahead of him, in the 2011/12 season Johnson's deputy was Martin Kelly and with him now back from a long term injury I think that Wisdom will be third choice for that position.
I think that Wisdom is a solid option at right back but just doesn't offer enough of an attacking threat for him ever to be first choice for Liverpool in that position. He is comfortable with the ball at his feat but you rarely see him beat a man in the same way Johnson often does.
With Ryan Mclaughlin also coming through the ranks I don't think Wisdom will get much playing time at right back this season.; there is no European football and I imagine that Kelly will be starting most of the Capital One Cup matches this season.
Wisdom's 'natural' position is centre back and I think that eventually he will go on to become a first choice centre back for both Liverpool and England, some people seem to think he is not tall enough but he is in fact 6ft 1 so I don't think this is much of a problem. But at age 20 I doubt even Rodgers would be keen on having him as a starting centre back for us this season.
It's fair to say that as long as he is fit Daniel Agger will start for us, but who will partner him? The two main contenders are Toure and Skrtel, and then as well as Wisdom there is also Coates and Martin Kelly. This means there are effectively 5 players all vying for one position, and there are also rumours that we want to bring in another centre back.
Ilori from Lisbon and Papadopoulos from Schalke have been the two most heavily rumoured players to be linked. I think that if we sign another centre back then we will let one leave. At the moment the most likely possibility seems to be that Skrtel will leave with Papadopoulos coming in, I think that if we sign Papa then he will be first choice alongside Agger.
This leaves Wisdom with a bit of a problem, from the look of it he will get very little playing time at both centre back and right back, he is now 20 years old and so it is vital for his progression that he gets playing time at least relatively often, and I don't think Liverpool can currently offer him that.
In my opinion the best option is to send him out on loan, there were reports earlier in the transfer window of both Fulham and Wigan being interested in him. Obviously playing in the Premier League would be better but I'm not sure that he would get enough game time for Fulham. I do think he would be able to get into the starting 11 of all the promoted sides though. And playing for one of Cardiff/Hull/Crystal Palace would be a great experience for him; I can't see any of those teams dominating many games and so it would be a good test of Wisdom's defensive abilities and through being tested he will be able to improve his game.
Having said that I think there needs to be a recall option included in any loan deal and should he go to a Championship side he can be recalled and this was reported to be one of the reasons Brendan Rodgers favoured loaning him there instead.
Say for example we allow Skrtel and Coates to leave, and sign Papadopoulos, both Papa and Agger are somewhat injury prone, if they both get injured that leaves us with Toure and Kelly. With Kelly also being cover at right back I think we would need Wisdom back to either start or to help cover the two positions he can play in.
Personally I rate Wisdom ahead of both Coates and Kelly so I would like to see him start with Toure in that situation but let me know what you think.
My article about Suso had over 80 comments and I had good chat with a number of people on twitter (@JLWi11iams) let me know what you think would be best for Wisdom and thanks for reading!