Stewart Downing departs Anfield after a strange two years in which all the odds were against him from the start, says Joseph Copeland.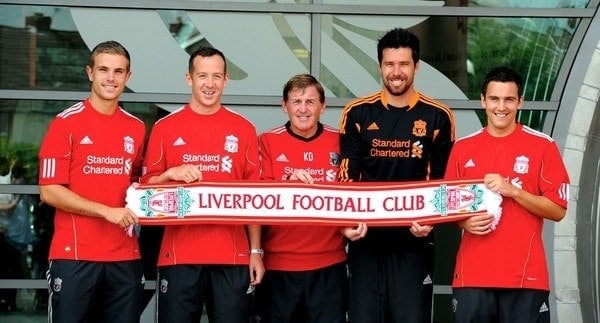 Stewart Downing never had a chance. The moment he put pen to paper to seal his 20 million pound transfer from Aston Villa to Liverpool Football Club during the summer of 2011, he was destined to fail. Downing is a solid footballer by many standards today. He is a hard worker for the team, he has good pace, and he can be lethal when he whips one of his daring crosses into the area. However, he also is not the most consistent player you'll ever see and lacks a killer instinct. From a solid showing one week, to an abysmal display of mediocrity the next, he has left many Liverpool fans banging their heads against the wall since his arrival.
Downing made a name for himself at his boyhood club, Middlesbrough, where he scored 22 goals and accumulated 39 assists in 239 appearances for his hometown club. This prompted Martin O'Neil to snatch up the England winger for 10 million pounds to head to Villa Park. This was a step up for "Stewie". At that time, Aston Villa was a solid Top 10 club in the Premier League and Downing was going to be a focal point in their attack along with Ashley Young on the other wing. Downing rose to the occasion, netting 11 times while dishing out 13 assists in 72 games for Villa. Along with Young, Villa boasted one of the best wing combinations in the Premier League. Downing was a big fish, in a medium pond. He was comfortable with the expectations of 8th place being a successful season.
As a result of his astute performances, Kenny Dalglish opened up the check book to bring him to Anfield to form a proposed partnership with the cumbersome Andy Carroll. The idea was not a bad one. Downing would whip 6+ crosses a game into the area towards the towering Carroll, who would somehow finagle one of those crosses off his ponytail waving head into the back of the net. Unfortunately for King Kenny and the Liverpool supporters, that is not at all how things transpired. The Liverpool board and the fans had their doubts about Downing stepping up to an "Elite" club.
They pointed to his lack of success for the England National team (0 goals in 34 appearances) as a sign that he was not up to the task of playing with the big boys. A quick glance at his 1st season with the Reds, 2 goals and 2 assists in all competitions, speak volumes. However, in his defense, he did create the most chances. Can you blame Downing for the woeful finishing of the awkward Carroll? Or the countless players that hit the woodwork from one of his feeds?
His job is to get the ball to players in scoring chances, which he did a pretty good job of. Ultimately though, fans and media tend to pine over the basic stat sheet. The average person doesn't have the time to do the research that would reveal Downing completed 85.4% of his passes while also logging 55 key passes (created scoring chance) during that first season. Instead, they harp (justifiably) on his double bagel of goals and assists in the Premier League. 20 million pounds should warrant at least 6 and 6 during the league campaign.
Following the hiring of Brendan Rodgers, many thought it spelled the end for Downing at Liverpool. Downing's style of play, that is race up the sideline and whip crosses in like there is no tomorrow, does not fit in with the tiki-taka style of Rodgers. Nonetheless, Downing was kept, partially as a result of no suitable replacements, and plugged into the starting XI. Following a handful of no-shows to start the season, Stewart was relegated to the bench in favor of the teenage sensation Raheem Sterling and promising youngster Suso. Rodgers even called him out publicly.
"Talent alone is not enough. You have to work hard. You have to fight for the shirt. I will keep private the discussions Stewart and I have had, but he is under no illusion that he has to fight."

Rodgers – in an interview with the Guardian in October of 2012.
To hear those words from a manager could either motivate a player to push on or throw in the towel. Good for Downing, he chose the former. His performances slowly picked up consistency, minus the gaudy numbers mind you, but you knew he was on the pitch and was making the most of his time. He became a regular in the first XI as he finally began to recapture his scoring touch and vision on the ball. In the end, his improved performances this past season were still not enough to justify his hefty price tag. As a result Liverpool is willing to take a massive loss, in order to ship him to West Ham for a meager 5 million pounds. At the price, many fans and pundits see no point in even selling Downing. Depth has never been a bad thing for any club. But the large wages that Downing garners is proving to be a heavy burden for FSG to bear.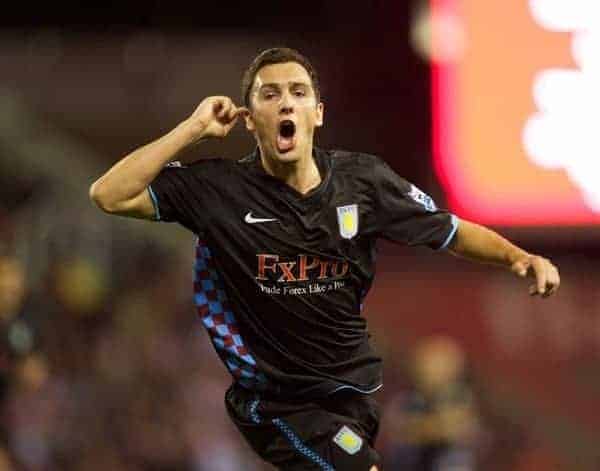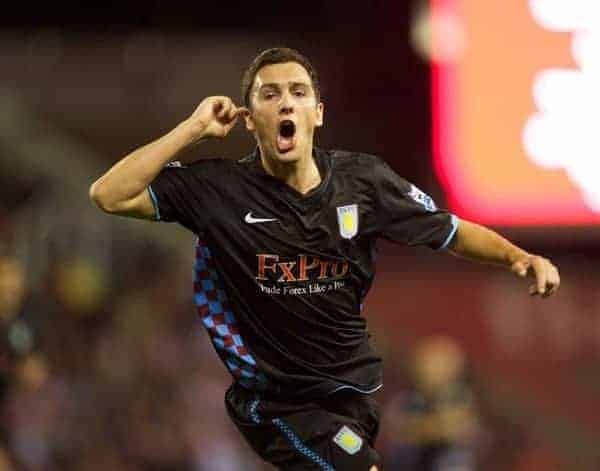 The clubs have agreed fees, now it is up to Downing to finalize personal terms. This might be tough for a man who has been adamant in his desire to stay on and fight for a place at Liverpool. His courage is commendable, but there is simply no room for a 29 year old winger who hasn't had a strong season start to finish since 2010-11. Room has to be made for Iago Aspas, Luis Alberto, Sterling, Jordan Ibe and any new potential arrivals.
I like Stewart Downing the Liverpool player. I love Stewart Downing the Aston Villa/West Ham player. The man is a serviceable Premier League regular for a mid-table team with modest ambitions. Some players thrive under the pressure of expectation. Stewart is not one of those players. There is no denying his commitment in his time at Anfield. He worked tirelessly, but for a club with Champions League desires such as Liverpool, he must go. I wish him nothing but the best at Upton Park if he does ultimately depart and I want him and Carroll to prove Dalglish right from 2 years ago. You served the shirt admirably Stewart, but the time has come to move on.