Adam Morgan scored a stunning Xabi Alonso-esque goal from 45 yards as a youthful Liverpool under 21's beat their Man City counterparts on Monday night. Scroll down for the video.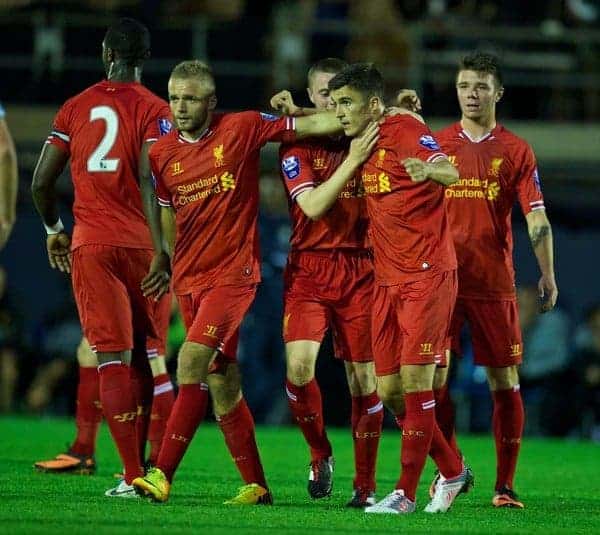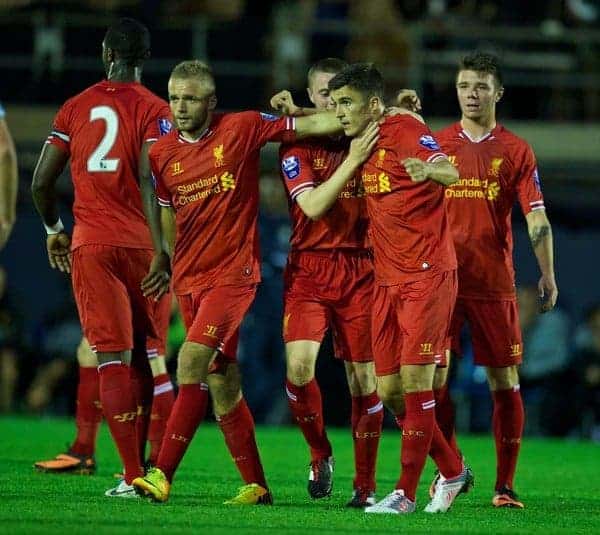 Man City Under 21's 0 – 2 Liverpool Under 21's
By Scott Taylor
An absolute stunner from Adam Morgan and a first under 21 goal from Cameron Brannagan ensured that Liverpool Under 21s beat Man City Under 21s 2-0 at Hyde on Monday night.
After last week's 5-2 thrashing of 2nd placed Sunderland, Alex Inglethorpe's side were back in action as they faced a Man City side who have struggled under new coach Patrik Vieira only picking up 1 week from their opening 4 games. The Liverpool boss made six changes from the side that beat Sunderland last week. Due to the first team's game with Manchester United on Wednesday, all of the 6 players who aren't in today's fixture have been included in the squad for Old Trafford. They are: Jon Flanagan, Tiago Ilori, Martin Kelly, Jordon Ibe, Raheem Sterling and last week's hat-trick hero Luis Alberto.
The good news for Liverpool was that they had new signing Rafael Paez at their disposal, after the 18 year old was granted international clearance. Also, Craig Roddan returned to midfield whilst Stephen Sama, Lloyd Jones and Joe Maguire joined Paez in defence. Despite being sent off last week, Jones started as his suspension does not start until next week. The final change saw Ryan McLaughlin – playing on the right of midfield – and Adam Morgan come into the side.
The major team news for City was that Marcos Lopes did not play, as he is expected to be in the squad for their trip to Wigan on Wednesday. Despite being the underdogs, Liverpool started the game brightly as Cameron Brannagan capitalised on a poor Man City pass, but he couldn't gain control of the ball as Jason Denayon eventually recovered. In the 16th minute, Liverpool had their next chance as a Jack Dunn corner was well met by captain Stephen Sama at the near post, but the German could only head his effort over the crossbar.
9 minutes later, Liverpool took the lead in superb circumstances as Adam Morgan received the ball on the half way line, ran 5 yards, looked up, saw the 'keeper was off his line and perfectly placed one over the back tracking 'keeper as he gave the Reds the lead in the best possible manner, off the underside of the bar.
Watch Morgan's Goal:
Morgan continued his fine goalscoring form by making it 2 goals from 2 apperances as he scored against Manchester United in his last game for the Under 21s. Chances were few and far between as the next real chance fell in injury time in the first halfl Jack Dunn's set piece again found Sama, and again the right-back headed it over from 10 yards out. The half ended 1-0 to Liverpool Under 21s.
Knowing they needed a goal to get back into the tie, Manchester City came out on the front foot and it took them just 3 minutes to test Danny Ward as the Wales Under 21 'keeper mad a good reflex save to deny Devante Cole, son of former Manchester United striker Andy Cole and the Liverpool defence eventually cleared.
In the 53rd minute there was bad news for Liverpool as Jack Dunn went off injured and was replaced by Villyan Bijev, who hasn't played since the opening game against Southampton. The injury to Dunn would be a huge loss for the Under 21s as he has impressed throughout the season thus far.
There was more bad news moments later, as McLaughlin was taken out by a Man City player and looked to recover from the nasty incident. In the 71st minute, the bad news soon turned to delight, as Sama ran past two defenders and pulled it back for Cameron Brannagan, who sloted home easily to double the Reds lead.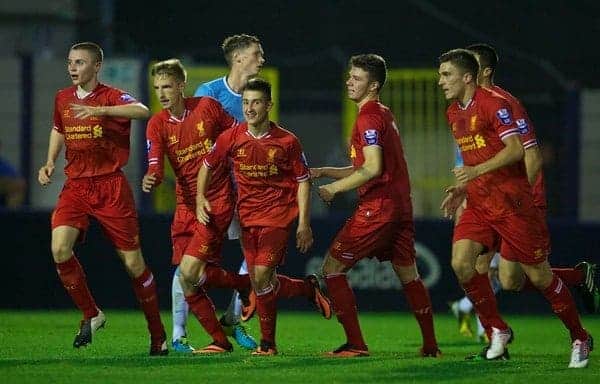 Chances were few and far between after Brannagan's goal as Liverpool's defence, especially debutant Rafa Paez and Stephen Sama performed well to restrict Man City from coming back into the game and when they started to test the young defence, it was too late to make any significant impact on the game.
Liverpool's next game will be against Alex Inglethorpe's former club Tottenham Hotspur on Monday 7th October, where they will be looking to make it 3 from 3 in the league and push further up the table. If you enjoyed this match report, please sure to share and like the blog. Also, for more Academy features and match reports, check out my personal blog, and for more Liverpool Academy related news, be sure to follow me on Twitter @scotttayloruk.
LFC XI: Ward; Sama, Jones, Paez, Maguire; Roddan, Rossiter, Brannagan, McLaughlin; Morgan, Dunn.
Man City XI: Lawlor, Drury, Plummer, Facey, Denayon, Evans, Bytyqi, Fofana, Mayrfuila, Hutton, Cole.