Those painstaking days of the international break are far behind us now with the matches coming thick and fast. As Liverpool prepare to take on Southampton this weekend, many have their eye on the League Cup trip to Manchester United in mid-week, and the return of you-know-who.

Yesterday Liverpool boss Brendan Rodgers was bombarded with questions about the Uruguayan's imminent return. This weekend the 26-year-old forward will complete his 10-match ban for biting Chelsea's Branislav Ivanovic back in April.
"We tried to map something out over the period he's been out," Rodgers told press at his press conference ahead of this Saturday's clash with Southampton at Anfield. "He's played some games in pre-season, but when the league got started we organised some 11 v 11 matches behind closed doors, both among ourselves and bringing teams in.
"So if he does 1,000 high-intensity runs in a game, he's been replicating that in training. There are things such as the crowd, the anxiety that you can't replicate. But what you can at least do is put him to a level of fitness where his numbers are replicated and that keeps him at a high level."
Needless to say Rodgers and the team and firmly focussed on getting three points against the Saints this weekend, a result that would see them continue to sit at the top of the Premier League table.
It will be interesting to see how Rodgers organises his defence, with Daniel Agger hopeful of having recovered from injury in time to return for tomorrow's 3pm kick-off.
The Reds defence need to keep up with the pace and power of the Saints attack – strength from their whey protein is what's needed!
Rodgers' options are in abundance, with Martin Skrtel, Andre Wisdom, Kolo Toure, Jose Enrique and Mamadou Sakho all in contention for starts.
The must read article from this morning's papers is an excellent interview with new Liverpool defender Mamadou Sakho by the Guardian's Andy Hunter.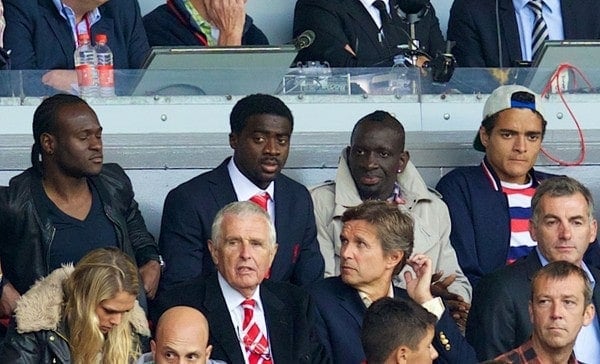 In it Sakho talks about leaving Paris Saint-Germain and the challenges he faces in his new life on Merseyside.
The French international, who made his debut for the Reds in their 2-2 draw at Swansea on Monday night, also talks about his childhood, and in particular, teenage years, which nearly cost him his career in football.
"What can I say? I grew up in an area of Paris that isn't all sweet and nice," admits Sakho, who lived in the 18th and 21st arrondissements. "The neighbourhood was quite tough. At that age you have to put yourself about a bit and earn some respect. When I was 14, 15, I tried to impose myself a bit too much on the other players around me. It was a bit physical, a bit verbal. I was just a teenager.

"It was made clear that if I didn't step back in line, I would be in trouble. I soon learned that I had to knuckle down and focus. It was for my own good. I was over the rebellious phase before my father died but that was when I took a step back and decided to concentrate on becoming a professional footballer. Life was pretty hard at that time but I took it on as an obligation to myself to become a pro and provide for my family."
And finally, the appeal for witnesses to come forward as part of the Independent Police Complaints Commission's investigation into the Hillsborough Disaster is going strong, with 500 having already come forward. Reports the Liverpool Echo:
IPCC deputy chair Deborah Glass described the response to Tuesday's appeal as "very encouraging" as the commission continues its investigation into the aftermath of the Hillsborough disaster.
More details on the IPCC's witness appeal can be found here.