Now that the transfer window has closed, 'Horse Burger' looks, with optimism, at the different aspects of the project Brendan Rodgers is assembling at Liverpool.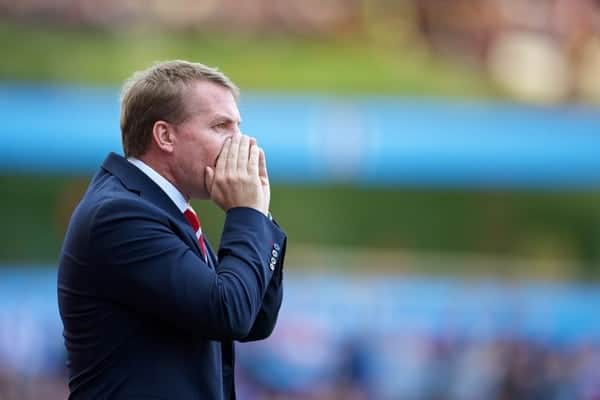 With the transfer window slamming shut and dust settling, fans from all clubs begin to evaluate squad strength and examine what potential success they can achieve this season. As a Liverpool fan, each season is met with the eternal optimism of 'This is our year' quickly followed by highs, lows, disappointment and anger. That optimism for the majority of fans was based on hope more than realism that Liverpool could compete and challenge with the big boys in the Premier League. The 2013/14 season already feels different. There is an air of confidence, authority and a winning mentality about the club both on and off the field. For the first time since the early days of the 'Rafalution' there is tangible evidence that Liverpool Football Club are ready to compete again.
Team Spirit
The most notable attribute the squad has inherited this year is what seems from an outsider looking in, as a genuine team bond and willingness to fight for each other. In previous seasons Liverpool were known as 'one man teams', carried by a Gerrard, Torres or even a Suarez. If these world-class players struggled, the team itself struggled and maybe the psychology of depending on one or two key players had a detrimental effect on the team as a whole.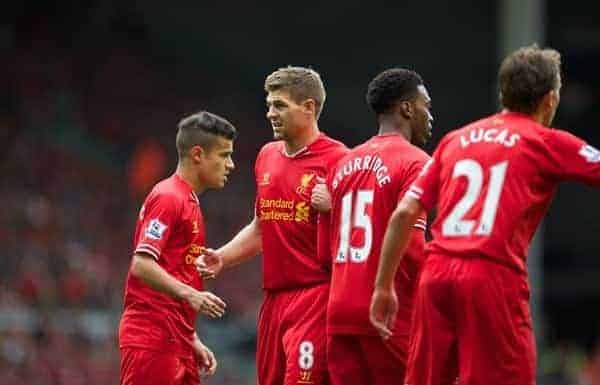 This season, Gerrard although still an immense player for the team, feels more like just another cog in Rodgers system (albeit a larger cog) all pulling together in the right direction to grind out results. Suarez who is still serving his ban will return to add quality to the team not carry it. The pre-season tour around the globe no doubt helped the players bond. 90,000 fans giving a spine tingling rendition of 'You'll Never Walk Alone' in a friendly match on the other side of the world can only help you realise that your part of something special. Team spirit is a very important ingredient in the recipe for success and one I'm confident Rodgers will continue improving on.
Momentum
Success in football is like buses, you wait around a long time for one to come and then they all arrive in quick succession (explains why there aren't many bus stops around Goodison Park). Liverpool currently sit top of the league with three wins out of three. The only team in all four leagues to not concede a goal and Daniel Sturridge scoring in all three games so far. Winning breeds winning.
In the last 15 league games, Rodgers' team have only lost once with 10 wins and 4 draws. In this run, Liverpool have kept 8 clean sheets, currently 4 consecutive games without conceding a goal and 5 straight wins in a row. All this points to a team that have built up momentum and a quick glance at the fixture list would suggest there is no reason why it can't continue. Maximum points should be the game plan from trips to Swansea, Sunderland and Newcastle while home games against Southampton, Palace and West Brom are all achievable wins. That's another more than winnable 18 points available.
No European Distraction
Big European nights and Liverpool Football Club go hand in hand. There are very few fans out there that are happy not being in European competition yet this could be a huge factor in Liverpool's challenge to break back into the top four. To most neutral observers, Chelsea and Manchester City have the most strength in depth squads and two top managers. That would suggest that the race for the league title may only involve two horses. This leaves four clubs chasing two Champions League places. Arsenal and Manchester United both have tough midweek games in the group stages while Tottenham will battle it out across Europe on Thursday evenings. History tells us that the possibility of dropping points is increased after a midweek European game.
Take Arsenal for example, In November they have an away match against Dortmund on Wednesday evening followed by United at Old Trafford on the following Sunday. In December, Wenger's men travel to face an old foe in Rafa Benitez against a strong Napoli team only to face Manchester City a few days later. United also have a busy period with Trips to Real Sociedad and Bayer Leverkusen, followed by tough encounters at Arsenal and Tottenham. Spurs may struggle the most with the dreaded Thursday night games. Delightful trips to Moldova, Russia and Norway with punishing turnaround times for tough weekend games await Spurs. Brendan Rodgers and his Liverpool squad should use their extra preparation and recuperation time to their advantage to steal a lead to Champions League qualification.
Astute Transfer Window
It's fair to say as Liverpool fans we have had our fair share of being the butt end of transfer window jokes. I'll see your Voronin and raise you a Poulsen. How about a pair of Jovanovic and Koncheskys? Full house of Downing, Carroll, Cole and Adam may be the winning hand but not anymore.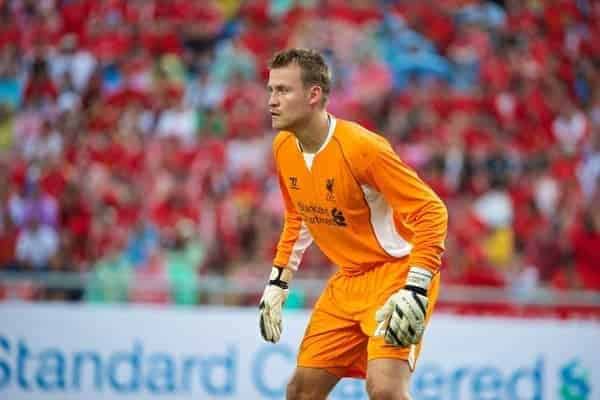 To move out a goalkeeper of the calibre of Pepe Renia and replace him with a hungrier, younger and cheaper option in Mignolet was exceptional business and already paying back dividends. To replace a retiring Jamie Carragher with Kolo Toure, Tiago Ilori, Aly Cissokho and Mamadou Sakho not only bodea well for the future but also the present! Moving out underperformers such as Oussama Assaidi, Stewart Downing, Fabio Borini and Jonjo Shelvey to replace them with top prospects such as Iago Aspas, Luis Alberto and Victor Moses shows a ruthless streak under Brendan that some previously questioned. Add this to Philippe Coutinho and Sturridge, while keeping Suarez, Rodgers has put together a squad of very talented footballers.
In comparison, United only made two signings this window. Marouane Fellaini and a somewhat unknown right back called Guillermo Varela. Is Fellaini alone enough to improve a lacklustre United so far? I seriously doubt it. Similarly Arsenal re-signed Mathieu Flamini on a free transfer, a goalkeeper from Serie B and a key signing of Mesut Özil. Özil no doubt is a world-class talent with 40+ assists last season but will he alone solve Arsenal's problems? Again I don't think so. Many question marks hang over the goalkeeper, defence and midfield and it may take more than the wonderful German to fix these problems.
Spurs on the other hand have practically swapped the core of their team in one window. The Bale fund clearly helped bring in some players of top quality: Lamela, Eriksen, Chiriches, Capoue, Soldado and Paulinho to replace Bale, Parker, Huddlestone, Dempsey and Gallas. There is no doubt the improvement in quality is unmistakeable but wholesale changes in one go can cause problems in itself. Can 6 or 7 players adjust to the premier league and each other quick enough to keep in contention with the race for fourth? Although Spurs have now greater depth in quality, I think the time required to have all these players to gel together will affect their performance this season.
Four reasons Liverpool could surprise many people and compete this season are: Team Spirit, Momentum, No European Distraction and an Astute Transfer Window. Let's hope this year as Liverpool fans our hearts and heads can agree on something, maybe just maybe 'This is our year'!