Following Liverpool's League Cup third round defeat against arch rivals Man United on Wednesday night, it was clear that even though Liverpool deserved more from the game, there were still some tactical errors made by manager Brendan Rodgers both before and during the game, which cost the Reds a place in the fourth round. In this analysis, I will looking at the key areas where Rodgers may have gone wrong and the effect that it had on his side.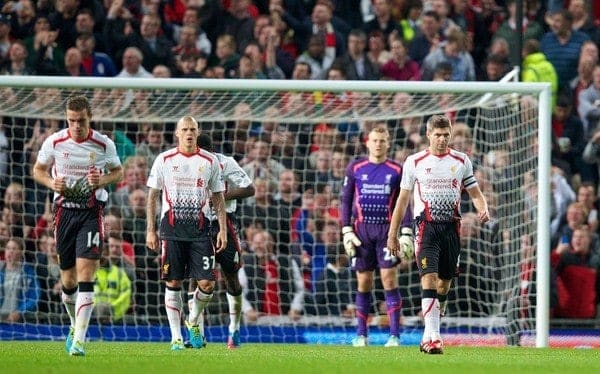 Team Selection:
The Liverpool boss was right to field his strongest available side for two reasons. Firstly, since the Reds were not competing in Europe this season, they should be aiming to embark on a successful cup run, and try and gain qualification that way, if they fail to finish in the top 4 of the league. Then, they came up against Manchester United, a rivalry that has been ongoing for several years, so to defeat your arch rivals in a cup would be good for confidence and also good for bragging rights over the city and in this scenario, create pressure on the shoulders of David Moyes, who has struggled since arriving at Old Trafford in July.
Because Vice-Captain Daniel Agger was ruled out with injury, Rodgers was right to play a 3-5-2 formation with two wingbacks, as he did not have a quick and confident defender like Agger in the starting line-up, but was wrong to play Skrtel in the middle. A better alternative would be Kolo Toure, as he has played in many big games throughout his illustrious career and will therefore have the experience. Also, Toure is a leader not only in the dressing room but also on the pitch, and could have organised the defence better than Skrtel and also help new signing Mamadou Sakho settle in to life at Liverpool after a very nervous start to his career with the Merseyside club.
As the wing-back positions were occupied by Jose Enrique and Jordan Henderson, this meant that Victor Moses had to play centrally. This is a selection that surprised many, as Moses was brought in as a winger, so to play him in an unfamiliar position in such an important game was in my opinion a wrong decision, especially when he had Luis Alberto on the bench. Alberto is a very attack minded midfielder and would play in the Number 10 role very well, even more so since scoring a hat-trick for Liverpool Under 21s against Sunderland and being full of confidence.
Another alternative was to play his classical 4-2-3-1 formation and play Tiago Ilori in the back four, partnering Skrtel at centre back, with Jose Enrique and Kolo Toure at right back. It was vital not to partner Skrtel and Sakho as they are similar players in terms of their attributes and since the Agger/Skrtel partnership worked so well and the Sakho/Skrtel partnership was not so successful against Swansea, Ilori would have been perfect, as he is a similar play to Daniel Agger.
Also, with the addition of Luis Suarez returning from his 10 match ban, he could've played behind Sturridge and then play Moses in his natural wing position and watch Sturridge and Suarez linked a became a deadly SAS strike force. The two teams that I would've played are as follows:
1)      (3-5-2): Mignolet; Skrtel, Toure, Sakho; Henderson, Gerrard, Luis Alberto, Lucas, Enrique; Suarez, Sturridge.
2)      (4-2-3-1): Mignolet; Toure, Skrtel, Ilori, Enrique; Gerrard, Lucas; Henderson, Suarez, Moses; Sturridge.
Substitutions:
Although Rodgers made 2 substitutions in the game, he could have made 3. After the first half, Liverpool looked very settled but Moses did not look at all comfortable in his new central midfield, so a better solution would have been to play Luis Alberto as he would be more likely to link well with Sturridge and Suarez. However, Rodgers was right to bring on the returning Martin Kelly for the cautioned Lucas Leiva, as the Brazilian has been out of form, and it allowed Jordan Henderson to push inside and partner Steven Gerrard in the centre of midfield.
His final substitution was partly correct as he brought on the fresh legs of Raheem Sterling, and put even more pressure on Manchester United's young left-back Alexander Buttner, who must've been tiring having rarely completed a full game at this level due to the presence of Patrice Evra. However, having brought the 18 year old on in the 82nd minute, it was too late to make any significant impact in the game.
It would've been a tough decision who to bring off for Rodgers, as he brought off Moses in the game, but it would've been a better option to substitute him at half time for Luis Alberto. The only alternative that would be appropriate would be to take off a tiring Gerrard, play Alberto deeper, move Suarez inside to play behind Sturridge, and allow Sterling to partner Sturridge in attack. It would've been easier to take off Suarez or Sturridge, but since they were linking so well throughout the game, then it would've been a clumsy error, especially when Liverpool needed a goal.
If you agree or disagree with my analysis, then be sure to let me know my leaving your comments below. What do think of my team selection? Where the substitutions correct and at the right time? Would you have played Aspas? If you have an answer to any of those questions, then be sure to comment on this piece or even tweet me, my Twitter is @scotttayloruk, and while you're there, follow me as well, I'm nearing 1,000 followers  and it'll be a great achievement if I could reach this milestone. Finally, for more Liverpool FC content, be sure to check out my personal blog at www.thenextgenkopites.wordpress.com.
Until Next Time Reds…
Scott Taylor