Ben Twelves finds a Liverpool squad rich with options for Brendan Rodgers' selection ahead of this Saturday's Premier League game at home to Southampton.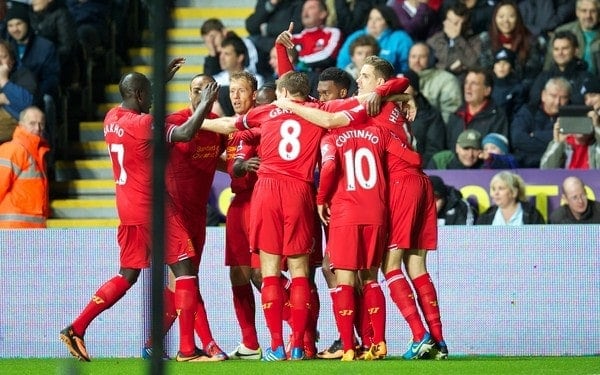 Having battled to secure a useful point away at Swansea on Monday night, we should now all be rejoicing at the fact we are back at the top of the Premier League. Unfortunately, an injury to Philippe Coutinho, that will keep him out until the end of October, has cast a shadow over that fact and having previously wondered where Luis Suarez would fit in to the side once he was available again, we are now eagerly awaiting his return.
Creativity, skill and a hawkeyed like vision for a defence splitting pass are the match-winning attributes that we lose while Coutinho is absent and with the weekend's game against Southampton coming one match too early for Suarez, the manager will be forced to shuffle the pack in attacking areas. No matter what Brendan Rodgers decides to do, nothing can replace what the Brazilian Beardsley gives us. Losing Philippe to injury is arguably a bigger loss than losing Luis for me. We have seen how we can cope without Suarez – Coutinho and Sturridge go some way to ensuring that our standards don't drop – but we are yet to see how we can cope without the Brazilian wizard.
Coutinho's injury could offer a return to the side for Iago Aspas, who dropped to the bench for the trip to South Wales to make way for Victor Moses who impressed on his debut. Despite starting three of the four opening league games, so far the Spaniard hasn't yet shown the form that prompted Rodgers to bring him to Anfield. Fellow newcomer Luis Alberto produced a fine performance at Anfield on Tuesday night for the under 21's, scoring a second half hat-trick as they swept aside Sunderland. The game also saw an exciting performance and goal from Raheem Sterling who will also be hoping that he too has done enough to deserve a place on the pitch come 3pm Saturday afternoon.
At the other end of the pitch, a return to fitness for the much loved new-boy Kolo Toure will no doubt see him knocking on the door of a return to the fray. The experienced Ivorian came on to replace Andre Wisdom in the 69th minute at the Liberty Stadium, providing Liverpool with a wise head in the back four which helped to guide us to a point following a slightly complacent second half display.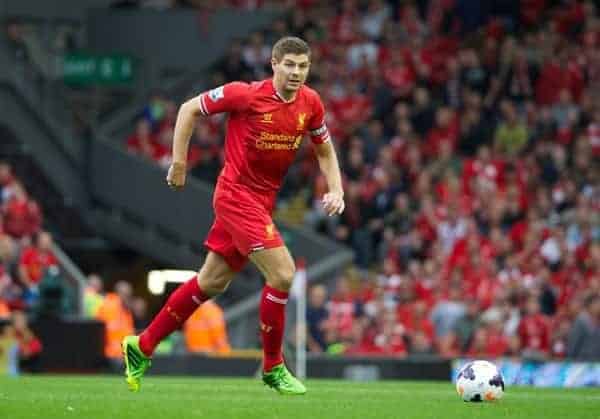 The line-up
We know that Brendan Rodgers is certainly going to be forced into making at least one change for the game against big spending Southampton. That change would see Raheem Sterling come into the '3' behind the ever impressive Daniel Sturridge if I was picking the team. In turn, this would mean that Jordan Henderson would move into the more central role that Coutinho vacates and Raheem comes in on the right side leaving Moses to continue of the left. Andre Wisdom would also remain at right back for me, as even though I agreed with his substitution on Monday night, I felt it was more for tactical reasons rather than performance related.
With only the one change, our team on Saturday would look like this: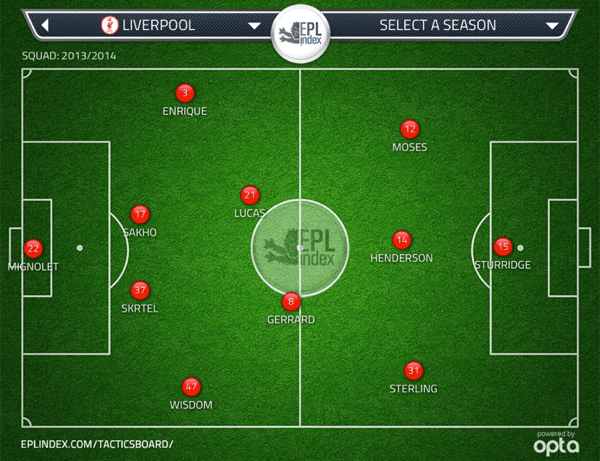 While that would be the team I'd pick, I would be surprised if it is indeed the team that graces the Anfield pitch. Rodgers seems to view Raheem as more of an impact player at this moment in time and for that reason I believe that he will hand another start to new signing Iago Aspas, giving him the opportunity to continue adapting to our system. Questions have been raised over where it would be best to play Aspas but if he does come into the team, he is likely to take over the central attacking midfield role with Henderson and Moses either side. Even though I think Rodgers will pick Aspas over Sterling, I do feel that he may leave Wisdom at right back seeing as he isn't likely to come under the same amount of pressure as he did at Swansea, therefore it being less beneficial for Toure's experience to come back into the side albeit out of position. The team I expect Rodgers to pick on Saturday would like this: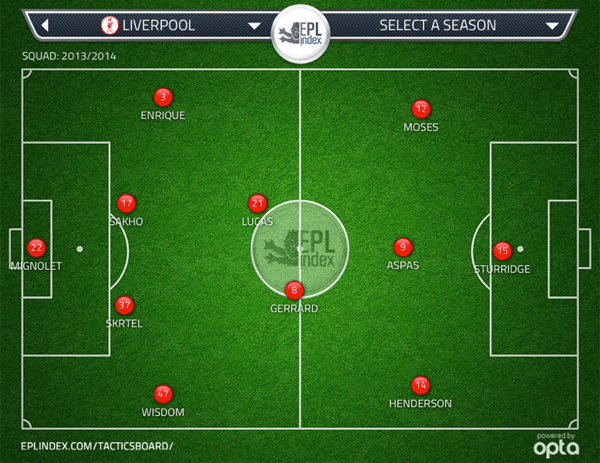 Regardless of who is selected to wear the first eleven shirts, the squad as a collective group have set the standard so far and one thing we know for sure is that every player will be giving it their all to ensure that we are still top of the table come 5 o'clock early Saturday evening.
See also: Tactical look at Saturday's opponents, Southampton