The transfer window is closed, Liverpool have successfully brought in eight new players. How many of the new signings would get into our strongest eleven now? We asked the This Is Anfield writers for their opinions…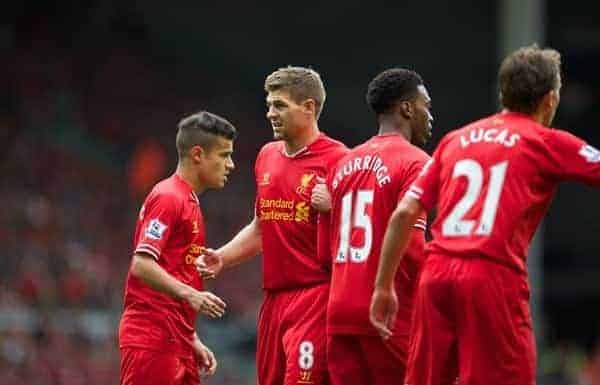 Team selections are based upon, theoretically, everybody being fit and 'on-form'. Some interesting choices, let us know yours in the comments below.
John Ritchie: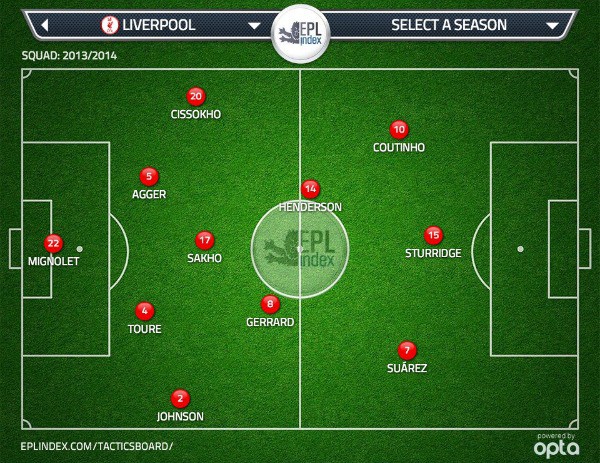 The main omission here is that of Lucas, replaced by new boy Mamadou Sakho. This is due to Sahko being able to play midfield, although it's not his preferred position. As a player he's shown he has the tactical awareness of space, pace and defensively minded and the ability to tackle effectively and intelligently without conceding an unnecessary foul in a dangerous area.
The front three are fluid, all interchanging with Henderson at the apex of the midfield three adding pace, and energy to the which is necessary with Steven Gerrard having to manage himself throughout games.
This selection also allows anyone of the back four to be replaced either in defensive midfield by bringing Lucas or Allen on which then means he can drop back and Toure can play on the right, whilst Agger or Sahko can play on the left and indeed the central defensive position. I feel this formation gives us pace, power, technical skill and the necessary versatility with players who know how to slot in to various positions on the field of play.
Steven Maclean: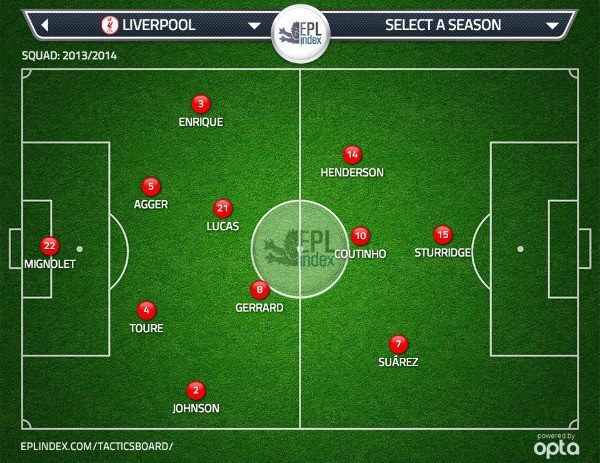 For now, I think it's sensible not to tinker with a winning team too much, and it's also better for team morale for players to have to earn their places over time, rather than crowbarring them in for players who have performed well.
I'd look to ease Sakho and Cissokho into the first XI between now and Xmas, however, and I'd rotate a lot depending on who we are playing and the tactics we need to employ. We could play 3-4-1-2 with a back three of Sakho-Agger-Toure (with Ilori, Wisdom, Kelly and Skrtel if he stays all able to slot in) and Coutinho behind both Suarez and Sturridge. Or we could adopt a 4-2-1-3 with a front three of Suarez, Sturridge and one of Coutinho, Moses, Sterling or Ibe (depending on whether Coutinho plays as the '1'), or even a 4-2-2-2 with Gerrard and Lucas sat behind Coutinho and Henderson (both with a license to roam wide) and Suarez and Sturridge up front with the fullbacks providing the width.
The great thing about having a squad packed with technically gifted, tactically aware players, is that it gives you lots of tactical options. In times gone by we've had quite a few players who could only perform one role, and were quite rigid in doing so, but now we have only a couple of players who can't play in at least two different positions. Even most of our centre backs (Agger, Sakho, Toure, Illori, Wisdom) can play either at full back or as a defensive midfielder, and all our attacking players can play wide as well as centrally or on either flank, giving us great natural fluidity in attack. They used to call it Total Football!
Neil Poole: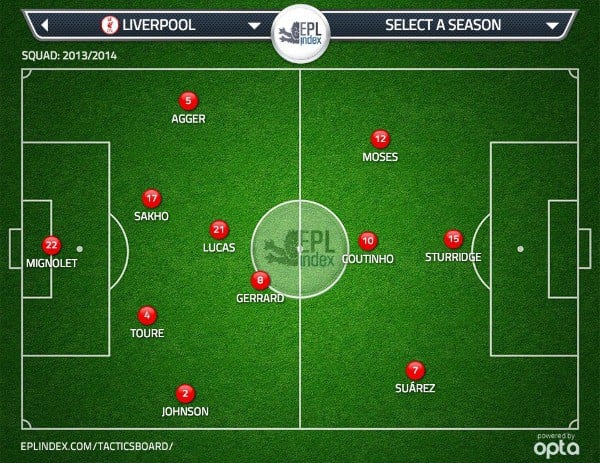 On current form Mignolet, Toure and Sturridge are un-droppable for me. Even with the return of Suarez, Sturridge's 16 goals in 20 games means he deserves to hold his position as the focal point of the attack. Crucially he is enjoying his football and losing his place to Suarez (who can easily be utilised on the right of what is essentially a front four) would undermine his good work.
The arrival of Moses on the left allows Coutinho to move into the number 10 role as envisaged by Brendan Rodgers. Lucas and Gerrard would sit in midfield, with the latter given licence to get forward as the game demands.
Johnson keeps his place at right back, although depending on how long he is out with injury for I would replace him with Wisdom
My refusal to drop new fan favourite Toure creates a conundrum about how to fit in Sakho and Agger. I contemplated a back three and can see the merit in it. However in a season when we need to get back into the top four and pick up as many points as possible I'm not sure we can really afford to experiment with formations too much. Therefore, I've decided to experiment with positions!
Sakho, as the marquee signing slots into his preferred position at centre back. I don't think Agger has been in great form over the last year. However he is vice captain and I don't see Rodgers dropping him. Furthermore, he is a better defender than Enrique and has competently deputised at left back before. Enrique is consigned to the bench ready to compete with Cissokho as a substitute for Agger when he gets knackered with the running Rodgers' demands of his full backs.
Marco Lopes: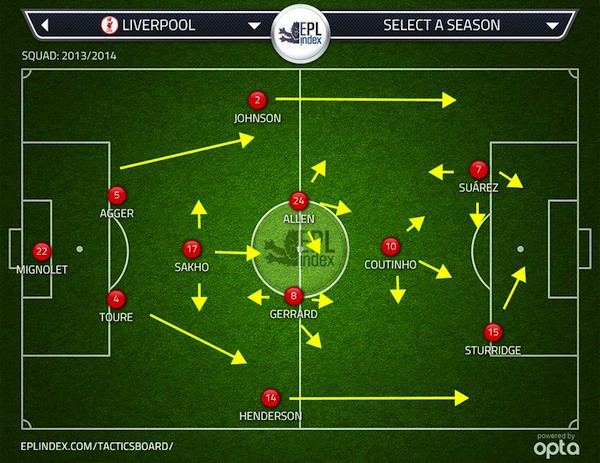 I'm sure most of the other lads will go for the tried and tested routes, but I'm extremely keen to see what this team could produce with some different thinking. My best XI is a brave, 3-4-1-2 experiment which starts by leveraging the number of CB's Liverpool currently have in place. The rationale is simple – Toure and Agger looks a great partnership, so keep it. Sakho's mobility and talent could allow more obvious protection for Gerrard and Joe Allen to press higher up the pitch and control games in the opposition half. Henderson is in outstanding form, so allow his workrate to offer both solid defence & functional attack down the right. Johnson's versatility makes him an interesting option down the left. Suarez loves to cut inside, so let him do so, while Coutinho and Sturridge can still link up in arguably their best positions on the pitch. From a substitutes point of view, Moses, Sterling, Lucas, Enrique could all offer tactical variations as the formation can shift to allow 4 at the back in a 4-2-3-1 or our usual 4-3-3 shape.
Matt Ladson: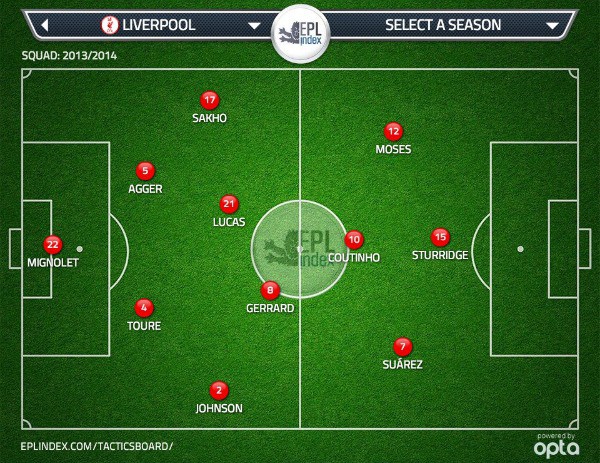 Difficult to leave Henderson out on current form, but this is an "ideal" eleven for home matches, against teams we should be beating. I'd potentially look to bring in Hendo for Coutinho in tough away games – people forget Coutinho is only 21 and is still learning too. Henderson's energy is fantastic. The best thing is that we now have a strong squad so the options are much healthier.
Ben Twelves: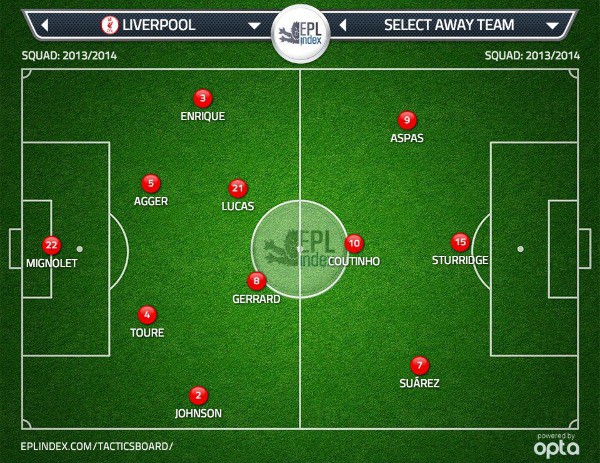 Deadline day arrivals don't feature as I feel the players who have played since the first game of the season have done incredibly well and shouldn't be dropped, leaving it up to the new signings to force their way into the team.
---
Interesting that a lot of the lads choose not to include any of the late additions, and that Kolo Toure retained his place in every 'ideal XI'. The front three of Coutinho, Suarez and Sturridge is clearly desired by most.
Formations created using the EPLIndex Tactics Board.