After a summer dedicated to forcing his way out of Anfield Luis Suarez has some serious making-up to do, writes Aaron Cutler.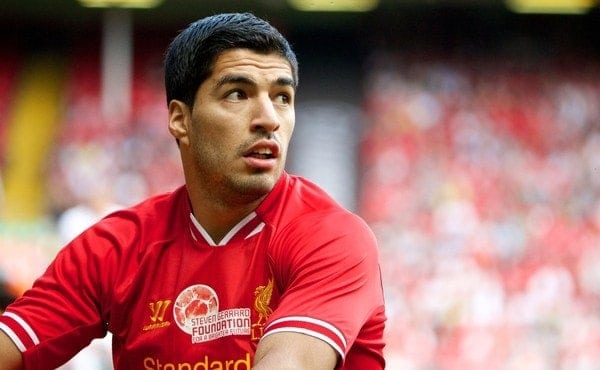 So far, so good.
Liverpool's start to the season has certainly ratcheted up expectation levels. Three successive wins have triggered a belief that Champions League qualification is no longer a faint hope but in fact a distinct possibility. Topping the table is in itself no small feat but real cause for optimism lies in the manner of our unbeaten start.
Indeed Liverpool have now developed much-needed steel and that all-important Plan B. In actual fact they have developed several styles of play, a far cry from this time last year. Rewind twelve months and Kopites everywhere – myself included – bemoaned Brendan Rodgers penchant for deploying his favoured system and nothing else. As if to underline the point, Steven Gerrard conceded in a magazine interview that there was no alternative tactic – Rodgers preached his way and nothing else.
Whether it by accident or design Liverpool have since stumbled across several different approaches. Death by Football remains the idealistic route but the squad now change it up accordingly. Take the first three games of this season for instance. We swarmed all over Stoke, displaying quick, evasive movement and a clear emphasis on taking the game to our opponents (hence a high defensive line).
Yet come our trip to Villa Park a conscious decision was made to sit-back and soak-up pressure, stoically defending a lead gifted us by the imperious Daniel Sturridge. A move previously alien to Rodgers it shocked many who simply assumed we had been outplayed from the 20th minute.
Brendan's sides historically fail to win ugly but we have clearly developed a harder exterior, a resilient edge. This was again evidenced at home to United where we sat deep and dealt with every question posed. Moreover, we dealt with a Championed threat quite comfortably. It all harkens back to the days of Houllier and Benitez – both of whose success was built on a solid rearguard.
The modern day Liverpool also rely on counter-attacking football. Last season – from January onwards – we broke quickly, utilising the artistry of Coutinho and movement of Sturrdige to turn the tables. Wigan, Newcastle and Fulham were all put to the sword in this vain, with the latter encountering a 3-5-2 formation – yet another string to our expanding bow.
Rodgers may be learning on the job or simply adapting to the squad now at his disposal. Whatever the logic it is refreshing to see a Liverpool side capable of grinding out results as well as outclassing their opposition. For too long we have succumbed to sides displaying these very tactics, perhaps the tide is turning. And all of this without our best player…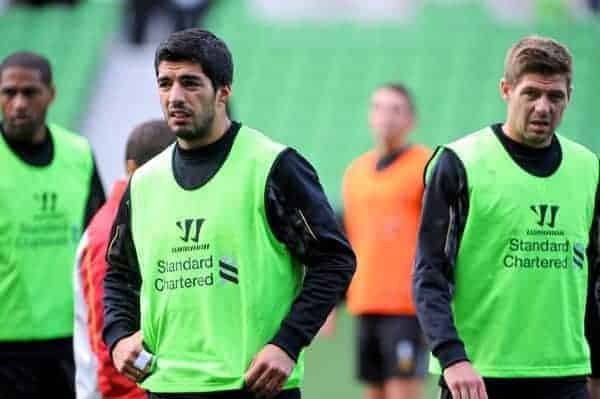 Luis Suarez has become a taboo subject. He serves the last of his ten game ban at home to Southampton, after which he will be available to face United in the League Cup. The suspension itself was inexplicable, his behaviour between then and now unforgivable – or is it?
The Uruguayan's not so subtle attempt to engineer a move away from Anfield began in earnest – as far back as May. While on international duty (of course) the South American expressed his desire to leave – citing press intrusion as the root of his unhappiness. He then channelled his inner fan girl, fawning over Real Madrid like a teenage girl would One Direction. "A player always aspires to be at the top of their profession" he announced "and Madrid is at the top for any football player."
Liverpool acted accordingly – issuing a statement ruling out any sale. Nevertheless the rumour mill went into overdrive, with Suarez doing his utmost to stoke the fires. His exit strategy lacked one key player however – Madrid.
For all his pandering, the Spanish giants refused to humour Suarez. Getting desperate he sought-out that same big bad media to issue another 'come and get me' plea – insisting one call could change his career path. The phone never rang.
Enter Pere Guardiola – brother of Pep and agent to Suarez – his would prove a decisive role. On July 8 Guardiola flew to Merseyside to hold constructive and amicable talks with both Ian Ayre and Brendan Rodgers. The very next day he revealed his client was still hell-bent on jumping ship – no longer the victim of a biased media but a lack of Champions League football.
This alerted Arsenal who submitted a quite derisory £30m bid. Rejected out of hand, few imagined the Uruguayan would ever entertain a move to North London. This was until reports and quotes emerged suggesting otherwise. Buoyed by a perceived willingness on behalf of the player and a rumoured release clause – The Gunners slapped in an astonishing £40m + £1 offer. This backfired spectacularly.
Not only had Guardiola misinterpreted a contract of his own making but his advice incensed the Liverpool hierarchy. Viewing the additional £1 as a blatant lack of respect, FSG ruled out any further negotiations with Arsenal.
Suarez himself had since returned to the fold, appearing downtrodden and miserable on the club's Asian Tour. Our fanatic support cheered him to the rafters, ignoring the fact he had been exposed as a liar. How can contempt for the English media hasten a move from Liverpool to Arsenal, a club from the same country?
Turning a blind eye to the painful truth, The Kop again afforded him a hero's welcome, this time for Steven Gerrard's testimonial with Olympiakos. Rather than reconsider his stance in light of such backing, Suarez had further depths with which to sink.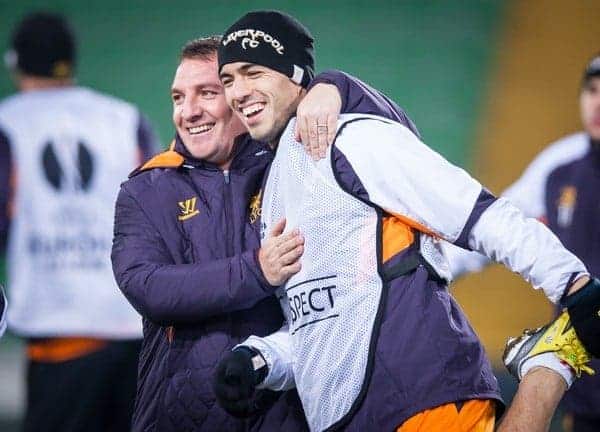 Personally seeking out The Daily Telegraph and Guardian newspapers he accused Brendan Rodgers of lying to him, reneging on a promise to facilitate a transfer this summer. Moreover, he vowed never to play for the club again due to their exile from the Champions League. Those supporters who had given him the benefit of the doubt were left shell-shocked – what price loyalty?
Rodgers – a man who had defended his tormented genius to the hilt – finally lost patience. Banished to Melwood's outer sanctum, the Uruguayan was made to train alone until an apology arose.
Still the saga had further twists to come. First John W. Henry entered the fray – assuring Liverpool fans no sale would be forthcoming, particularly to a direct rival such as Arsenal. Suarez, safe in the cocoon of his homeland, fired back; insisting no apology would surface for the furore he had created. By the end of that international break rumours abounded that he had indeed relented and now intended to sign a new deal – only for the player himself to dismiss that out of hand. Footballer's Wives had nothing on this storyline.
Having grown weary of the soap opera Rodgers announced he would no longer discuss the disobedient one until he was available for selection. With the window's close in sight and realising he had exhausted every option open to him; Suarez accepted his fate and rejoined the squad full-time.
So what next? What once seemed unlikely is now a certainty – Suarez will play for Liverpool again. But how do we, the fans, intend to welcome him back? How will you personally feel when he lines-up at Old Trafford?
For all his quality our number 7 has shown a blatant lack of respect to his manager, teammates and public. Having stood by him in light of numerous controversies the least the club could have expected was a degree of loyalty. Instead, Suarez whored himself about Europe like a dishevelled prostitute. His antics also laid to rest the myth of foreign players buying into the history and culture of our club. Like Fernando Torres before him, Suarez paid lip service to The Kop, all the while plotting a way-out.
Such is his talent he cannot be ignored. We are talking about arguably the best player in The Premier League, meaning when available he will feature. Nevertheless he should not, under any circumstances, be afforded a rapturous reception.
Football may be a fickle sport and a few goals may brainwash some into forgetting his misdemeanours. Manchester United, lest we forget, forgave both Cristiano Ronaldo and Wayne Rooney following very public pleas to leave. But our fans are cut from a very different cloth.
Suarez must earn our acceptance once again, acceptance being the operative word as he will never acquire the same affection which saw fans defend the indefensible.
However the club and player dress it up between now and May, this will be his last season at Liverpool. Hopefully he has come to terms with his situation and knuckles down for one final tilt. There is clearly a role for him in this side, a road to redemption.
Iago Aspas will be the one to make-way, allowing Suarez to link-up with Coutinho and Sturridge in a pulsating front three. That trio can wreak havoc and fire the reds into contention for a top four berth. Indeed forgiveness would come in the form of Champions League qualification.
Should Suarez lead Liverpool back to Europe's elite few would begrudge him a move next summer. All we ever expected was one more year, some form of payback for the continuous strife born of his crazed character. Furthermore, a return to the biggest stage would allow for greater pulling power when any replacement is lined-up.
It is a great credit to the squad and management that this distasteful episode has not impacted on our start to the season. Indeed Rodgers came out of the affair in a brilliant light, after all no coaching manual prepares you for a problem like Suarez. The players meanwhile have excelled, none more so than Daniel Sturridge who is relishing his role as focal point of the attack and will deservedly retain that title going forward.
Suarez will be restored to a side making clear progress; a side that could well top of the league come his return. This will hopefully serve as a reminder that he will never be bigger than LFC and this project will continue apace with or without him. In a World Cup year he needs games; we need points – resulting in a healthy compromise for the next twelve months.
So pay no attention to any soundbites, gestures or exuberant celebrations going forward. Suarez is merely an employee with no emotional connection to Liverpool whatsoever. Let's enjoy and support his talent for as long as we have it but not be hoodwinked into thinking it is anything more than a job to him. Love the club, not the player – one will last you a lifetime, the other as long as it suits them.