Rory Fitzgerald continues his in-depth analysis of the opposition ahead of West Broms's visit to Anfield on Saturday.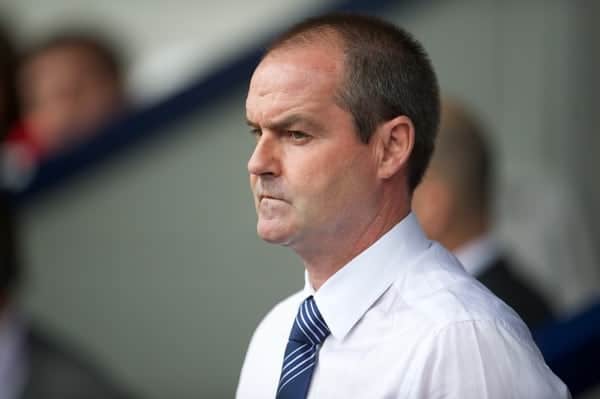 Set up
West Brom's greatest quality is their willingness to work for each other and play as a team. Whilst the differences are subtle, I see their set up more as a 4-4-1-1 rather than a 4-2-3-1 based on the mandate of the wide midfielders and the role of Stephane Sessegnon as the link man between midfield and attack.
Steve Clarke has settled on his defence and 2 holding midfielders this season with the rotation happening at the other end of the pitch. The quartet of McAuley and Olsson in central defence and Mulumbu and Yacob holding the midfield ahead of them is one of the more robust & uncompromising in the league.
They are complimented by Billy Jones at right back and Liam Ridgewell at left back. In an age whereby full-backs are adding a lot more to the offensive side of the game, Jones and Ridgewell are full-backs of the more conventional variety. Neither is blessed with great pace but both are well disciplined defensively. As such, what the back 6 may lack in individual quality, they make up for by being a tight unit and seem to be have been well drilled under Steve Clarke's tutelage.
Defensive support
Clarke has revealed that he worked hard with the players over the summer in a bid to tighten things up at the back going into the new campaign, "In pre-season we just focused on getting back to basics. If you're solid and you don't give too many goals away then you always give yourself the opportunity to create in games. If you give yourself the opportunity, we have shown in recent matches that we can score goals." He added: "Am I pleased defensively? Absolutely! Defensively, as a team, we have been much better".
Below are a couple of examples of how West Brom have managed to keep it tight against Man Utd and Arsenal. Unlike the Newcastle preview whereby Ben Arfa and Remy provided no support, Steve Clarke would seem to insist that his wide players drop back in to provide cover in the full back areas in order to allow the rest of the defence to remain tight and compact.
The following examples show what kind of obstacle West Brom can present when they aren't countered and get time to get men behind the ball. This is an example from the Utd game of how Scott Sinclair's position allows the rest of the defence to remain tight and not become stretched.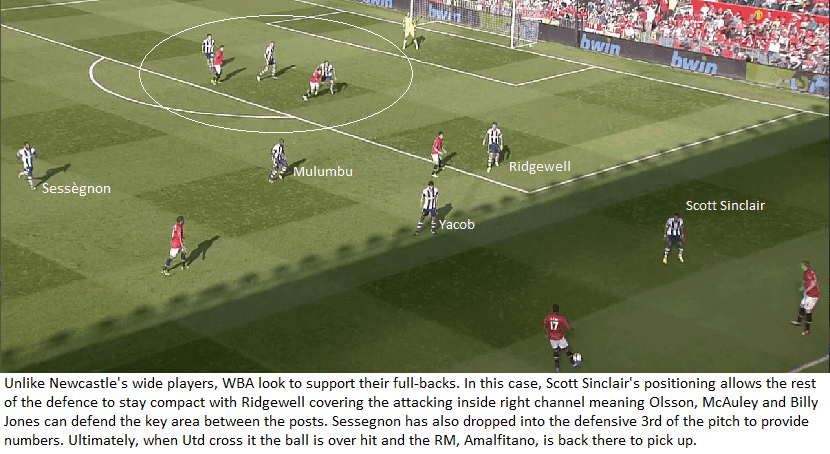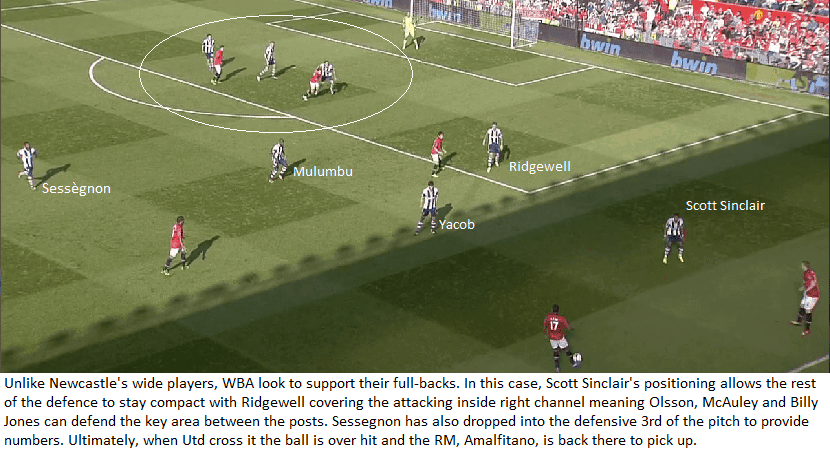 Here is another example of the wide players coming deep. With Arsenal being a team that generally plays a narrower game than most, West Brom's 2 banks of 4 are able to squeeze in field.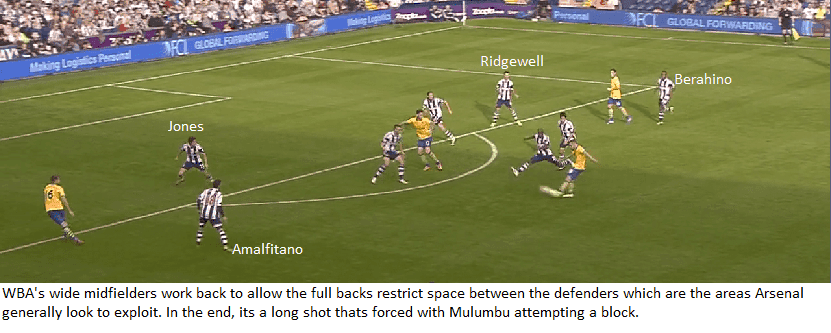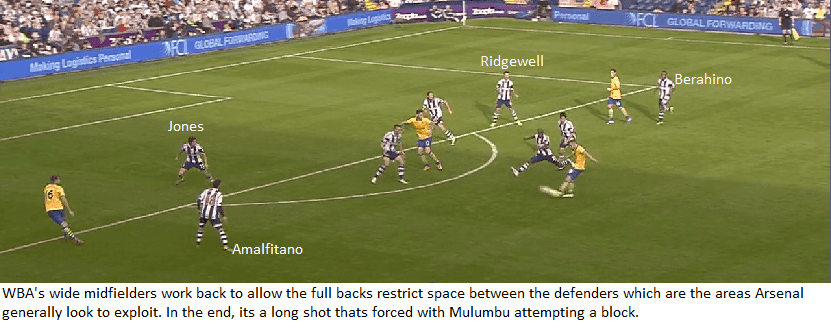 In the screen shot below, similar to those above, West Brom have enough men back to ensure that Olsson and McAuley are not pulled from the centre of the box.



Dominating midfield
One notable observation from West Brom's defensive positioning is that they start deep. That is their regular game plan.
With Mulumbu and Yacob ahead and the wide players putting in a shift of work, Clarke seems to have taken the approach that if there is going to be space on the pitch when the opposition have the ball then its better for the space to be ahead of the defence rather than between/behind it. A
Against United and Arsenal, Carrick saw plenty of the ball and attempted a staggering 103 passes with a 91% pass completion rate. Similarly, Arsenal's two deep midfielders (Flamini and Arteta) were able to get on the ball and attempted 134 passes between them with a 97% pass completion rate each. None of this matters much to WBA, their defenders are not the quickest and as seen above, the midfield seems more intent on providing support when play enters the final 3rd to allow the back line to keep their shape and remain compact (as opposed to contesting possession much higher up the pitch like Southampton do).
As such, Liverpool's midfield could see a lot of the ball in non-threatening areas. The following graphic perhaps gives some credence to this observation with WBA being the team that rank 2nd last in terms of tackles per game this season – which may indicate 2 things;
(a) that team don't contest the midfield area as much as other teams, and
(b) when the opposition are retaining possession the focus is on getting into position and creating a tough unit to penetrate rather than defending on the front foot and proactively trying to win the ball back.

Here is a graphic which seems to suggest that teams find it hard to create many good opportunities against WBA. In the 1st graphic, they are the team that have conceded the fewest shots within the 6 yard box – perhaps due to the doggedness of McAuley and Olsson not being caught out of position too much. Ideally teams will look to restrict the opposition to shooting from range and WBA have been 4th best team at his so far this season – perhaps due to the limited space/gaps in the box that opponents try their luck from range.

Attacking threat
Whilst the defensive positions are nailed down with the back 4 and defensive midfield duo, Steve Clarke has alot of options going forward and regularly rotates the players in the attacking 4 positions. Here is a quick look at the players that the manager can pick from;
Centre forwards: Anelka, Long, Sessegnon, Anichebe, Rosenberg
Attacking/Wide midfield: Morrison, Amalfitano, Dorrans, Berahino, Sinclair, Brunt.
Of those 4 positions, Sessegnon and Amalfitano are the 2 that seem more assured of their place. Despite only being at West Brom for a few games, Sessegnon has become a key player in Clarke's set-up. He will play as the deeper of the 2 strikers and with his direct running and confidence to dribble past players, he can cover alot of ground and help turn defence into attack quickly on the counter-attack. He ranks 3rd when it comes to dribbles per game so far this season. As he is one of the go-to guys for West Brom given his ability to carry the ball, he has averaged the highest amounts of fouls won per game this season.
As for Amalfitano, he generally plays on the right of midfield. In his short time at West Brom he has made some key contributions and looks a fine footballer. Here is a recap of his involvement so far and looks to have a very useful delivery from out wide;
– Fantastic solo goal against Man Utd
– Beautiful touch to lay off the ball for Berahino's winner at Old Trafford
– De Gea claws out his free kick from the top corner
– Crosses for Yacob's goal against Arsenal
– Swings in 2 crosses at Old Trafford, one which Berahino heads narrowly wide and the other which Olsson heads off the bar.
Additionally, he has the 3rd most key passes so far in the league which is defined as 'the final pass to a team mate who then shoots at goal'. I include this stat to give a flavor as to the type of player that he is as No.1 and 2 is David Silva and Mesut Ozil. However, I reckon some of these key passes are crosses and not all threaded through balls as the stats show he has averaged the most successful crosses per game this season in the league.
Below is an example of the contribution of each player at Old Trafford and how Sessegnon can attack open spaces with his speed and direct running. Its certainly an area to be wary of as Gerrard & Lucas would find it difficult to catch him if he gets some space behind them on the counter-attack.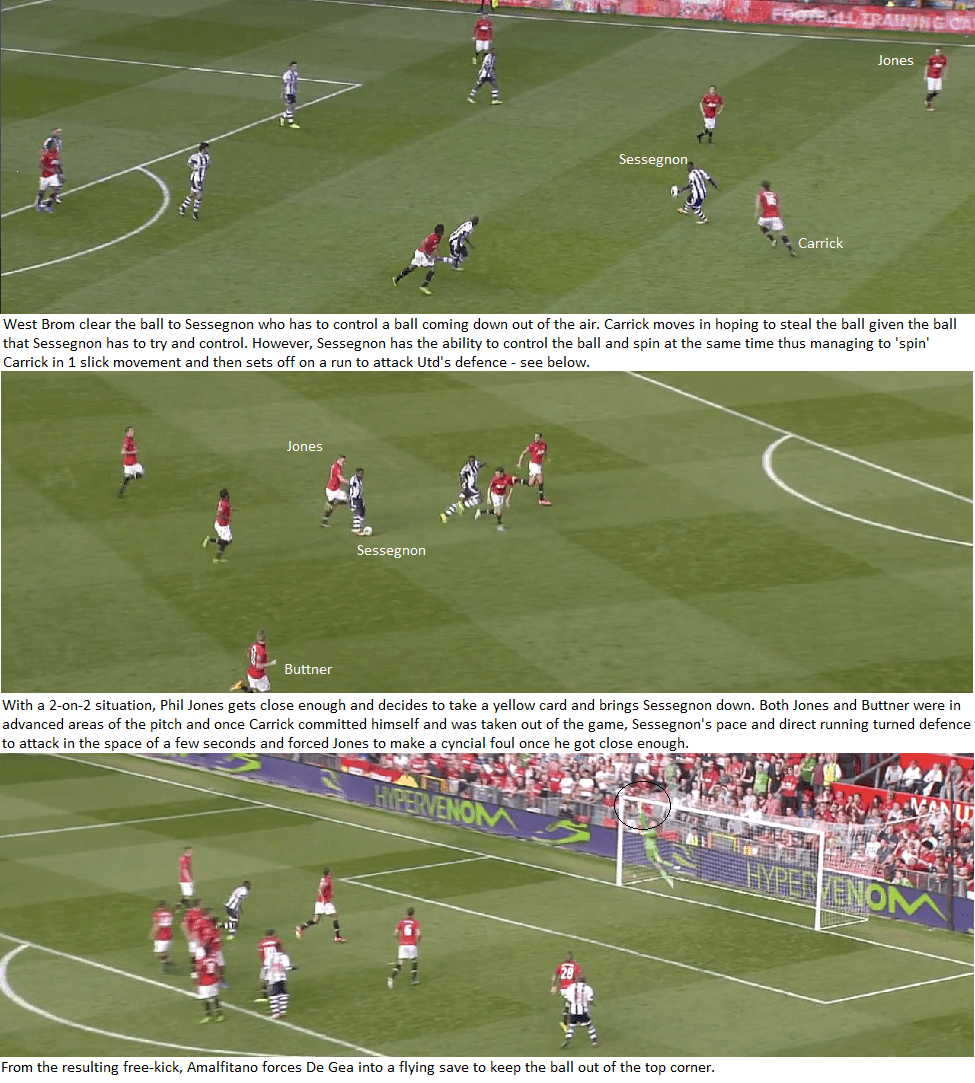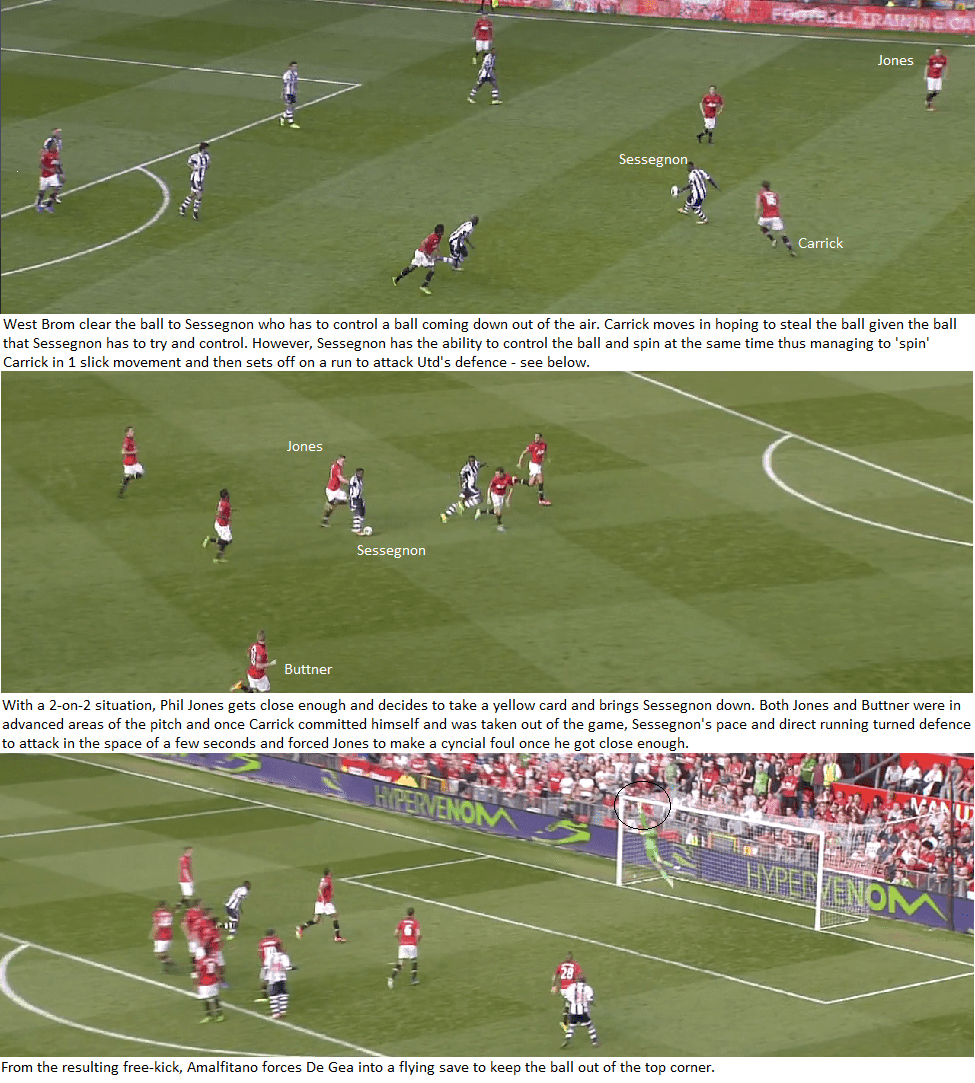 Finding space
In recent games against Utd and Arsenal, Steve Clarke encouraged his team to attack and try to win the game. The key to finding opportunities against this team is when they loose possession. From the games so far, Mulumbu is not shy about joining the attack and Yacob, who generally is the deeper of the two, not far behind in backing up the play.
When they loose possession at Anfield, expect to see the 4 midfielders work back fast to become more organised and allow the defensive quartet to tighten up in central areas. This is the moment when we are likely to find the most space, whilst it may sound like a crude form of attack at Anfield – looking immediately for Sturridge and Suarez when we re-gain possession could yield some chances.
Olsson and McAuley are weaker when back peddling against skillful players and as such, giving our attackers opportunities to drive at their back 4 without the protection of the midfielders could produce some good chances. To give a flavour of the willingness of the midfield duo to push up, I include the following 2 moments during the Arsenal game. I don't want to give the impression that Mulumbu and Yacob just baby sit the back line, they will back up the attack high up the pitch and it was Mulumbu that drove into the box at Stoke and should have had a penalty when Charlie Adam stood on his ankle.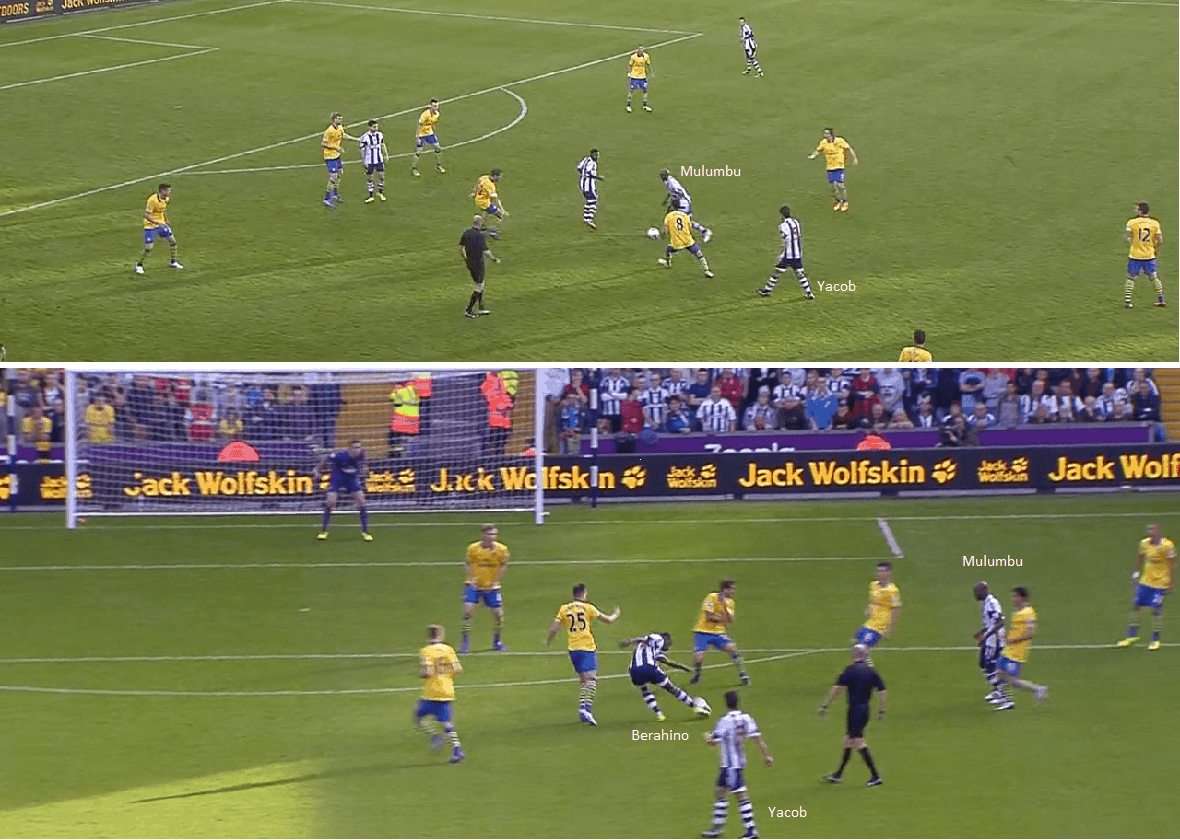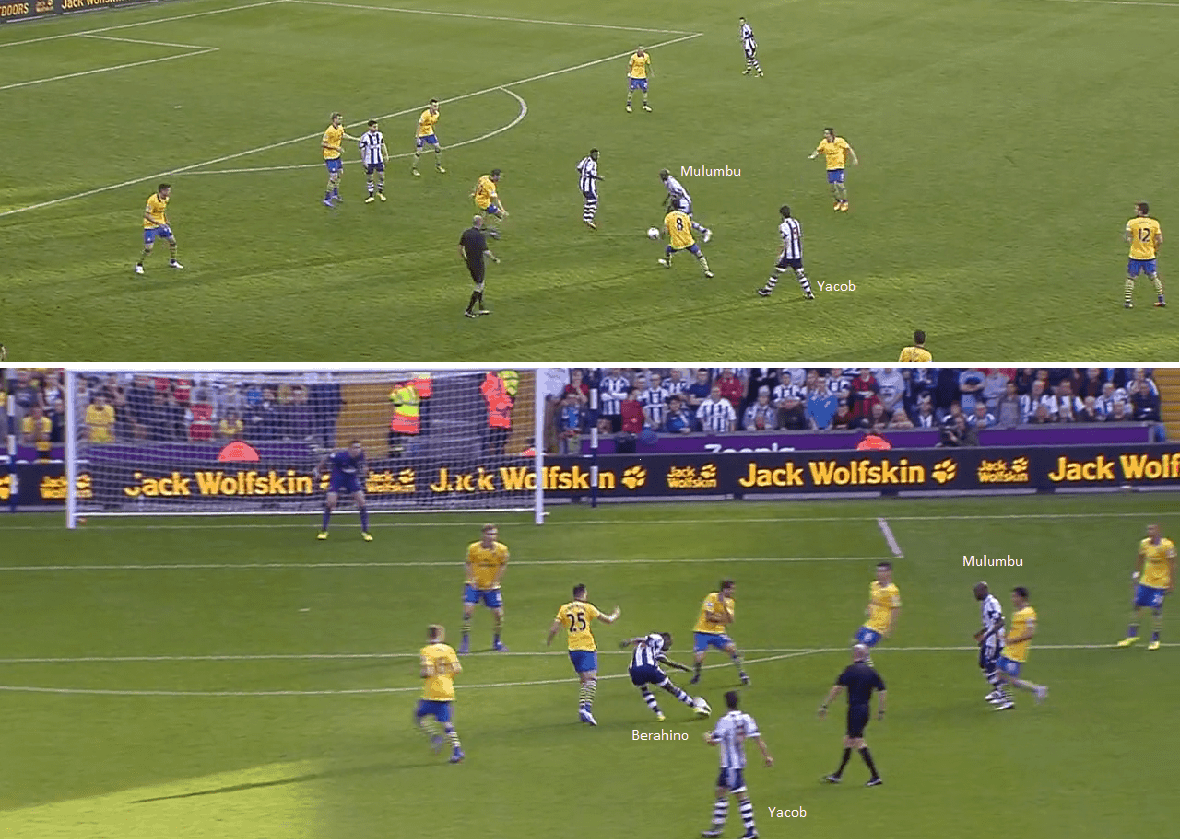 In circumstances whereby we find ourselves up against a compact defence, one thing I noticed when other teams got down the line to cross the ball was that their defenders run back to get as close to goal as possible and that opportunities were created when the cross was cut back between the 6 yard line and the penalty spot as there was some space in that area. Something like our opener against Wigan at home last season when Sterling got near the goal-line and Suarez spun off his defender for the cut back.
Conclusion
What we are likely to face on Saturday is a team that works well together as unit. Mulumbu and Yacob will put in a lot of work to back up the attack and cover the defence. When possession is lost, Steve Clarke has them well-drilled when it comes to getting back fast to become re-organised and cut down the space behind them. Below is a look at the goal they concede to Arsenal, the point of this graphic is to show that soon after losing possession, the back 4 has managed to become compact with 2 midfielders also behind the ball and effectively out-numbering the Arsenal players 2-to-1.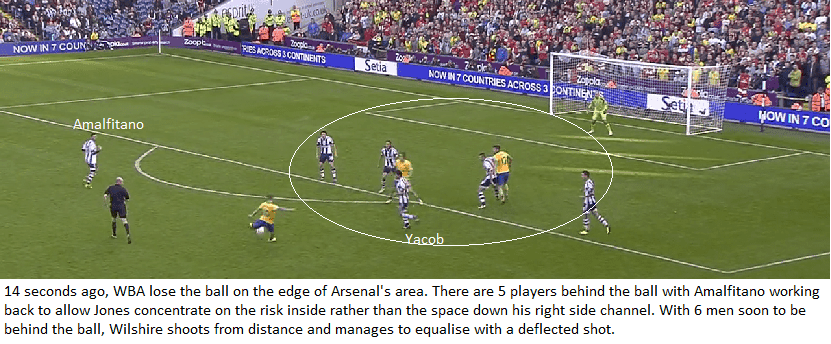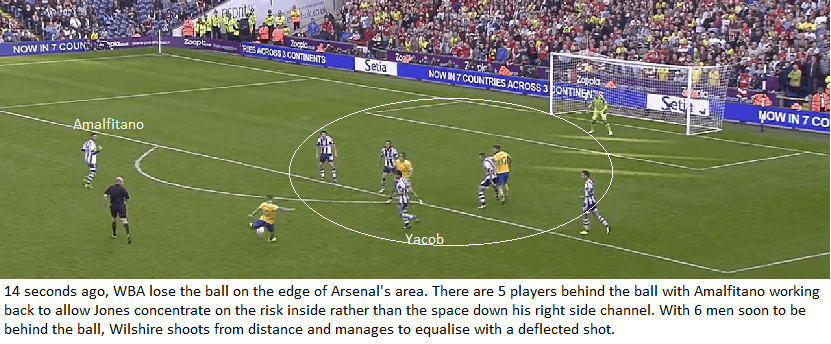 When West Brom threaten, the chances are that it will involve the pace of Sessegnon and, if he starts Berahino, especially on the counter attack. However, Amalfitano delivers a good cross and with Olsson and McAuley strong attackers of a high ball, they will be very dangerous at set pieces.
McAuley scored from a corner vs Fulham, Yacob scored a header from an Amalfitano cross against Arsenal when they failed to clear a corner and Olsson hit the bar from a corner at Old Trafford which Amalfitano also took. That said, West Brom have failed to score in 4 of 8 games this season and scored 3 of their 7 goals against Sunderland, so they have not been the most prolific this season – in part due to the fact that they average only 45% possession this season.
Essentially, this game could see Liverpool with alot of possession in non-threatening areas and find it difficult to create any clear cut chances against a defence that is likely to be compact. This could be a game whereby we are relying on a piece of opportunism to convert half chances as West Brom seem to be successful at forcing teams into shooting from distance.
Liverpool have lost the last 3 League games against West Brom 2-0, 3-0 and 1-0 thus evidencing our recent struggle to score against them. Don't be surprised if Saturday turns out to be a frustrating afternoon in front of goal as West Brom have the 4th best defensive record in the league.
Perhaps Liverpool's recent change in style in trying to go forward more quickly can help us find spaces after their attacks break down as giving Suarez & Sturridge early ball when their defence is not protected by midfield could produce some better opportunities than we might otherwise create when their defence falls back into shape.