Brendan Rodgers took time to speak to the press at Melwood on Thursday afternoon ahead of this Saturday's Premier League clash against West Brom at Anfield.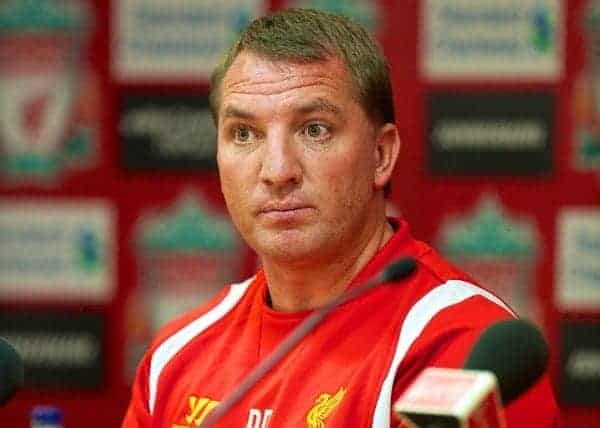 Liverpool are looking to get their league form back on track after being held to a 2-2 draw at Newcastle last Saturday. The Reds go into this game third in the Premier League table, just 2 points off top-spot.
On Alex Ferguson's comments on Steven Gerrard in his book:
"Gerrard is a world class player and still operates at a high level.

"Alex is entitled to have his own opinion, but I'm not here to publicise his book.

"The one thing I was disappointed with was his comments on Jordan Henderson. He's a model professional and is giving everything to improve – and he is improving.

"I'm sure if Alex Ferguson bumps into Jordan Henderson at some point in the future, he'll apologise."
Ferguson had said he thinks Henderson, in his opinion, has a "gait" that "will cause him problems later in his career". Saying "he runs from his knees with a straight back".
No, we don't think Ferguson has heard of four times gold medal winning Olympic runner Michael Johnson, who ran with a straight back.
On not giving away dressing room secrets in the open way Ferguson has in his book
"I'd be bitterly disappointed if a player felt he couldn't come to me about something out of fear the manager may repeat it in a book later down the line.

"I've had a couple of opportunities to write a book, but it's not something I'm interested in right now."
On whether the squad needs bolstering
"We're always looking to improve. When I came here the club had finished 8th, and last year we finished 7th so we've still got huge strides to make.

"We've had a few injuries this year and they're starting to come back now, so our game will continue to improve."
On Ian Rush's comments regarding Sturridge being a 30-goals-a-season forward
"I don't set Daniel Sturridge targets to score X amount of goals a season. But I've said this before, I believe he can be one Europe's best strikers in years to come."
"He's still struggling with his shoulder. He's been working with us these last few days, but his touch on the ball and his skill is exceptional. You do miss quality and it will be great to have him back next week."
On the 2-2 draw at Newcastle last week
"Part of the result last week was the resiliance of Newcastle – you have to give credit to them. We just couldn't make the breakthrough. There was a sense of frustration, but you have to move onto the next game.

"West Brom are a dangerous team, but we know our home games are vital and we really need to make sure we get three points at the weekend."
On the 2-2 draw at Newcastle last week
"They've got a solid team and a solid defence. They're got a really good structure their team who are strong and can pass well.

"We know it's a difficult game, but every game is difficult in this league whether it's home or away. We need to work out how to solve these problems and overcome them."
On more teams challenging on a similar level in the Premier League
"It's always going to be tough and it's a sign that the league is evolving that there are so many good teams.

"We've been working on it because we know we can get goals. It's something we need to fix as we know that we can keep clean sheets – we kept three in a row at the start of the season.

"If you analyse the goals we've conceded from set pieces, we haven't done our jobs properly. It's about concentration, losing a man and not covering the posts properly."
It's 125 years of the Football Association. What's your favourite football memory?
"The goal that Diego Maradona scored [against England in the 1986 World Cup]. The dribble.

"But congratulations to the F.A. for 125 years and congratulations to all the volunteers in football across the country that continue to help young kids come into football."
Rodgers also addressed guests at the club's opening night of the new museum at Anfield on Wednesday night, before appearing on talkSPORT's breakfast show this morning.
Liverpool vs West Brom gets underway at 3pm on Saturday, 26th October 2013. Read our columnist Ben Twelves' prediction on how Liverpool might line-up here.
Stay tuned to This Is Anfield this week for more match previews, team news and betting odds.