When Daniel Sturridge scores a goal he dances to the sound of cheering fans. Neil Poole explains why Sturridge also deserves a song to accompany his moves.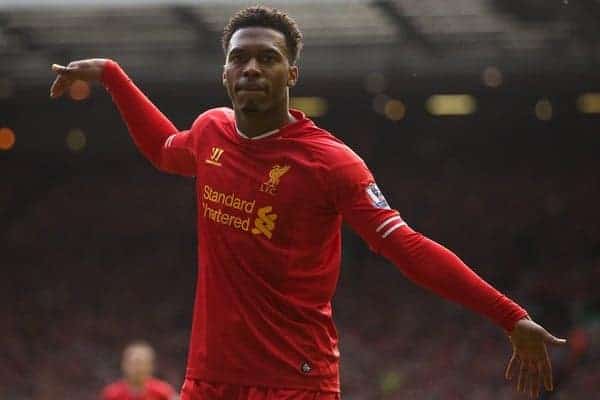 In January Liverpool signed a new player. He is rightly adored by the fans. All of Anfield is happy to join in with the show of respect for Philippe Coutinho with a chorus of 'Ole, ole, Coutinho-o-o.'
Sturridge, the other January signing, is liked by the fans but despite a blistering start to his Liverpool career hasn't quite received the same unconditional love. This was evident in our last game.
A couple of minutes after Daniel Sturridge's goal against Crystal Palace I heard the sound of 'Stur-ridge [gap] Stur-ridge' chanted by only several hundred of the Kop. It wasn't picked up by the rest and it quickly fizzled out.
This famous rhythm is synonymous with the complete adulation of a chosen few such as St John, Dalglish and Fowler. To hear it chanted this way is a bizarre contradiction.  It indicates that Sturridge is a player that plenty of fans can see is potentially a great, but one who many are yet to fully commit to.
Some seasoned fans in the Kop have seen enough and have deemed him worthy of the chant. What has swung it for those fans who have wholeheartedly signalled their admiration of Sturridge?
On the Pitch
The obvious starting point is 19 goals in 25 games. This alone is impressive. But so is the importance of his attacking contributions. Last year many were in a frenzy to tell us just how much worse off we'd be without Suarez in the team. However, if you remove Sturridge's goals and assists since he came on as a half time sub in the 2-2 draw against Chelsea we would actually be 14 points worse off.
Furthermore, Sturridge has the useful habit of impacting on the balance of the game. Against Manchester City he was the stand out performer. In the second half appearances against Manchester United and Chelsea last season when we were behind his goals gave the team hope. Also this season, the timing of his equaliser against Swansea just minutes after Shelvey's opener took the wind out of their sails and prevented them from running away with it in the early stages.
Rather than being selfish he has, in very literal terms, assisted the team. Sturridge's assist count compares favourably with five of the league's top goal scorers from last season. Whilst Robin van Persie is far in the lead with 9 assists in the period from 1 Jaunary 2013 to 18 September 2013, Sturridge's 5 assists equals Suarez and Lukaku,  and is one more than the 4 achieved by Benteke and Bale. In the final third he assists his team as much as other forwards who have not been labelled with the same selfish tag.
Sturridge has that bit of flair too that can get you off your seat. Clever little dummies like the one that set up Suarez's goal against Norwich or the twisting, turning and great footwork for his goal against Villa all provide the entertainment value. Throw into the mix a variety of goals and it is apparent Sturridge has more than just one trick up his sleeve. This is a defender's nightmare.
Off the Pitch
Recent years have seen much discussion about the right way to talk when representing Liverpool. Critics of Dalglish said he was too aloof when engaging in post-match interviews. Others criticise Rodgers' for saying too much. However, Sturridge is speaking with the finesse akin to a King who has received one-to-one tuition at the expense of the tax-payer.
Watch the clip of Sturridge's interview after the Aston Villa game in August below if you get a chance. There's a bit of mystery as to the exact identity of the 'Liverpool way' these days but I'm pretty certain that Sturridge comes somewhere close.
 [youtube id=RUNUVT1JFBI]
He uses the word 'team' in reference to Liverpool no less than 10 times. He name-checks the manager's philosophy and clearly embraces it. When questioned about the penalty he should have been awarded he says he's not going to cause any grief about it. He is thankful for the opportunity to play and says if he has to play in the full back position then so be it. Have a look at his other interviews and you'll find they're all similar.
But actions speak louder than words some might say. He's got that boxed off too. After the Palace game when all other players had left the pitch, Sturridge took his shirt off, walked to the Kop and made a point of giving his shirt to a young lad. Token gesture? Tell that to the boy who's probably still buzzing about it now.
Success is part of the dance
I'm with the several hundred who chanted Sturridge's name.
Consequently, I can only speculate why some, although appreciative, aren't quite as eager to express their feelings through the medium of music as others. Has the mud of the selfish and arrogant accusations stuck? Is it because he is perceived as Man City and Chelsea 'reject'? Is it because we have a recent history of being let down by strikers such as Torres and Suarez who we have emotionally invested in.
If it is any of the reasons above, then they all belong to the past. It's time to judge Daniel Sturridge not against other players or his reputation at other clubs, but to judge him on the basis of what he has done at Liverpool since his arrival.
I've seen a player that contributes to the team and talks about the team. I've seen a player who tries to treat the fans with respect and is trying his best to turn around a career that had stalled.
We don't have to put him up there with Dalglish or Fowler yet. We don't need to put his name to 'the' chant. But he deserves a proper song, one that everyone at Anfield will sing; not just the away support or pockets of devotees.
Many of us squirmed and peaked out from behind our sofas as the well-meaning Rodgers linked success with dancing in Being Liverpool:
'Whatever, it takes to make Liverpool successful, my life is devoted. It's all part of the dance.'
Sturridge has shown that he thrives when people put faith in him. The manager has. His team-mates have. Just imagine how successful he could be if we all opened our mouths and gave him something to really dance about; a song that could echo around the fields of Anfield Road.
A song for Sturridge. Get your thinking caps on.