Six games into the 2012-2013 season, Liverpool sat 14th in the Premier League table on just five points. One year on, and Brendan Rodgers side are now second on 13 points – but many fans feel the football currently being played by the Reds is inferior to the style we saw a year ago.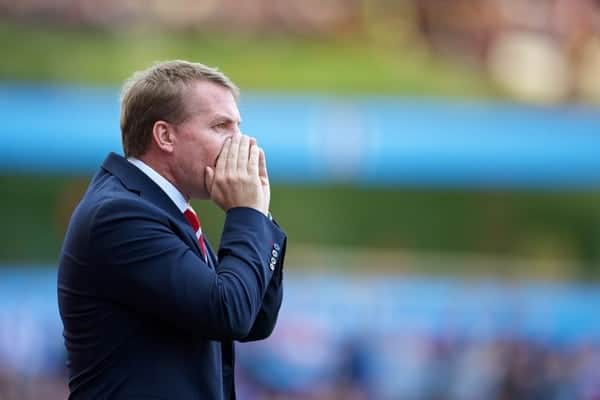 Gone is the possession football, gone is the slow, patient build-up play and gone are any signs of the pressing game that failed to materialise as we hoped in the first place. Instead, this season's Liverpool side has so far been one that struggles to hold on to the ball, has no presence of any kind in midfield, but despite that, tends to take away the points.
For a club barren of Champions League football for 5 years and desperate to get back among Europe's elite, it is, of course, winning that counts. The concern is that results soon start to match performances, and if Liverpool's football doesn't improve soon, the points might start to dry up.
The return of the mercurial Luis Suarez – a player who has already proved he can win games on his own – will go some way to allaying those fears, but he can't solve the fundamental issues in midfield currently stunting the side's play.
Lucas and Gerrard
So far this season Liverpool have averaged only just over 50% possession: hardly what you'd expect from a team playing possession-based football. At 33, Steven Gerrard is increasingly immobile and Lucas Leiva was never been the quickest of players even before his double injury, meaning the midfield duo often struggles to keep with play, especially when breaking quickly. At times there has been nothing but a huge void where the midfield should be, especially in the second halves of games when both Gerrard and Lucas have run out of steam.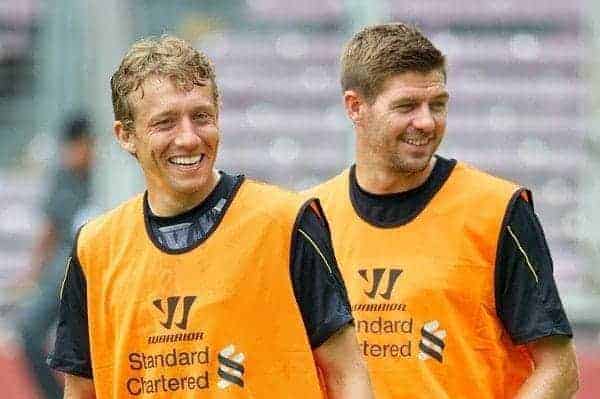 Defensively, Lucas still has has a tendency to be drawn to the ball instead of reading the game and holding a tactical position, and Gerrard has never been known for his tactical discipline. Lucas offers little going forward (when did he last play a delicate through-ball) and while Gerrard still has most of the technical attributes, his legs don't often get him in a position to contribute to attacks other than from set-pieces
Perhaps the biggest downfall of the pairing is the lack of energy in what is supposed to be the engine-room. Jordan Henderson does a good job of doing their running for them, but this clearly detracts from the attacking threat he poses down the right, and wears him out in the process.
Coutinho the Creator
So far during his Liverpool career Coutinho has been played either on the left where he drifts into the middle but also out of games, or in the hole as a dedicated No 10. Towards the end of last season he performed the latter role to great effect, supplying the nails for Daniel Sturridge to hammer home. The only time we've seen Coutinho deployed centrally from the start this season was against Swansea before he was withdrawn because of injury, and the difference his absence made was obvious. Before being clattered by Ashley Williams, the creative Brazilian was dropping deep to collect the ball from Lucas and Gerrard with such regularity that it was almost as if he were playing as a designated ball-carrier.
Liverpool's centre-backs and central midfielders have frequently struggle to find a passing outlet this season, causing possession to break down, but Coutinho's main duty against Swansea appeared to be to make sure his teammates always had a simple passing option. Sometimes that option was just to let him take the ball from their toes, but with Coutinho's sublime passing and dribbling skills, his ability to see and execute a pass others couldn't or move forward with the ball himself helped us to keep possession and build attacks.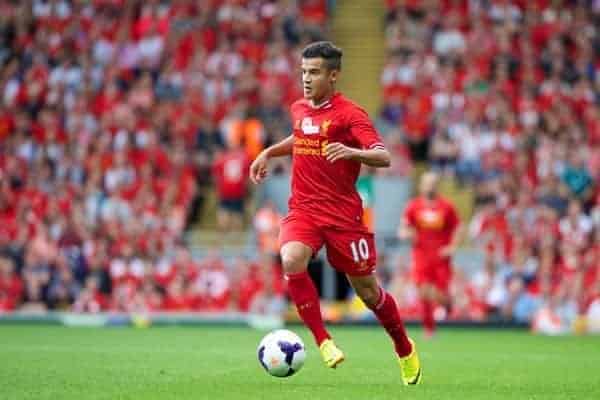 This wasn't Coutinho playing strictly in the hole behind the strikers; instead he was dropping right back to the halfway line and deeper, and if you look at his time at Liverpool so far, a good deal of his best work – particularly his passing – has come from deeper areas; picking the ball up around the halfway line.
Brendan Rodgers has said himself that Coutinho can play as a central midfielder as well as an attacking midfielder, meaning he could potentially be incorporated into a 1-2 midfield as part of the '2', as opposed to having to play as the '1' in a 2-1. Playing Coutinho in this slightly deeper role – similar to how Iniesta plays for Barcelona – would not only help the team keep possession and increase the creativity in deeper areas, but would also allow Rodgers to revert to playing with one holding player who routinely collects the ball from defence and starts attacking moves.
Allen the Controller
At the start of last season Joe Allen was arguably Liverpool's best player, picking up three man of the match awards from journalists on the official site. His deployment as the holding player was a temporary measure while Lucas recovered from injury, with even Rodgers stating that when played slightly further player as the 'shuttle' in a midfield 3, there is even more to Allen's game.
Yet those early performances when Allen fell in-between split centre backs and helped the side build from the back remain his best in a red shirt. Of course, this was during a time when the side as a whole was struggling results wise, but this was down to a dodgy defence and, aside from Suarez, impotent attack, with the Welshman looking like the one player who truly understood the system.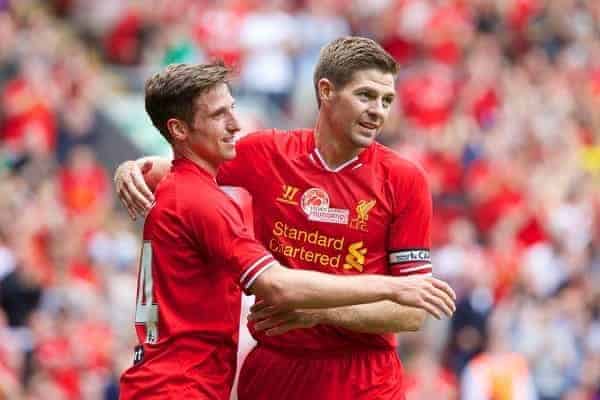 Another of Liverpool's issue this season has been Mignolet's distribution, with the Belgian struggling to maintain the high standards set by Pepe Reina. But is this entirely Mignolet's fault? With Gerrard and Lucas operating as the world's most static double-pivot, Mignolet hasn't had a designated player confident with the ball in tight situations coming to collect the ball from him, and the inclusion of the possession-averse Martin Skrtel ahead of him hasn't helped either.
Brendan Rodgers appears to be the only person opting out of the consensus that Liverpool require a defensive midfielder, but preferring a 'controller' type DM to the more physical alternative many fans would like to see, Allen's inclusion at the back of a midfield triangle, with Coutinho and one other ahead of him would instantly transform Liverpool's midfield to one far more mobile and comfortable on the ball. But who should that third player be?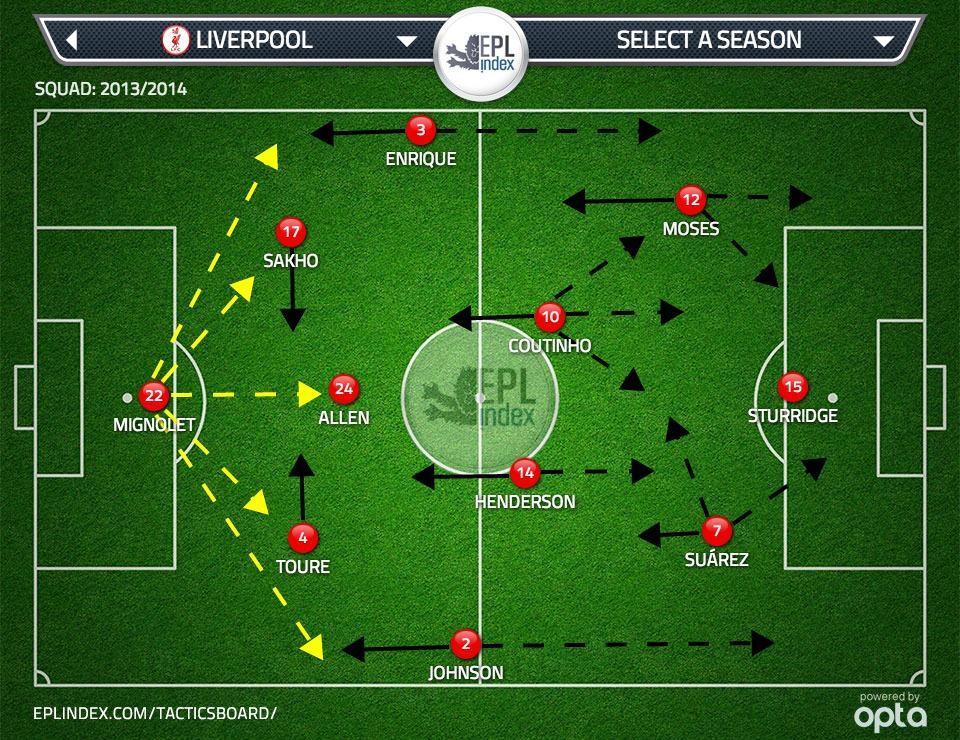 From Gerrard to Henderson
With Allen starting things off from deep and Coutinho dropping in and linking midfield to attack, the third player needs to be someone who can bind the midfield together with strong running and a physical presence. Jordan Henderson's incredible engine and stamina allow him to contribute both going forwards and in defence, and his comparative physicality would compensate for the diminutive frames of Allen and Coutinho. Playing alongside (or just behind) Coutinho, Henderson would compliment the Brazilian's quick feet and vision with well-timed runs forward, arriving late in the box or bursting beyond the strikers.
If the opposition is in the ascendency, Henderson can drop in beside Allen leaving Coutinho ahead of them. With Coutinho more comfortable left of centre and Henderson naturally suited to the right, the pair should offer good balance horizontally as well as vertically.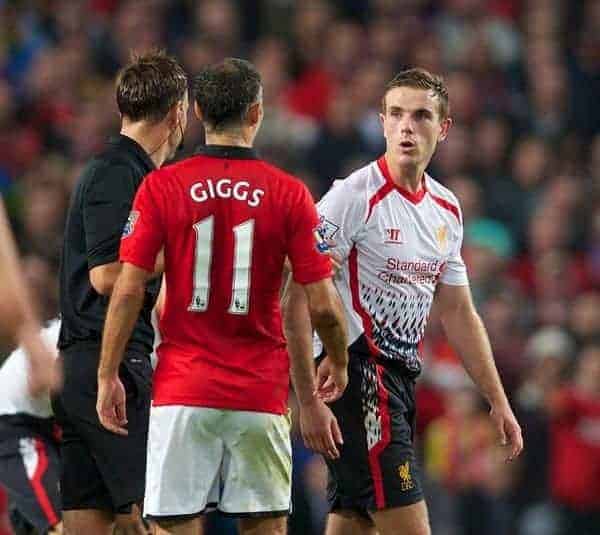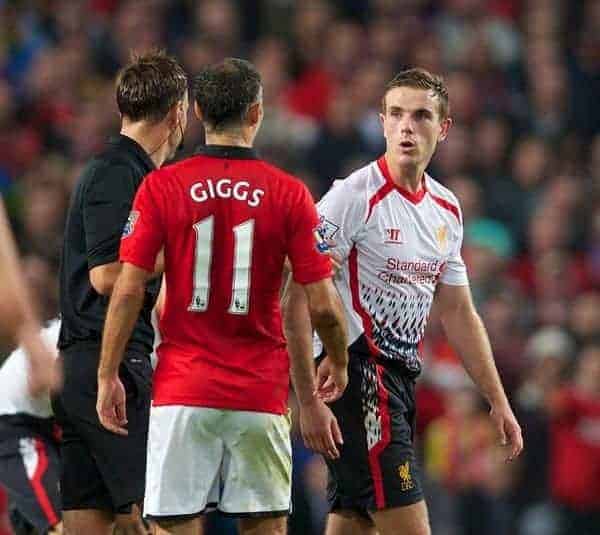 Whether Brendan Rodgers is prepared to drop Gerrard for the player many see as his natural replacement remains to be seen. Judging by fans' reactions whenever it's suggested that he should, he can perhaps be forgiven for feeling that it just isn't an option for him politically, if not tactically. Lucas' ban presents a natural opportunity to try out something new, but with Steven Gerrard seemingly unbreakable these days, it may be a while before he is given a similar opportunity to experiment without the club captain in the line-up.
In large sections of the fan-base the suspicion remains that Gerrard simply isn't suited to playing in a team true to Rodgers playing philosophy – a philosophy which appears to have been completely disregarded so far this season. If the change is in-part to accommodate a player four months the wrong side of 33, and results start to fall in-line with performances, dropping Gerrard could become a make-or-break decision for Rodgers.
For now, of course, there is no cause for alarm. Liverpool sit just two points behind Arsenal at the top of the table with winnable fixtures coming up and Luis Suarez back in the team. But Steven Gerrard can't play forever. At some point a Liverpool manager will have to leave him out. Brendan Rodgers should make sure that manager is him and not somebody else.
[table id=32 /]