Luis Alberto's second-half substitute's performance against Newcastle Utd is attracting a lot of rave reviews from Liverpool fans.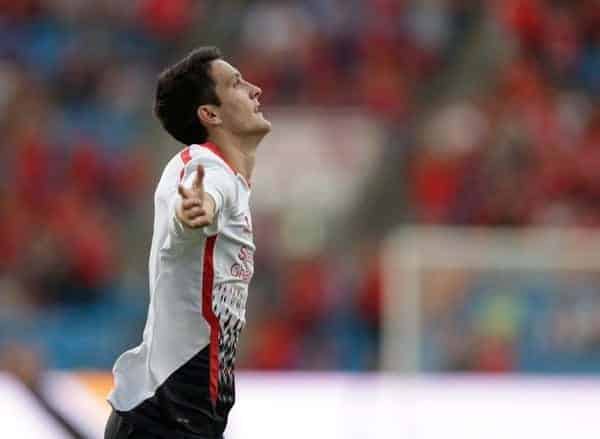 The 20-year-old Spaniard came on to compose the Reds' midfield, providing a much-needed link between defence and attack – something that has been highly criticised under the responsibility of Steven Gerrard and Lucas this season.
I think we deserved more than a draw, but always is good in away matches. Next step, WBA / Merecimos más, pero es un buen punto! #LFC #YNWA

— Luis Alberto Romero (@10_luisalberto) October 19, 2013
Some are calling for Alberto to be given a starting role in Liverpool's next game – at home to West Brom this Saturday, 26th October – should Philippe Coutinho not be passed fully fit yet.
Liverpool are looking to get their winning form back on track after drawing at St James' Park at the weekend, and Steve Clarke's side haven't won since 28th September.
So we asked our followers on Twitter for their opinion: Would you start Luis Alberto on Saturday against West Brom at Anfield? Here's a selection of what they said…
---
LIMITED TIME OFFER: GET 20% ALL LFC TRAINING WEAR WITH THIS LINK
[table id=24 /]
---
@thisisanfield Yep, if Coutinho isn't fit he's a better option as a no10 than Moses

— ??????-Jesus-Saves (@IisousJesus) October 22, 2013
@thisisanfield yup, i wud play 4-4-2 wid SG, Hendo, Alberto n Coutinho (if fit) in da midfield!

— Kopiite (@gauravvvch) October 22, 2013

https://twitter.com/Kylebhoi/status/392657916806713345
https://twitter.com/jayz20_lfc/status/392657681569562624

@thisisanfield Moses more adapt for 442, Alberto more adapt in anything else.

— Paul Messitt (@messerlad) October 22, 2013
@thisisanfield I hope coutihno will be back by d tym we play arsenal,I gs rodgers must give alberto a game time against west brom

— Scelo prince (@Fresh_Scelo) October 22, 2013
@thisisanfield with Gerrard in the CDM role and Alberto in the CAM/CF role yes.

— Marc (Redpizzi) (@Redpizzi) October 22, 2013
@thisisanfield No. When Lucas back, I think we'll swap back to 4-3-3. Moses as a winger can give us strength and pace.

— Nguyen Huy Hiep (@huyhiep21) October 22, 2013
@thisisanfield If Coutinho not available most definately yes. I would ditch the 3CBs as well, start with Agger & Toure/Sakho.

— Abdullah Mwinyi (@Dullahmwinyi1) October 22, 2013

[poll id="145″]

Let us know what you think by commenting below, or tweeting us
@thisisanfield
.