Luis Suarez's return to the Liverpool first team has given the whole squad a confidence boost, according to midfielder Lucas Leiva.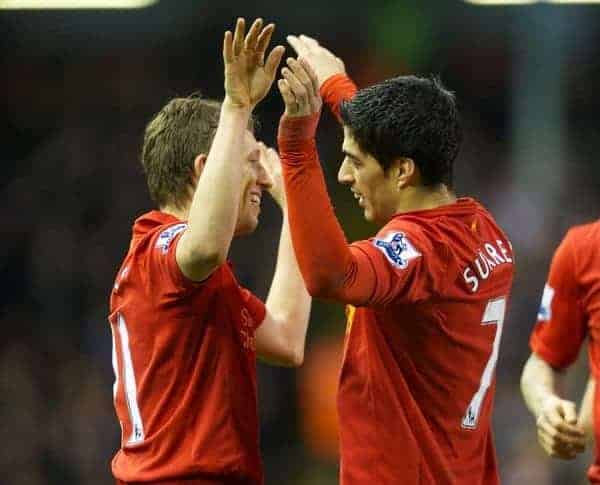 Suarez is back for the Reds after serving a 10-match ban for biting Chelsea's Branislav Ivanovic in a Premier League match at Anfield in April.
And the 26-year-old Uruguayan scored twice in his first league game back on Sunday as Liverpool sunk Sunderland 3-1 at the Stadium of Light.
"Luis was the best player in the Premier League last year, so having him in our side again this season is just a real boost for all the team and the squad," Lucas told the club's official website.
"He's really happy to be back. He's always been training with us, but now he's available to help us in the official games, it will be much better.
"We just hope he can have the same season that he had last year because he was a really important player for us.
"If he does the same as last season, we will have a better chance to achieve what we want to achieve.
"He's just given us more confidence. The squad that we had without him was a good one, but with him back in it, we'll be even better. He's one of the best in the world."
Suarez was the subject of increased transfer speculation over the summer, with the striker attempting to force his way out of Anfield.
With many questioning his loyalty to Liverpool, his fellow South American Lucas believes Suarez wants success at the club as much as anyone else.
He added, "The fans know Suarez very well. He's been here for two or three years and we all know how he is.
"He's a fighter and he will do everything he can to help the team, just as he did last year and the season before. That's what everyone expects from him and I don't think he's thinking any other way.
"He just wants to play his game and score goal and help his teammates because he has a really good relationship with everyone here at Melwood."
Liverpool continue their season this weekend with the visit of Crystal Palace to Anfield. Read Rory Fitzgerald's tactical preview of the Reds' opponents here.