So far this season, Brendan Rodgers has used three different formations, most recently a flexible 4-4-2 – which was more akin to 4-2-2-2. Scott Taylor discusses the benefits of the latter.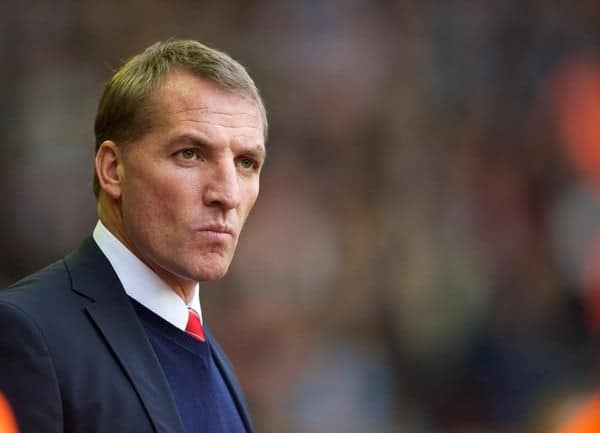 4-2-3-1 was used in the opening 6 games of the season, which was perfect when the Reds only had one striker. But when Luis Suarez returned, it was inevitable that he was to be playing out of his natural position.
Because of this, Rodgers changed to 3-4-1-2 in an attempt to get the best out of his talented front two. However, this wasn't perfect and when the Reds have played this formation, they haven't kept a single clean sheet.
Finding a formation that can be based around Suarez and Sturridge and make the team defensively stable was required.
The main advantage that our squad has over other top four challengers is that most of the Reds' players are versatile, and can play in more than one position when called up, which brings me to my next point.
The flexible, narrow version of 4-4-2, as used against Fulham suits our squad best. It makes us defensively stable by having 4 defenders and 2 defensive midfielders, and also means that Suarez and Sturridge will be playing in their natural positions.
In the Liverpool squad, Rodgers has strength in depth in most departments. In defence we have Aly Cissokho and Jose Enrique competing at left-back, Daniel Agger and Mamadou Sakho competing for the left centre-back, Kolo Toure and Martin Skrtel competing for right centre-back and Glen Johnson and Martin Kelly competing for right-back.
This is one of many examples of the strength in depth that Rodgers has been stressing we need, and this strong squad depth will inevitably be needed as the season progresses
Using 4-2-2-2 in particular benefits our midfield and, most importantly, the Reds' captain Steven Gerrard. Now that Gerrard is 33, it's clear that he doesn't have the stamina to compete against the top teams anymore, like at Arsenal, so if Brendan Rodgers decides to play Lucas and Gerrard behind Phillipe Coutinho and Jordan Henderson, he can easily substitute Gerrard if fatigue is an issue, and drop Henderson back alongside Lucas.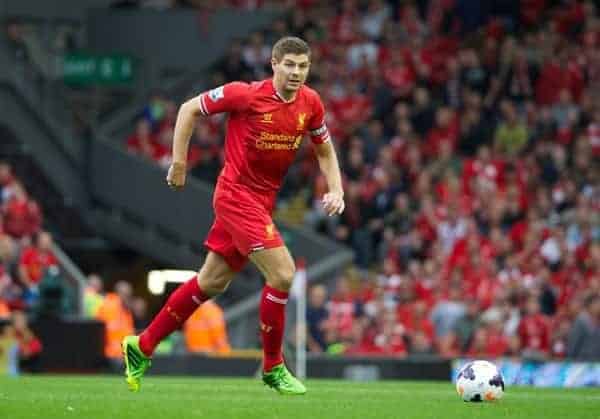 Because there is versatility and squad depth when using this formation, problems can be solved. For example, if the Reds are being dominated and outplayed, Gerrard or Lucas can be replaced, with Joe Allen and Jordan Henderson as suitable options to cover them.
It can also work for the opposite scenario, if Liverpool need attacking options, Rodgers still has Luis Alberto and Iago Aspas at his disposal, and eventually Suso when he returns from his loan spell at Almeria.
In addition, if the Liverpool boss wants to add width to the game, the two attacking midfielders can drift out wide, allowing Sturridge and Suarez – the two "nine-and-a-halves" as described by Rodgers – can drop deeper to move defenders out of shape.
The main problem with using the narrow formation though, is that wingers are very limited unless they drift out wide over the course of the game. This will affect Liverpool more than others since they have a very talented bunch of young wingers that include players such as Jordon Ibe, Raheem Sterling and Harry Wilson, but since they are so young, they should be able to adapt to playing a narrower role.
Rodgers has a tough decision to make if he is to use this more balanced 4-2-2-2, because it will decrease the chances of experienced wingers to break into the first team. Instead, the width is provided by the attacking full-backs.
If you are still not convinced by a potential 4-2-2-2 formation, look no further than Saturday's performance against Fulham. The Reds provided a threat towards goal with Suarez and Sturridge supported by the two attacking midfielders of Jordan Henderson and Phillipe Coutinho, but also provided defensive stability with 4 defenders and having Lucas and Gerrard just in front of the back 4, it meant Liverpool kept their first clean since the start of September.
This formation has to be crucial, if it is deployed by Rodgers, because if Liverpool fail to qualify for the Champions League, the future of Luis Suarez will be unpredictable, and if the worst case scenario happens, Rodgers may be tempted to go back to a 4-2-3-1 hence why this formation has to be effective and make sure its good enough for the Reds to secure a vital top 4 spot in the Premier League.
The graphic above shows what would likely be Liverpool's strongest XI when using this formation, with Jordan Henderson as an attacking midfielder who and can drop back in to help Gerrard and Lucas if they are struggling to maintain possession. If Gerrard is to be replaced then Henderson can drop back to the defensive midfield position and Rodgers has Luis Alberto, Victor Moses and Iago Aspas at his disposal, when the Spaniard returns from injury.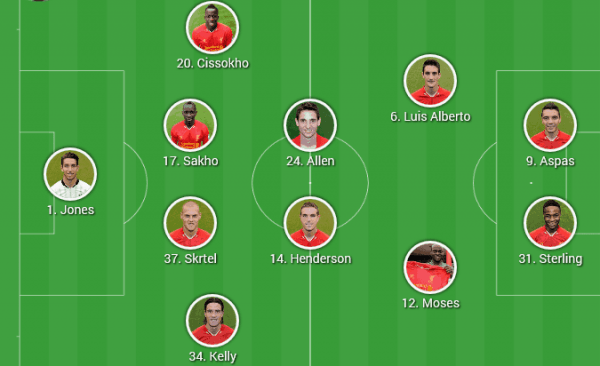 This would be our "reserve XI" using this formation – showing the strength in depth that the Reds have across the defence and midfield. It also highlights the versatility of some players, such as Henderson.
Are you convinced that the 4-2-2-2 formation can be successful after seeing the options that Liverpool have, and the way that the Reds played on Saturday? Let me know your thoughts in the comments below, and also list your starting XI when using this formation. Finally, for more Liverpool related content, check out my personal blog and follow me on Twitter.
Scott Taylor