In the first part of his four part series this week on This Is Anfield, Romanian writer Alex Irimia charts the progress of Liverpool boss Brendan Rodgers in his first year and a half at the club.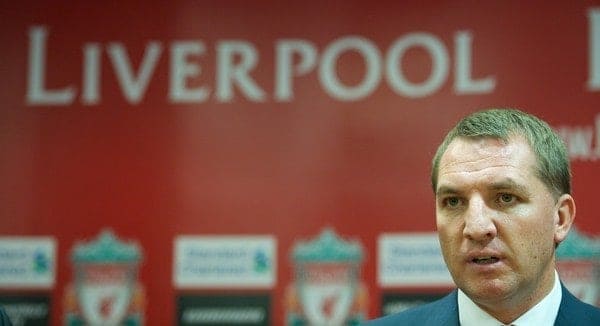 In June 2012, when Liverpool announced their new manager as Brendan Rodgers, I found myself a bit confused by the lack of data I had on the new man.
I only knew what everybody did at the time about the rising Northern Irishman. That he was the manager who lead Swansea City in the Premier League for the first time and he did so by taking his team to a credible 11th place finish.
Like everyone else, I knew that he imprinted a fluid type of football to his team, his trademark being an elaborate passing game based on possession and pressure. But that was pretty much all of what I knew and I felt it wasn't enough.
I couldn't decide, on that moment, whether I should rejoice to his appointment or fearfully await an outcome of what I considered to be, at the time, a huge bet from the owners.
Rodgers soon shared with everyone the details of his vision. It involved a project that could be described as a redevelopment plan. Rodgers convinced the owners that in order to obtain great success, massive change was needed.
The way he asserted his view was by handing over to the owners an extremely detailed blueprint of how Liverpool can be restored to the status everyone craved for, but seemed further and further away at the time.
Brendan's 180 page manifesto, as it was called, revolved around the vision and the philosophy the young manager wanted to install at the club, and the explicit means to apply them in his quest of transforming Liverpool into the club everybody wanted to see.
The owners were sold and gave Rodgers the job, and they did so in a categorical manner, entrusting him with total control and great credit. That was highlighted by the owner's decision to abandon the idea of naming a Sporting Director.
Things were happening at a fast pace and I was, if anything, more and more intrigued by the whole thing.
The acquisitions made by the club in the first transfer window with Rodgers in charge didn't help much, as the whole summer transfer business ended in a pessimistic note with little concrete results.
Although a football manager's transfer strategy might tell you something about the direction he is about to take on, it doesn't actually reveal much, as a new manager would consider to evaluate the squad he inherited first, before throwing himself in a crazy transfer spree.
But the reality was I wanted to know more about what kind of man Rodgers was. I was interested to discover this man's personality, his qualities and, if possibly, some flaws, what he loved and he disliked, his way of being in general.
I know that it was too much to ask but I was desperate to know more about the man who took the destiny of our beloved club in his hands. What I was most interested in was to discover more about this man's leadership abilities and his social and educational skills.
In my opinion a great manager cannot be described simply by limiting to football knowledge and training methods. Such a position requires other abilities just as much as the aforementioned ones or even in a higher dosage.
By definition a football manager is not solely a technical expert but primary a person who manages a group of people.
The position doesn't require merely training the squad of players, but leading the technical staff as well, which nowadays has come to include more and more experts from very different areas concerning this sport.
So the manager should first and foremost have the social abilities required to lead groups of people, like communicating skills, educating abilities, people reading and psychological profiling, all based on a genuine emotional intelligence.
The last ingredient to add to the recipe, but the one putting all the other ones in place, is the leadership. So how would Liverpool's manager fare on the criteria listed above?
The news of January 2011, that Dalglish was about to come back to stop the uncontrollable downfall of the club was nothing less than an angel choirs music to my ears. It seemed like it was some sort of a response to a silent cry sent from every fan's soul to a higher power and the appointment of King Kenny was like a descending of a mythical hero who was about to pull the club out from the quicksand which was drifting in more and more at the time.
And the man did the job. He put a halt to the downfall and stabilised the ship. Everyone could see that the great Scot was body and soul in the job and he cared for the club probably just as much as the most hardcore fans out there.
Plus, it was an inexplicable joy to watch King Kenny celebrating the goals of the team the same way he used to do it as a player.
All these were the reasons why I was gutted when the owners decided to part ways with Dalglish in May 2012. Later I realised that at that moment I was governed more by emotions rather than reason, and that was a necessary step towards progress.
King Kenny was the ideal man to infuse confidence and belief in a club where no one seemed to believe in a better tomorrow.
But once reached a floating line, it was time to hand on the torch to someone who would posses amongst his primary abilities skills like innovative spirit, capacity to adapt on different situations and a strong vision that would imprint a clear direction to the club.
It felt like Kenny was the engineer who saved the ship from sinking but afterwards the ship needed an explorer to point the direction and sail towards it.
The Vision
It was evident almost instantly that Rodgers was a manager of such type. What got him the job in the first place, beyond his good reputation built at Swansea, was his 180 pages manifesto, through which he shared with the owners his vision, his philosophy and his plans of rebuilding the club to its natural status.
Moreover, once installed in the position, he would constantly go on and on about the vision he had on the club and how it was absolutely essential that everyone climbed on board and moved in the same direction, at the same pace.
Doubled by the personal lead, that is, by definition, what a leader does, more than anything else. He points the way and leads.
That was what Brendan Rodgers did, and still does, proving himself a genuine leader.
Even Tom Werner has recently acknowledged the impact and the efficiency of the new manager, saying in an interview for the Mirror that, "We are all moving in the same direction and Brendan Rodgers is very much the leader."
It is one thing to talk about something while remaining on a theoretical position and a total different thing to put into effect the sounding-good ideas.
The most revealing event in showing that  Rodgers is not only a dreaming theoretician, but a visionary who can transform his ideas into deeds, was his decision to ask club legends Robbie Fowler, Steve McManaman and Rob Jones to join the club's Academy as coaches.
It was a masterstroke in many ways, for these men can teach the youngsters success, and the path to it, in a very palpable way as it's been a concrete part of their careers.
Add to it the invitation Rodgers extended to King Kenny to rejoin his beloved club in a directorial position and you will see clearly that his vision has a lot to do with building a bright future using as inspiration an incredible past.
Too many times Liverpool fans have been slated for living in the past, but the past is an integral part of the club, nobody can deny that. And since it's there, why not use it in a constructive way, seeking inspiration and examples in it rather than just use it for bragging purposes.  Rodgers seems to understand all that and utilise it to a maximum effect.