Brendan Rodgers faced a room of journalists on Thursday afternoon to discuss Liverpool's Merseyside Derby clash at Everton this Saturday lunchtime.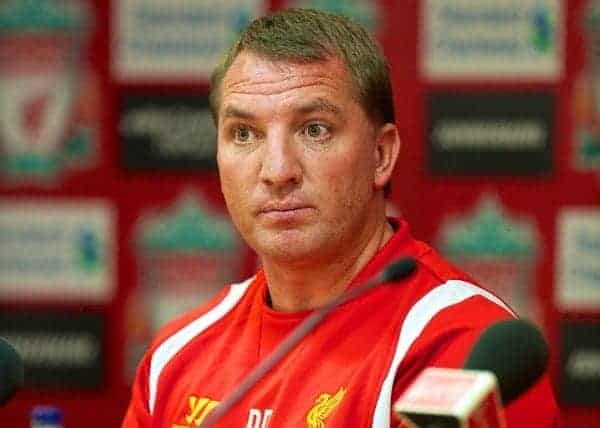 [table id=27 /]
On this Merseyside Derby meeting…
BR: Both teams have made a really good start to the season. It's no surprise, Everton have been right up there for a good few years.

We've made progress, there's no doubt about that. Our performance against Fulham was outstanding – just short of 700 passes in the game, which is a sign of our fluidity.

We should have won first derby last season, the second game was a poor one in all honesty.

Merseyside is a wonderful place to be and work, and the games are always a passionate place to be.

They're [Everton] are going to be there challenging [for the top 4]. They've been very, very competitive and up and around for some years.

I sense that there's anticipation. Last year, the season before, Everton had finished above Liverpool. This year it's different.

Last year it was a different game [to when we went to Goodison with Swansea]. The hostile atmosphere will test your character.
On Jose Enrique's injury and imminent surgery…
BR: Could be needing a small operation, disappointing. He's still in pain. I couldn't put a time on his recovery at this stage.
BR: He went to England with an injury. He's had a dead leg for three to four weeks. We'll have to keep an eye on him.
On Steven Gerrard's painkilling injections to play for England in mid-week…
BR: He manages himself really, really well. He knows his body.
On Kolo Toure's injury…
BR: He's back in training and feeling great.
On Liverpool's performances and progress this season…
BR: Our ability to bounce back and be resolute is improving all the time.

The idea is to dominate the ball, there's various ways to do that. Our game is very much based on the intensity of our pressure to get the ball back quick.
On Everton midfielder Gareth Barry…
BR: He's been an ultimate professional. He's a very good player. He's added great experience and done well.
BR: I've been heavily involved at the academy. I understand all facets of development.
Rodgers avoided commenting on Rodolfo Borrell or Frank McParland, although was not directly asked about them either.
On speculation linking with Liverpool to Will Hughes…
BR: I feel for this young guy. He's a very talented young player. People aren't doing him any favours linking him wit a move to Liverpool all the time. There's been no bid or deal agreed. He's at the best place he could be.
Everton vs Liverpool gets underway at 12:45pm on Saturday, 23rd November 2013. It is the 221st meeting between the two clubs.