Liverpool FC last night took home a total of four awards at The Northwest Football Awards. The Awards this year paid tribute to and recognised those who had achieved footballing excellence both on and off the field in the 2012/2013 season.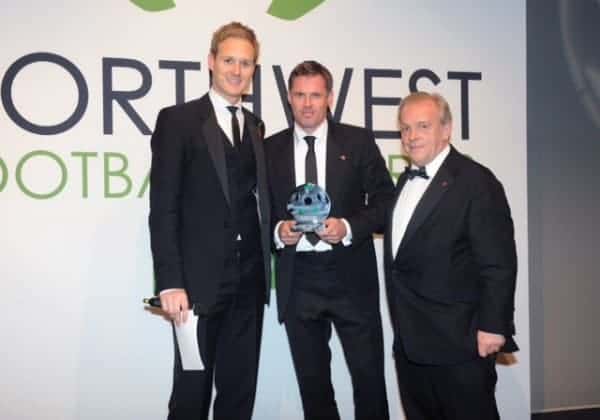 Liverpool FC Award winners included:
– Premier League Player of the Year – Jamie Carragher
– Rising Star Award – Jerome Sinclair
– Best Club Sponsorship Engagement / Partnership Award – Standard Chartered Trophy 2013 with Liverpool FC
– CSR Campaign of the Year – Living with HIV
A stalwart of Liverpool FC, Vice-Captain Jamie Carragher took home his award for the years of dedication and unfaltering hard work that he's shown to the Club and fans.
Commenting on his win, Jamie said, "It's fantastic to be recognised as the Player of the Year for my final season at Liverpool. I started at the Academy as a young local lad, so I feel proud to be in a position where I can look back on what has been a brilliant career for me, at a club I love."
Jerome Sinclair, who is Liverpool FC's youngest ever player, was crowned the Rising Star, beating strong competition from Ross Barkley, Tom Ince, Ben Pearson, Marco Lopes and Jack Redshaw.
The Club and its main sponsor Standard Chartered were singled out and recognised for their work on raising awareness for HIV. The special award commended the partners for bringing to light a topic which rarely appears in football. The campaign was presented to fans on Saturday 1 December 2012 when Standard Chartered placed the world's largest red ribbon on the Anfield pitch during the Liverpool v Southampton match. The players also wore Living with HIV shirts during the warm up to the match to further promote the cause.
The partners were awarded again for a separate event where 4,500 fans across the world signed up to a global football tournament hosted by Standard Chartered. More than 80 fans from 12 countries around the world were brought to Liverpool to compete on the Anfield pitch. This activity secured the Club's fourth accolade of the evening, Best Club Sponsorship Engagement/ Partnership Award.
Billy Hogan, Chief Commercial Officer at Liverpool FC commented, "We are delighted to be recognised for our work with Standard Chartered. We strive to deliver excellent campaigns with all of our partners, bringing fans closer to the Club through a variety of activation".