The Football Association will take no further action against Everton attacker Kevin Mirallas for his dangerous challenge on Liverpool's Luis Suarez on Saturday.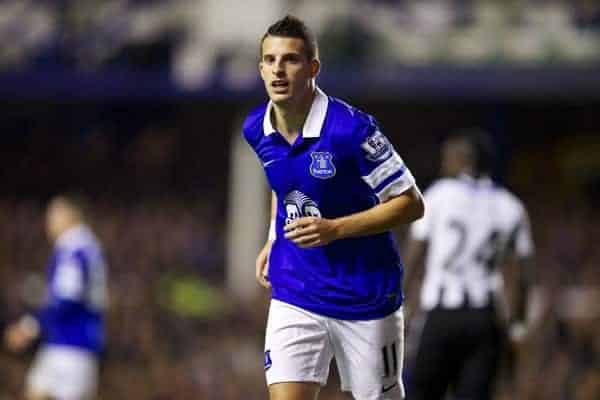 The Belgian went in with a high foot on Suarez's knee, leaving visible cuts from the studs of Mirallas' boots.
At the time, referee Phil Dowd gave Mirallas a yellow card, though later Brendan Rodgers and Mirallas himself said they believed it to be worthy of a red.
Mirallas will not, however, face any further disciplinary action despite new measures brought in this weekend to make it easier for them to do so.
Under the FA's rules, they can't take retrospective action in incidents where the referee and/or match officials saw the incident and took action at the time.


https://twitter.com/SimonGFear/status/405094711175938048

Therefore Mirallas will continue to only be punished for the challenge, described by Rodgers as potentially career-ending, with a yellow card sanction.
Yesterday Mirallas basically admitted it was a pre-meditated attacking, referring to an incident last season between himself and Suarez in an interview with Belgian newspaper, Sportwereld.
Mirallas' comments were picked up and translated by the Daily Mail. He said, "I still remember Suarez injured two Everton players last year. I was one of them, I was out for two weeks."
Will the F.A. take action of Mirallas' admission? That was a rhetorical question.