The first in a series of articles discussing safe standing; John Ritchie explains why Liverpool fans should at least be part of the discussion.
It was a cold November evening at Anfield; Hodgeball was in full swing on Merseyside and Napoli had dominated Liverpool in the first half of the Europa league game.  John Henry had come to make his first visit to Anfield and to see the team he'd just acquired in action; he wanted to experience that famous atmosphere, that European experience that had become legendary worldwide.
Yet the atmosphere was flat, we'd just come off the back Hicks and Gillett, and Napoli had outclassed Liverpool in the first half. We all know what happened next. The captain came to the rescue, a hatrick in the bag in typical fashion and the crowd burst into song.
'Steve Gerrard, Gerrard. He passes the ball forty yards, he's big and he's f*cking hard, Steve Gerrard, Gerrard'
Old men were on their feet, the whole crowd holding scarfs aloft singing like maniacs and paying tribute to a remarkable performance; as John W Henry sat with his wife, they observed the crowd and smiled as they experienced for the first time the nirvana of Anfield, if only temporarily.
Yet today that joy is sporadic in games; we've all seen the atmosphere at Anfield suffer in recent years. This is probably down to a few things and we all know our home form was an issue until recently; but if you look at the nineties, even when the team lost, the atmosphere at Anfield was always special. When Norwich beat Liverpool on the last day of the standing Kop the crowd roared, they sang for this was their worship.
Now Anfield has an ageing demographic attending the game, there's many in the Kop who have been there, seen it, done it. They've watched the reds all these years and experienced joy and success beyond most of our wildest dreams, they not only saw the glory days, they were part of it; I know many who feel as if those distant days will never return. Apathy fills the seats in Kop today with only a small singing section remaining.
The other reason is price, for many who walked into Anfield, they did so because that was their sacred space; for years they worshiped week in, week out; yet at fifty pounds a ticket, it's simply now a stretch too far; many lifelong Kopite's have had to resort to watching the match in the pub or at home with the kids who like many of their generation are more interested in playing on the ipad.
Welcome to modern football, where the average revenue per seat is analysed and researched in order to squeeze every last penny out of supporters; it's not just going to the game anymore, it's a "matchday experience" where people are entertained pre match, maybe a meal at the boot room beforehand and then sit and enjoy seeing the famous red's put on a show (or not).
Whilst the songs are still sung, those are done by a support who tries to safeguard the traditions of those gone before them; for many, being at the match is precious because of you're part of the history, part of those fantastic memories. Each seat holds a memory, each scarf could tell a thousand words. Football was once affordable, however now that's simply not the case.
Affordability of the game simply fuels an issue we see in today's generation; as supporters are gradually being priced out of football, this means many don't get to share in the memories that made their mothers and fathers fall in love with the game in the first place. For lifelong fans, football is an emotional bond, bound by memories that are treasured and held close to the heart.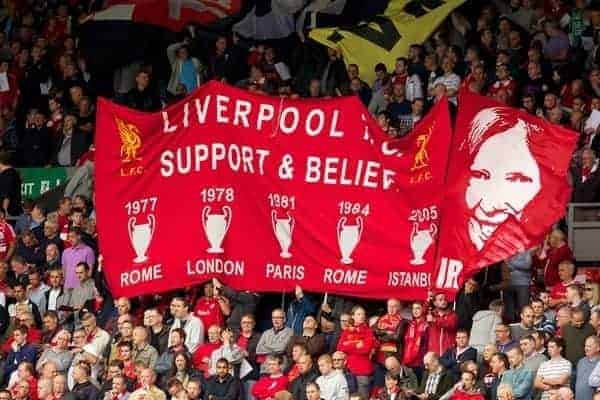 Yet the apostolic line is being broken, high prices means the fans can ill afford to take their children to the game. There's no substitute for being at the match and truly falling in love with your club; like a young child is more susceptible to learning a language at a young age, the same is true for the formation in your interests too. Price out kids and those that can't afford the game anymore and you end up with an atmosphere which fades into the anonymous, you end up with a generation only following the red's out of a passive interest due to clever marketing, rather than the magical draw that L4 has in all our hearts.
So what's the solution? Whilst there are movements to reduce ticket prices, which I fully support, there are also other solutions clubs could look at in order to bring in a younger age group and provide a facility for those which who simply cant afford a seat.
Safe Standing is a facility which could provide the answer.
In Germany, the USA and Canada standing is perfectly legal – indeed, for other events in the UK it is too. The Bundesliga in particular manage to cater for a diverse audience through both standing and seats. Ask anyone who's ever been to Dortmund or Wolfsburg and they'll tell you the same thing, the atmosphere is incredible – certainly better than anything you'll ever see in the UK today (including Anfield).
This is in part due to lower ticket prices which allow a greater stretch of  supporting covering a wide social demographic to come and see their team, but it's also due to the fact there are higher attendances. The Football Supporters Federation predicts that in safe standing areas, you can accommodate 1.8 times as many supporters than you can do in a fully seated stadium. To put that into context, if you had a stadium with 60,000 seats these could be converted into over 12,000 more supporters with the introduction of a 15,000 standing area giving a new capacity of 72,000.
Even with the clubs plans to redevelop Anfield to a 60,000 stadium with improved corporate hospitality, don't expect reduced ticket prices any time soon, just look at Arsenal if you want a lesson on how ticket prices will rise out of control.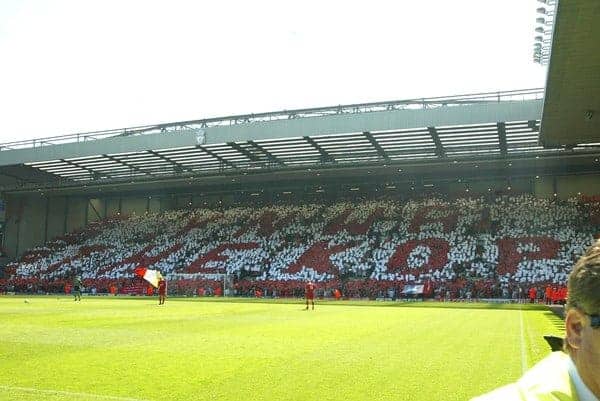 Safe standing allows prices to be reduced, it allows more social demographics to come to the match and it also means the atmosphere gets better and better. Imagine 72,000 voices singing you'll never walk alone; imagine Steven Gerrard's song being sung to the tune of 'Que Sera'. Imagine the relief of fathers and mothers who can once more afford to take their family to the match. Imagine the economic benefit of an additional twelve thousand supporters descending on the local area.
Whilst many think standing is "unsafe", this is actually nothing more than a myth. Standing had nothing to do with Hillsborough, we all know the truth about the inadequate policing, facilities and responses.
There's also no evidence to suggest that the hooliganism of the seventies and eighties were anything to do with the presence of standing fans. Indeed, even evidence of hooliganism in Germany is not attributed to standing fans. The Deutscher Fussball Bund (The DFB) recently stated:
A fixed and integral part of any positive stadium experience for the spectators at a football match is, of course, experiencing a positive fan culture. This needs to be preserved and protected. This includes the standing areas in the stadia, the choreographed displays on the home and away ends, modest ticket prices, safe, modern stadium infrastructure and altogether fair interaction between all concerned before, during and after the game. In short, in fact, a safe, atmospheric, vibrant football stadium experience created by and enjoyed with all spectators, players and matchday staff.

In this respect, all concerned are aware that a large part of the positive atmosphere comes from the home and away ends, especially from the standing areas, and that through these that the special atmosphere is created and shaped in our stadia that fascinates all onlookers both inside and outside the grounds and that makes football associations, clubs and fans from other countries envious of what we have.
Liverpool is a club which has always been different, indeed throughout the club there are many quotes from some of the most famous players in the world commenting how Anfield had left a lasting impression due to the crowd with their songs and the atmosphere they created. It's something the club sells as a brand throughout the world.
Yet at the same time they're alienating fans due to the pressures of financially being able to compete at the very top; I understand the why, but I know there's a better way. The joy of football experienced by the thousands on that night against Napoli is something precious; something sacred, yet it's being put at risk.
Standing wasn't allowed that night, yet people still stood as they witnessed yet another remarkable comeback driven by Liverpool's main man, the prices too were just about bearable. There's a number of solutions and safe standing is part of it, if not the total solution. The government would be wise to look again in the advances in policing, CCTV, ticketing and public order which have drastically changed since the last review in 2001, well over twelve years ago.
Let's not risk our children missing out on those special nights at Anfield, but let's not risk an entire generation of children losing interest in the game throughout the country. Liverpool could be courageous on this issue; Aston Villa, Swansea, Hull, Cardiff and Sunderland have all put their support behind this issue, while Man United are also reportedly looking into the idea.
Obviously, it's an extremely emotive subject, but Liverpool as a club and it's supporters could do much worse than at least be involved in the discussion and open to the idea.
For more information around safe standing visit the Football Supporters Federation.