Defeat to Arsenal at the Emirates last weekend could persuade Brendan Rodgers to shuffle his pack for the must win visit of Fulham. Ben Twelves discusses the wide ranging alternatives available to the manager.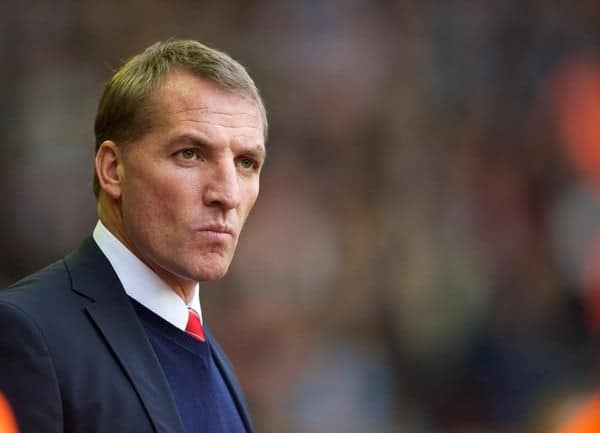 Liverpool will be looking to bounce back from last weeks defeat to top of the table Arsenal when they host strugglers Fulham on Saturday.
It was always going to be an extremely tough game at the Emirates and one that would be used as a marker to show where we currently stand in our continuing development.
The performance predictably showed the on-going issue of the central midfield and how much of a loss wing-backs Jose Enrique and Glen Johnson are in our 3-4-1-2 set-up.
On the other side of the coin, the results showed that with Johnson and Enrique back in the team along with a slight midfield revamp in the not too distant future (January) and we aren't far off  being a good side again.
Something good teams do however is respond positively to a loss and attack the next game full on – another test for us in our progression this weekend.
It's an important game, and a bigger one for us than the fixture title suggests. As already mentioned, we need to bounce back with three points to set ourselves up nicely for the derby at Goodison Park in two weeks time and pick up a home win sandwiched in between two hard matches away from Anfield.
Key returning to winning ways is performance levels, which of course is helped by team selection and the Fulham line-up is arguably the most anticipated of the season so far.
Steven Gerrard is rumoured to be out of the game due to a hip injury, a blessing in disguise some would argue (although we still have a bigger problem in Lucas), as it gives Rodgers the best opportunity yet to select a more dynamic midfield.
Reports suggest that Johnson will make a welcome return to training this week and therefore will be available for selection on Saturday which leaves the question of whether he'll return as a right back or right wing-back.
Personnel Change
Rodgers now has the perfect excuse to make a number of adjustments to his team in both shape and personnel. Sticking with the 3-4-1-2 formation, Daniel Agger could finally come into the side replacing Martin Skrtel, as well as Johnson taking back over from Jon Flanagan.
To the main talking point however – the midfield. Gerrard won't feature if he is indeed injured and there is a case for Lucas to follow him out of the starting eleven. A partnership of Jordan Henderson and Joe Allen with a returning Philippe Coutinho in front of them and behind Luis Suarez and Daniel Sturridge is a favourable option.
But Rodgers has previously spoken of his preference for the 'flipped triangle' with an anchor in front of the three centre backs. Lucas would retain his place in the team if that is the case, and Jordan Henderson, who is now an automatic inclusion could be partnered by Luis Alberto.
With Coutinho seemingly fit and ready to play, I'd be surprised if he doesn't start which makes sense for a role behind the strikers. Liverpool could look along these lines:


Formation Change
Other options for Rodgers include changing back to the trusted 4-2-3-1 formation or even a 4-4-2 with a diamond shaped midfield which can compact the middle of the park and help the exposed midfield we suffer from.
In a 4-2-3-1, I'd be extremely tempted to play Agger at left back over the unimpressive Aly Cissokho, with Toure and Sakho as the centre back partnership and Johnson at right back.
Suarez can drop off the front from Sturridge to a wider position in the three behind, alongside Coutinho and the reintroduced Victor Moses in his natural position.

The increasingly discussed option of a 4-4-2 with a diamond shaped midfield really is an interesting alternative.
It can assist with the mobility issues Lucas suffers from as he would have three other mobile players in Allen, Henderson and Coutinho hunting the ball down ahead of him, allowing him to concentrate on his positioning, screening in front of the centre backs. This shape could have us look like this:

It's vital that we instantly bounce back and come out of this fixture against Fulham with maximum points.
The longer we stay in the Champions League places, the more chance we have of qualifying come the end of the season and in order for that to happen, we must pick up maximum points in games against the lesser sides.
The team selections and personnel may change but for Liverpool and Brendan Rodgers, the objective remains the same.