A year ago Raheem Sterling was the wonderkid making the breakthrough at Anfield, Kevin Coleman discusses the need for the winger to be given a chance again.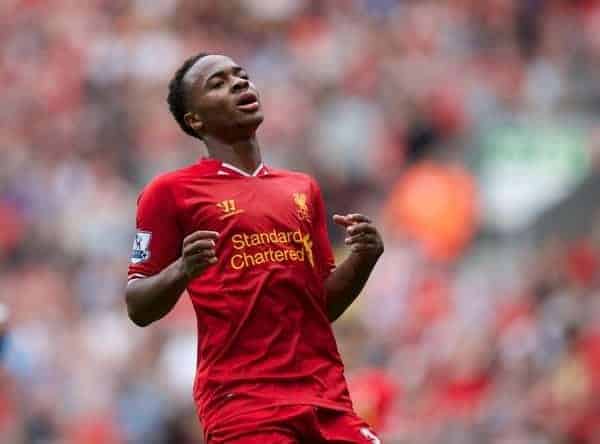 Daniel Sturridge is having a tremendous year, as is Luis Suarez. Philippe Coutinho has been injured for most of the season but remains an undroppable, integral part of Liverpool's plans.
Luis Alberto arrived from Spain but has had little opportunity. Victor Moses was a shrewd loan signing, but has had a mixed start to his career at Anfield – he has, however, made a bigger impact than Iago Aspas and Alberto.
Despite Liverpool's undoubted success so far, there is room for someone to step in and be an additive to the good form.
This time last season we were witnessing the emergence of a 17-year-old Raheem Sterling. It was the most exciting youth development at Anfield since Steven Gerrard initially rose into the starting eleven. Gerrard has never looked back. But why has Sterling?
It is more difficult than ever for a teenager to successfully transplant himself into a starting team at the top level. Some exceptional talents are starting to come through in English football at the moment. This season we have seen 19-year-old Ross Barkley become the teenager in vogue. He didn't start at the weekend and has been taken off in three of the last four games.
Last season Sterling started 17 of the first 20 Premier League games, but his participation waned as 2013 rolled on. I don't expect Barkley's involvement with the Everton starting eleven to drop off as dramatically, considering Everton don't have the additional flux of European games, but his minutes will begin to grow inconsistent as the season unfolds. This is his first full season at Everton, having spent some time on loan last season.
Players are becoming younger, development is moving faster and the facilities, time and effort being afforded to kids is becoming greater and greater. But teenagers cannot play week-in-week-out in the Premier League and play to a consistent level. Liverpool know this and, even though Wayne Rooney was involved heavily at such a young age, Everton do too.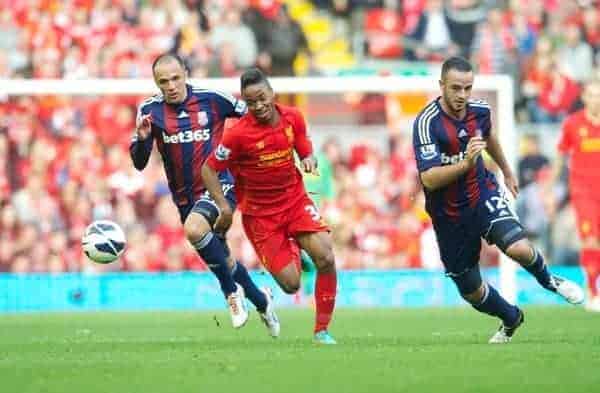 Young players have much more to deal with nowadays compared to in Gerrard's time. Of course, good youngsters have always been victims of hype, but such is the age of Youtube and internet incensed hype they now face an inescapable hysteria of expectation and media attention the moment anything notable happens.
See Adnan Januzaj at Manchester United. A fantastic player with a bright future for sure, but he's younger than Sterling. The whirlwind that followed his brace against Sunderland early last month was over the top but not at all surprising.
The Belgian has since signed a five-year contract. United feared losing him next summer to another big European side, not affording them the same patience and diligence Liverpool and Brendan Rodgers could take over Sterling's contract.
Sterling has had a fairly unusual start to life as a footballer. He's already been in the wrong end of the papers with stories of court cases and nightlife skirmishes. He's become infamous amongst the social media 'banter' community; he only has one kid, despite what those idiots like to believe.
How many 18-year-old players have had their wrist slaps from coaches displayed for all to see on a documentary? Just another unusual dart thrown his way.
Rodgers has recently noted the importance of Sterling preparing his mind in every walk of life, be it nights out with the lads or dealing with online idiots with too much time on his hands. Not least keeping his head high and his feet on the ground as his football career unfolds.
This season Sterling's involvement has been limited to two starts and seven late substitute appearances. The two starts were against weak opposition; Notts County and Crystal Palace. He scored in the former and won a questionable penalty against Palace. Despite this he has been involved in all of England's World Cup qualifying squads, albeit not playing in any of the games. There are benefits to including youngsters in international squads but really not when they're so out of favour at their clubs.
He was sloppy at times in the Notts County game, but it was his first start since January. He was dogged and determined when losing the ball. He did offer a burst that Liverpool often lacks, particularly coming from central positions. Liverpool were worriedly lax in that area of the field on Saturday against Arsenal.
Would Sterling have made much of a difference? Probably not, Liverpool's difficulties were further down the pitch. But it is interesting to note that – at 2-0 down for the first time this season – his pace and directness wasn't sampled by Rodgers. The manager only made two substitutions.
As mentioned earlier, Liverpool have been doing perfectly fine without Sterling. But he is an asset on the field and there are situations where Rodgers needs to put aside his qualms and play him. Shielding Sterling will help him learn, be patient and allow him time to reset from a youth starting every game to a regular youth.
But shielding him from situations where his ability can make a difference will regress both the player and the club. It'd be wrong to rely on a player of his age, and they don't have to right now. His hype has quietened but the expectation remains the same.
It's time Liverpool allowed him to fulfil that expectation.
Read more from Kevin at his website, Back Page Football.