With news that Jon Flanagan will be out for several weeks with a hamstring injury, Jack Lusby analyses at how much Liverpool will miss the young left-back.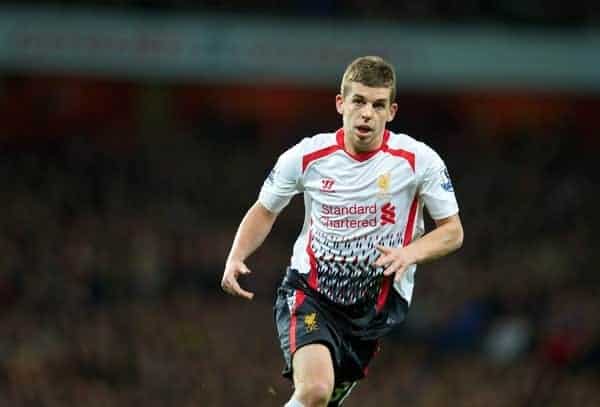 When Jon Flanagan was confirmed to be suffering a hamstring injury, with a lay-off of several weeks projected, the sound of a multitude of Scouse fingers desperately crossing highlighted the rise in stock for the young full-back.
Without wanting to magnify the humble talents of the player, it is pertinent to look at how one so recently undervalued has now become an established first-team component.
Filling the void left by the injured Jose Enrique and the monumentally inept Aly Cissokho, Flanagan has grown into the left-back role.
His passing accuracy since his introduction averages at 83%, in keeping with the rest of Liverpool's regular starters.
Furthermore his average of 6 defensive actions per game is comparable with that of Glen Johnson.
Both suggest that Flanagan is comfortable in his role in the side.
To signify his growing importance, the decision to remove the local-lad with a third of the game to go against Cardiff City concords with theories that Rodgers was taking his foot off the gas, with the game already won and a heavy schedule ahead.
Overall the team performance was affected, with the defensive balance offset by the introduction of a shaky Martin Kelly.
So, why is Jon Flanagan now so important to Brendan Rodgers and Liverpool?
Inspiration
Firstly, Flanagan can be seen as an inspiration within the club for several factors.
With a wealth of quality in the full-back areas within Liverpool's well-established youth academy, players such as Kelly and Brad Smith can look to Flanagan as a symbol of hope when evaluating their place in the squad.
Smith, a natural left-back currently impressing for Liverpool's under-21 side, has recently been called up to train at Melwood with the first team.
Flanagan would be an inspiration for the aspiring defender. With Liverpool's current left-back making the same step in recent years, Smith will have an eye on a first-team berth in the months to come – perhaps in January's FA Cup Third Round tie with Oldham.
Furthermore, Flanagan represents a symbol of redemption.
With Rodgers a firm advocate of linking training performance and team selection, Flanagan is akin to Martin Skrtel, Joe Allen, and Jordan Henderson in forcing his way into the manager's plans.
Flanagan's emergence demonstrates the fruits of hard work: an inspiration for both the young hopefuls and the abject castaways.
Camaraderie
As well as an inspiration, Flanagan serves as a symbol of the immense camaraderie at the heart of Liverpool's fine 2013/14 season so far – most clearly in the 5-0 win at home to Spurs.
When the 20-year-old connected to send a sweet effort in off the crossbar and past the flailing Hugo Lloris, the look of sheer joy that erupted on his and his team-mates faces was a clear representation of an astounding team spirit.
This team spirit, and Flanagan's part in it, was testified by the post-match thoughts of Liverpool's stand-in captain, Luis Suarez.
"The most important thing was the performance of the team…when Flanno scored, it was a happy moment for us."
Suarez echoed the feelings of all involved with the club. Flanagan's goal, his change in fortune, and what he means to Liverpool, is important in displaying the camaraderie instilled by the thorough Rodgers.
Roots
Running deeper than in today's current squad, Flanagan's rise implies the importance of home-grown talent as mainstays in the Liverpool first team.
In Gary Neville's autobiography, Red, the former Manchester United full-back stresses the key to his breakthrough into United's first-team was an unfaltering determination and consistent hard work.
The same can be said of Flanagan.
Much like United's successful class of '92, many of Liverpool's most important players throughout its history have been players with their roots anchored in the Mersey.
Not to equate Flanagan to the talents of Gary Neville just yet, but the dogged determination of the player stems from an unbreakable loyalty to the club that can only come from such ties.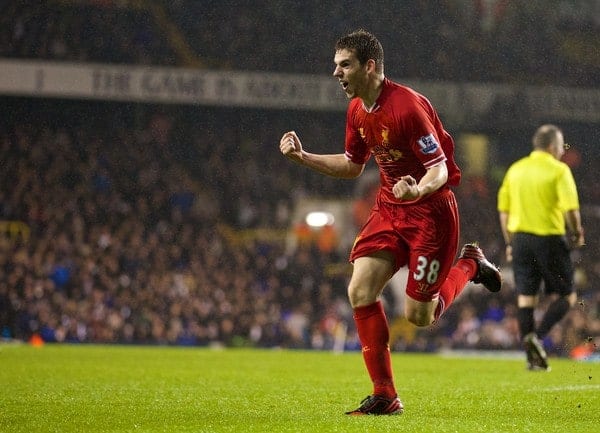 Comparison
The young Englishman is worth more than mere symbolic merit, however.


Credit: Squawka.com
Comparing Flanagan with similarly-aged full-backs competing in the Premier League, it is possible to analyse his defensive strengths and weaknesses.
Within this statistical comparison graphic, supplied by Squakwa, it is possible to compare Flanagan with Swansea's Ben Davies, Arsenal's Carl Jenkinson, and Southampton's Luke Shaw and Nathaniel Clyne.
His averages in take-ons and headed duals won, both 55%, dwarf the efforts of the others. His success in take-ons is particularly impressive compared to Davies who plays in a similar attack-minded outfit at Swansea.
However, his average of tackles won, at 42% the lowest of the group, and the high number of fouls committed compared to his low number of games played – 9 in 7 – suggests that Flanagan has work to do on his tackling.
This may be a side-effect of his being deployed at left-back despite being a natural right-footer.
Liverpool alumni Rob Jones told 5Times.co in a piece about Flanagan that "People presume it must be a fairly easy transition as a full back to play on the right and the left but it's not, it can be like doing things in reverse and as a right-footer you prefer to tackle with your right foot so the things you do naturally need a little bit of thought."
Jones' words expose the problems Flanagan is attempting to overcome playing in an unfamiliar position.
Overall, statistical analysis suggests that whilst Flanagan has his defensive frailties, he is holding his own when compared to full-backs of a similar age.
What does the future hold for Flanagan?
To take a pragmatic view on the subject, Flanagan isn't likely to remain Liverpool's first-choice left-back on the return of the more established Enrique – for the short-term, at least.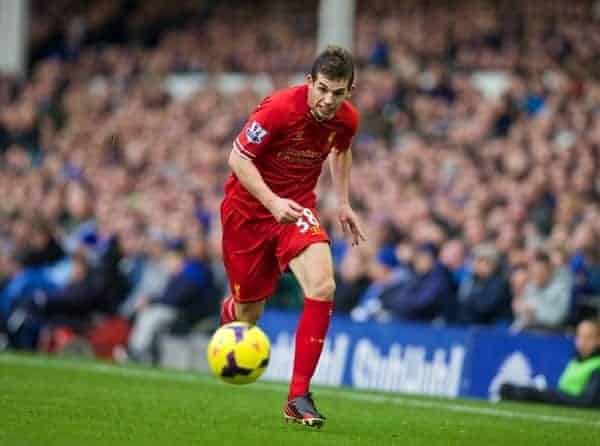 This may leave Flanagan again in the backseat, but having left a lasting impression on Brendan Rodgers.
The Northern Irishman remains integral to the future of his young full-back.
Therefore whether a carefully measured loan move is on the cards, or a prolonged place in his starting XI is indeed the case, Jon Flanagan has a bright future at the club.
With Flanagan and Enrique both now out injured, who is the ideal replacement?