Kopites everywhere were given an early Christmas present last Friday when Luis Suárez signed a new contract, which will keep him at Anfield until 2018. Neil Collins assesses the importance of securing the Uruguayan.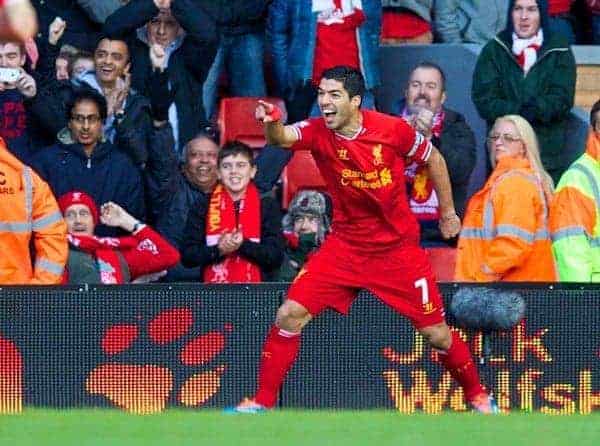 The New Contract
Unlike the prolonged transfer wrangling over the summer, the new contract was sorted incredibly quickly. It was announced that Ian Ayre was in Barcelona last week to discuss terms with Suárez's agent, Pere Guardiola; but few would've predicted the deal being done and dusted so soon.
The new deal is great business for all parties even if it isn't a guarantee that he won't leave. Yet, it does mean that prospective buyers will now have to fork out top-dollar for his services, and it provides greater clarity in terms of clauses. This means that derisory offers like Arsenal's bid in the summer will get kicked into the stingies. You'll need at least £80m plus a quid now, Arsène.
Liverpool will undoubtedly have written a huge release clause into the contract, whilst also including some get-out should we not get Champions League. The original contract was due to expire in two years, but with Suárez in the shop window at the World Cup next summer; we've got plenty of protection should the worst happen.
He'll now become Liverpool's highest paid player ever; receiving a nice pay rise of around £70k per week until the end of the season, which will rise to £200k if he stays after.
Undoubtedly, the fact we're top made the bargaining a lot easier. After all when Suárez wanted out, Liverpool finished in seventh place with 61 points; 12 off fourth-place and 28 off the champions. Now we're a point ahead of Arsenal going into crunch games at Man City and Chelsea.
From Judas to Midas
Like many Liverpool fans I was furious with Suárez over the summer especially after we had supported him so strongly throughout two lengthy bans and numerous controversial incidents.
But then he repaid us by publicly courting a move to Arsenal; claiming that Liverpool had reneged on release clause. Rodgers said he had disrespected the club who deserved loyalty, and banished him to Melwood to train alone.
One the pre-season tour, Suárez seem alienated from his teammates and barely acknowledged the crowd at an open training session at Anfield. But Rodgers and FSG dug their heels in and wouldn't sanction a cut-price deal. This ultimately led to John W. Henry asking what Arsenal were "smoking" with their laughable bid.
There seemed no way back, but then there was a massive u-turn. Suárez was suddenly staying for his love of Liverpool and the fans. Torres said similar things before it all turned sour. Yet, he simply downed tools and sulked for his last 18 months on Merseyside. Conversely, Suárez has managed to surpass his previous best; with his goals and work-rate being phenomenal.
Only few months ago the media were delighting in burying him, but now they're running out of superlatives to describe his heroics. It's easy for us to forgive him too when he's so superb. If it had been Shelvey feasting on Ivanovi?'s forearm like something out of The Hills Have Eyes; Rodgers would've booted him out the same day.
Even neutral fans are now just sitting back in awe and enjoying watching him. Well, except for the Mancs. And Norwich fans.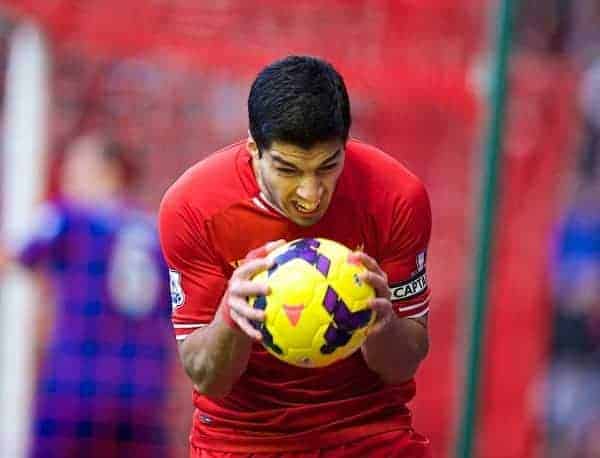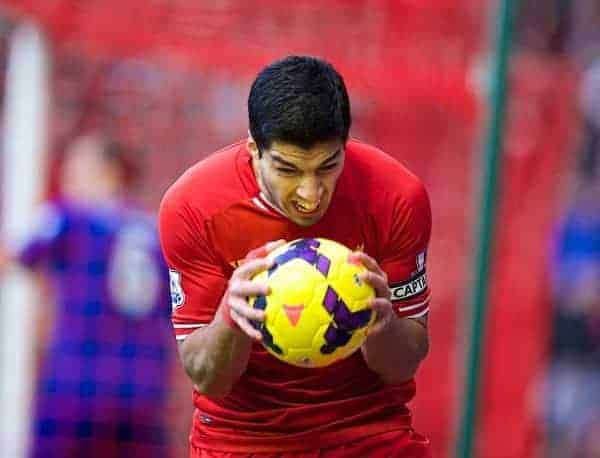 Once Bitten, Twice Shy
Who would've thought Suárez would now be captain when many had said he was a disgrace to the No.7 shirt? His character has blossomed since being given the armband too; especially with helping the youngsters.
Suárez orchestrated the pile-on for the celebrations after Flanagan's stunner at Tottenham and looked more delighted with the 20-year-old grabbing a goal than with either of his own.
Likewise, in consecutive games he's laid two goals on a plate for Sterling. Also, his understanding with Henderson has been superb and he singled out the midfielder for attention whilst celebrating both his goals on Saturday.
Furthermore, he's playing with a smile on his face and why wouldn't he be? His outstanding displays have forced people to shut up and referees don't seem to be ignoring fouls on him quite as much now.
In return, we haven't seen him sarcastically clapping refs this season. Previously, a decision would go against him and he would often thrash a simple effort into the stands moments later with his mind still pre-occupied. On Saturday he had a great chance to complete his hat-trick, but hit the post. In the past he would've screamed with frustration, but this time he immediately hared after the ball instead.
Although he's been injured very little for Liverpool, he's been suspended for 20 games in total. In contrast, he's only picked up one caution this season. The Suárez of old would've punted that Spurs mascot into the crowd for thumbing her nose at him too. Instead, he humiliated her favourite team.
Plus, he's now demonstrating improved professionalism. Previously, he hid behind his poor English skills whilst Dalglish and Rodgers fielded awkward questions. Yet, in recent weeks he's conducted interviews and his speech at the FSF Player of the Year awards was full of modesty.
Whoever it was who laid down the law to him over the summer deserves huge credit. Off the pitch, I've read that he's a quiet, family man (and if Being: Liverpool is to be believed; all he seems to do is play Monopoly with Lucas). I felt cynical about him bringing his kids out against Palace at the time, but perhaps the support of his wife and family has helped him focus on just the good points in his game.
Perhaps he's also realised that he's truly loved at Liverpool and that he wouldn't find that level of unprecedented support at many other clubs around the world.
Just Can't Get Enough
Suárez is not only the best player in the league by a country mile, but he's now arguably in the top three in the world.
The 26-year-old is banging them in from all over the place – 40-yarders, long-range-bullet headers, lobs, one-one-ones, thunderbolts, free-kicks, curlers and tap-ins.
His brace that fired Liverpool to the top of the table against Cardiff brought his tally to 19 goals in 12 league games. That's more than 11 teams in the Premier League, and averages at a goal every 57 minutes. Plus, he's chipped in with nine assists too.
'El Pistolero' is even gunning down the two best players in the world, and in fewer games. Ronaldo has 18 goals in 16 league games, whilst Messi has eight goals in 11 appearances. No wonder we just can't get enough of him!