With exactly half of the 2013/2014 season complete, now is as good a time as any to assess Liverpool's performance so far this campaign and answer some important questions. Oliver Smith provides his mid-season review.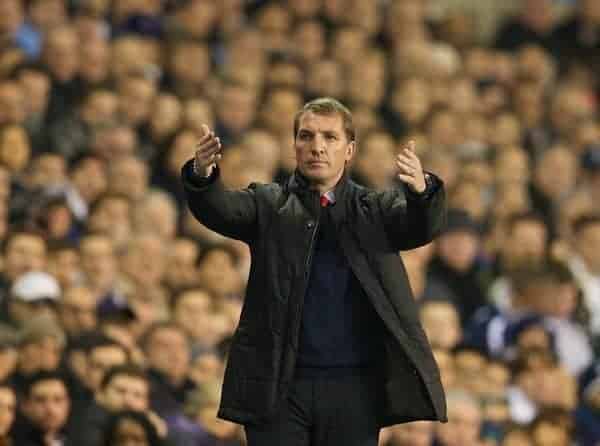 How would you rate the season so far?
If you'd told me this time last season, when Liverpool sat in tenth place 21 points behind League leaders Manchester United, that the Reds would top the table on Christmas Day in 2013 and end the year a mere six points off first place, I would have laughed heartily and dismissed you as a deluded optimist.
That shows how much progress the Reds have made in the space of a single year.
Having laid the groundwork for his football philosophy, Rodgers' style of play is paying substantial dividends in the form of goals galore and points on the board. Teams now travel to Anfield afraid, while Kopites turn up expecting to enjoy watching Liverpool dominate opponents and win matches relatively comfortably. While Anfield is becoming a fortress once again, Liverpool remain impressive on their travels as well, with 19 goals on the road making them the third most prolific away side in the League.
Admittedly, the Merseysiders' defence has been vulnerable at times this season and has frequently frustratingly conceded needless goals, which has meant Mignolet has only kept five clean sheets in the League, but apart from that it is difficult to fault Liverpool's displays so far this season, especially when you compare them with those of previous campaigns.
9/10
Who is your player of the season so far?
The transformation of Luis Suarez is almost as unbelievably remarkable as the transformation of Liverpool.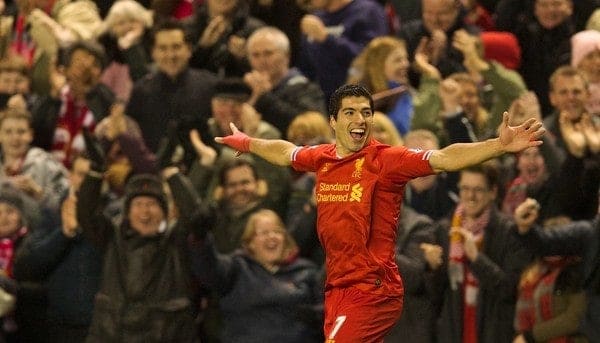 In four months the Uruguayan has gone from hated traitor to adored hero. No longer arguing over the clauses in his contract in an attempt to manoeuvre a move away from Anfield, Suarez has now put pen to paper on a new long-term contract and is scoring at a rate that justifies his status as the highest paid player in Liverpool's history. With 19 goals in just 14 League appearances, surely there is no better footballer in the world right now than Liverpool's number seven.
Apart from Luis Suarez, Jordan Henderson has performed tremendously well so far and has cemented a regular place in the starting line up with solid, reliable and increasingly creative performances from midfield. His blossoming understanding with Luis Suarez is also extremely encouraging and will hopefully develop further in 2014.
Which player has disappointed you most this season?
Glen Johnson has been inconsistent so far. The England right back has always been liable to criticism for defensive laxity, however this season he has regularly looked more vulnerable and, for all his purported attacking ability, he has managed to provide only one assist.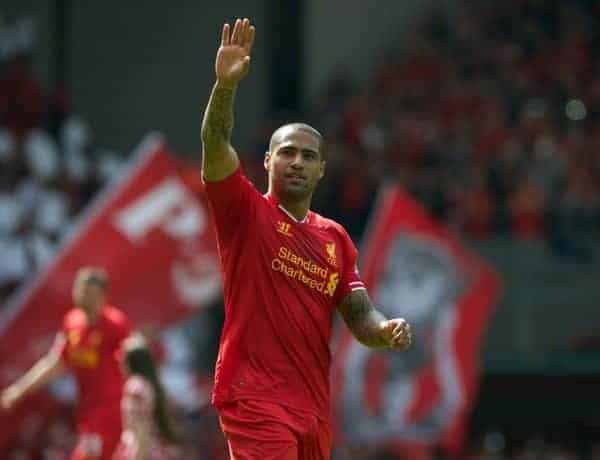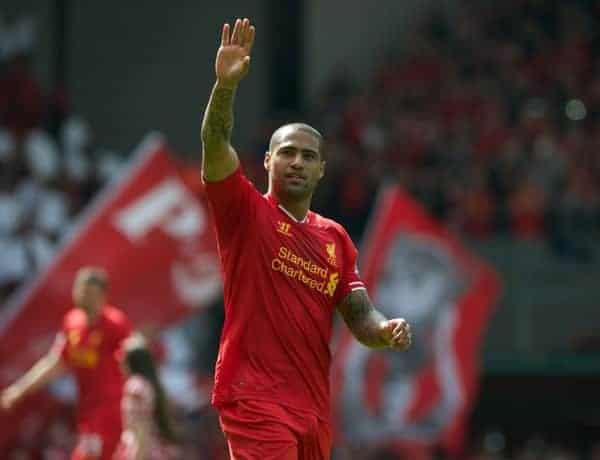 Picking up an ankle injury against Manchester United early on in the campaign certainly impacted on his form, while a lack of competition for his right back position has perhaps made the 30-year old complacent.
Considering his age and high wage, Johnson's form must pick up in the second half of the season to earn an extension to his contract, which expires in 2015. Rodgers may also want to sign another right back in January to demonstrate to Johnson that he isn't guaranteed a place in the team.
What has been the best performance so far this season?
Liverpool's best performance was undoubtedly their annihilation of Tottenham Hotspur at White Hart Lane. Beating Spurs 5-0 was the perfect way to end a streak of six defeats at the Reds' bogey ground and was so good that Andre Villas-Boas was sacked the morning after the humiliating defeat.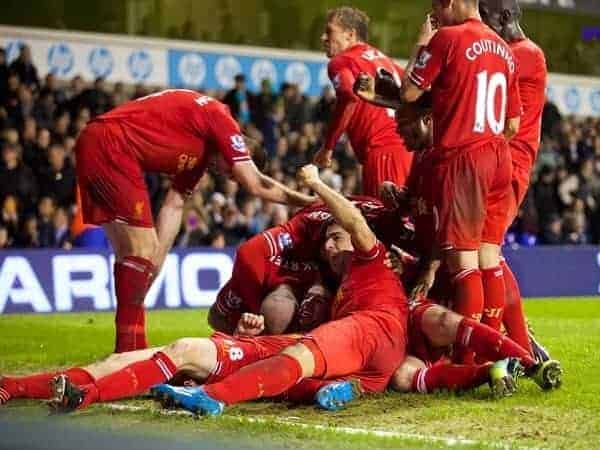 Dominant from start to finish, two strikes from Suarez, one for Henderson and encouraging goals for youngsters Flanagan and Sterling secured a memorable victory for the Merseysiders and sent a clear message out to the rest of the Premier League; Liverpool mean business.
What has been the worst performance so far this season?
The 3-1 defeat away to Steve Bruce's Hull City was embarrassing. Lacklustre and lifeless, Liverpool never really got going and were deservedly beaten by the Tigers. Apart from Steven Gerrard's goal from a first half free kick, the only positive to take from the match was the passion Kolo Toure showed when the Ivorian beat the ground repeatedly in frustration after David Meyler gave the home side the lead with 20 minutes remaining.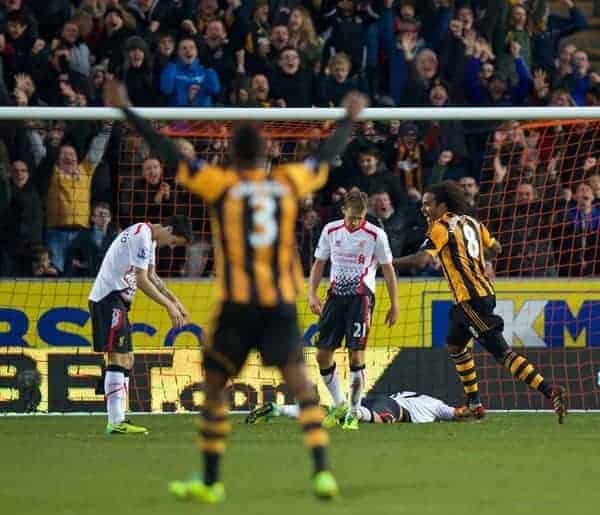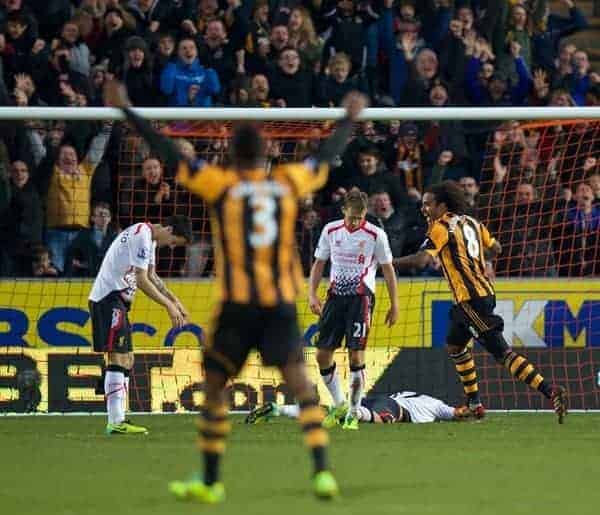 Let's hope Liverpool get some payback against the Tigers at Anfield on New Years' Day.
What position will Liverpool finish the season in?
On Christmas Day, when Liverpool sat top of the table, a title challenge seemed a realistic prospect. On New Year's Eve, following two remarkably similar defeats to Manchester City and Chelsea, most Kopites have re-evaluated their expectations and would be content with a top four finish.
Although I've always thought it unlikely that the Reds would jump from seventh to first in one season, I wouldn't rule out a title tilt just yet. With so many teams congested at the top of the table- nine points separate eighth placed Newcastle from table toppers Arsenal– anything could happen and, if reinforcements are brought in in the transfer window, the injury list shortens and Liverpool enjoy their customary upturn in form during the second half of the season, winning the title isn't beyond the bounds of possibility, as it usually is by this stage.
Ultimately, a first placed finish is probably a season away for the Reds. However, I do expect them to qualify for the Champions League, and perhaps even manage a third placed finish.
Oliver Smith