Adam Griffies (@whatahitsonlfc) responds to Sunday's victory over Tottenham with glee as Liverpool go from strength to strength.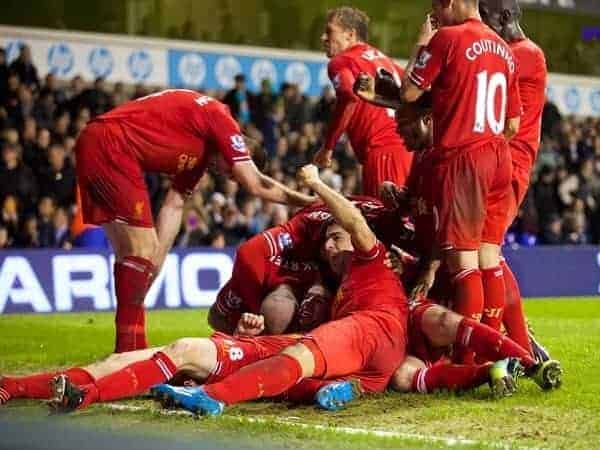 Sunday was real. Everything that happened, did happen. And so, Liverpool are a win over Cardiff (and Arsenal not beating Chelsea) away from sitting at the top of the Premier League tree on Christmas Day for the first time since 2008. Monday morning has never felt so good.
Now seems like a good time to offer my own post-match viewpoint.
Normally I feel the need to pinpoint one observation from a game, often tactical, and magnify it, making relative points. But yesterday's match spawned so many talking points, and it would be impossible to link them all in a flowing report. So I'm not going to.
And quite frankly, riding on the crest of 5-0-away-at-Spurs shaped wave, nobody cares.
Team Selection
I was relieved not to see a return to a back three, after it being strongly rumoured on Friday night, due to Spurs' threat down the wings.
It seemed too obvious; Rodgers couldn't be so naïve could he? No, I shouldn't have doubted him. The subtle selection of a 4-3-3 system was the first of many touches of brilliance, from our manager and players, on the day.
Deploying three central midfielders – Lucas, Allen and Henderson – helped us, not just cope with, but overrun, Tottenham's midfield: arguably the most physically imposing midfield in the Premier League.
Joe Allen and Jordan Henderson pressed tirelessly and intelligently, shielding Lucas, who controlled proceedings from a deeper position relatively competently.
Henderson, almost comical in his energy and determination, was brilliant throughout. A clever flick to assist Luis Suarez's opening goal, and a well taken volley soon after, was the catalyst for the 23-year-old to turn in his best performance in a red shirt since arriving at the club in 2011.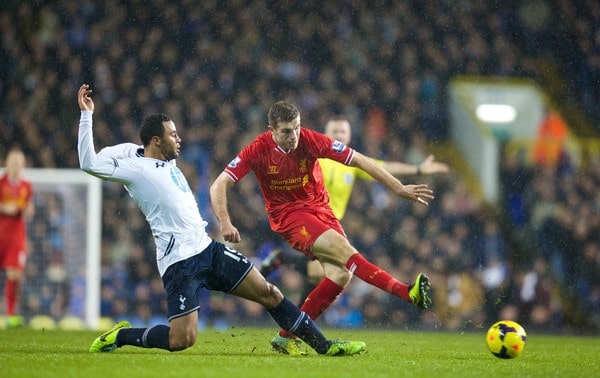 His 78 touches of the ball, the most of any player on the pitch, highlighted his constant involvement. Should he continue to develop at the rate he currently is, the £16m acquirement of Henderson 30 months ago by Kenny Dalglish, could prove to be a shrewd piece of business.
Joe Allen
Henderson's partner in crime – Allen – grabbed less acclaim, but was possibly just as good. Whilst doing a similar job off the ball, pushing Spurs back with incessant pressing, Allen had less licence than his consort to join attacks.
Though he did roam forwards at times, he was noticeably selective of his runs and the more disciplined of the two.
Allen's importance to us was portrayed by the fact he made eight tackles, twice the amount of anyother player on the pitch. Forget the Welsh Xavi; the Welsh Mascherano seems more fitting.
Absence of Steven Gerrard
All the talk pre-match had been about the absence of our captain Steven Gerrard. 'How would Liverpool cope?' gulped some fans and the majority of the cliché-stricken media.
The answer was, as I predicted in my match preview, incredibly well. Our midfield trio were more cohesive and fluid, and seemed to thrive under the heightened responsibility placed on their shoulders without their skipper being present.
Don't get me wrong, I'm not necessarily lobbying for Gerrard to be dropped; I'm just not convinced we are getting the best out of him, and more importantly, the team, in his current role.
And I'm far from on a limb with my opinion; the likes of @DaveHendrickTLW, @Kopology and @liverpooldeep have been relentlessly pounding the subject since the beginning of time. They are all worth a follow on Twitter by the way.
Luis Suarez
Next I'll talk about Luis Suarez, because it's incredibly hard not to. Strip your lack of surprise and the rest of the events from yesterday back, and you have two devilishly cunning, sublime finishes from the most lethal striker in world football at the moment.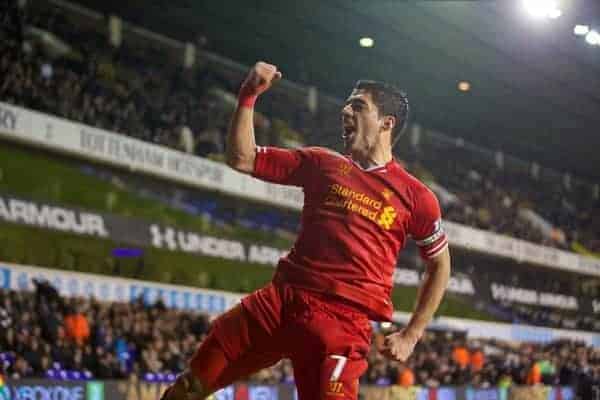 His goals per game ratio this season is 1.55, comfortably the best on the continent, and better than Lionel Messi and Cristiano Ronaldo's during each of their most prolific ever campaigns (1.22 and 1.09).
Just in case your jaw isn't quite touching the floor yet, carry on reading. Suarez has 17 goals in 11 appearances in 2013/14, more than 10 Premier League teams have managed, despite him missing our first five games of the season. Ridiculous.
Taking Control
Another positive yesterday was our composure and increased control of proceedings when Spurs went down to 10 men.
Paulinho's red card, at 2-0, didn't automatically signal the end of the game; so often you see teams creep back into matches after getting a man sent off, largely because of their opposition's complacency.
We kept the ball expertly, dragging the home side about the pitch, creating gaps to pick with simple through balls. Rodgers executed this plan brilliantly, replacing Lucas with Luis Alberto in the 79th minute.
At this stage, the game was tailor-made for the young Spanish creator, and fittingly he chipped a clever ball through to Suarez for our fourth goal: Alberto's first Premier League assist.
There was also a substitute appearance for Victor Moses late on, which I liked. Although having failed to shine in a Liverpool shirt so far, the Nigerian clearly possesses talent, and I have a feeling Rodgers introduced him in an attempt to get him a goal and perhaps get a few fans on side.
Jon Flanagan / aka Roberto Carlos
Finally a mention for Roberto Carlos. I thought he performed admirably yesterday, as he has done since he's returned to the side.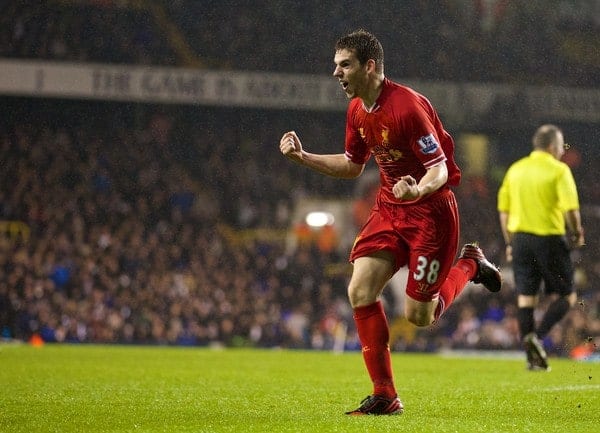 Okay, he was passed once or twice by Aaron Lennon, but you can almost expect and accept that from a full-back with such attacking flair. After all, what a finish. Well played Roberto.
Not a bad day at the office was it?