Liverpool fans have taken to Twitter to discuss the 2-1 defeat at Manchester City on Thursday evening, which leaves the Reds fourth in the Premier League.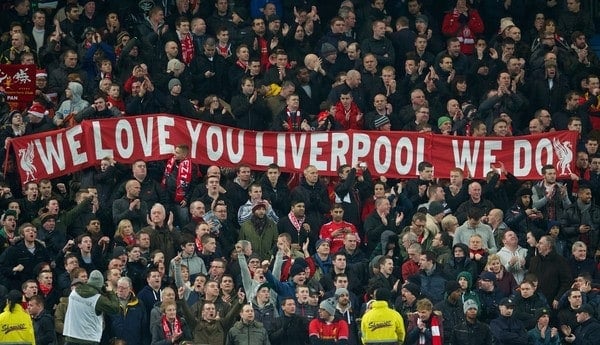 A first half strike from Philippe Coutinho was quickly turned around by City, scoring twice to take the lead before the break.
The thrilling encounter was not without controversy either—Raheem Sterling was wrongly adjudged offside in the first half, Luis Suarez should have had a penalty in the second, and Martin Skrtel was embroiled in a game-long battle with City defender, Vincent Kompany.
Liverpool will surely feel disappointed to have walked away from the game with nothing, and now turn their attentions to Sunday's trip to Chelsea to complete their fixtures in 2013.
Here's just a selection of tweets from some of This Is Anfield writers and other Liverpool fans in reaction to the Boxing Day defeat at the Etihad.
Let us know your post-match thoughts in the comments below, or on Twitter @thisisanfield.


https://twitter.com/M_Sweeting/status/416273690519949312

We didn't get Suarez into the game enough. It was a game were we probably missed Sturridge. Take attention away from Suarez if nothing else

— Craig Rimmer (@Craig_Rimmer) December 26, 2013
2 ways to look into City-LFC 1) City can't defend as a team and LFC depend fully on Suarez 2) LFC got Suárez and City got a powerful attack

— Guillem Balague (@GuillemBalague) December 26, 2013
Lee Mason might as well put a City shirt on.

— Karl (@KarlThyer) December 26, 2013
2-2 would be a fair result on game so far. Reds unlucky to be losing.

— Paul Tomkins (@paul_tomkins) December 26, 2013
#lfc holding their heads up high tonight. Some poor defensive and midfield errors, coupled with poor officiating. We are on the right track.

— LFCZA ?? ???? (@LFCZA) December 26, 2013
Very proud of that Liverpool performance. Didn't deserve to lose and loads of positives to take from the game. Chin up reds #YNWA

— Spion Kop (@TheKopHQ) December 26, 2013
Feels gutting as we should have won it, ref crowd pleasing was a disgrace. But in big picture 3 points off top & City at #LFC in 2014.

— Si Steers (@sisteers) December 26, 2013

https://twitter.com/MostarLFC/status/416287603885740032

That's a real sickener. Should have got something out of that. Proud of the lads and the manager. It says alot about how far we have come.

— Green Scouser (@Green_Scouser) December 26, 2013
Given how City have battered some good sides this season I was pleased with how well we handled them on the whole. We deserved a point. #LFC

— The Redmen TV (@TheRedmenTV) December 26, 2013

https://twitter.com/TheKopMagazine/status/416288722037252097
https://twitter.com/pauldalglish/status/416289688249311232

Full time: #MCFC 2 #LFC 1. Excellent game. Good quality from both teams. Kompany calls it "the hardest game we've had at home so far"

— Oliver Kay (@OliverKay) December 26, 2013
This is ridiculous pic.twitter.com/B6lC8oD2q4

— LFCTS (@LFCTS) December 26, 2013
Give Rodgers the right tools and he'll succeed but the squad needs more quality.

— Al (@Al_is_grumpy) December 26, 2013