Liverpool lead the Premier League table on Christmas Day, but go into 2014 sitting in fifth place after defeats at Manchester City and Chelsea.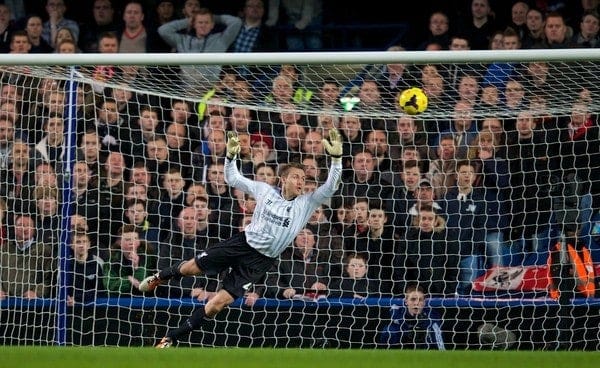 Martin Skrtel gave the visitors a third minute lead, but goals from Eden Hazard and Samuel Eto'o turned things around for the Blues before half-time.
Despite two consecutive defeats, manager Brendan Rodgers remained upbeat about his side's title chances, telling BBC Sport, "There's no reason why we can't be challenging. The most important thing for us is that we're in the conversation."
Reds fans have taken to Twitter to discuss the side's performance at Stamford Bridge yesterday, and some questionable decisions by referee Howard Webb.
We've rounded up a few of the reactions from fans below. Let us know your thoughts on the result, and where it leaves Liverpool half-way through the campaign in the comments below, or on Twitter @thisisanfield.

We didn't play well today, but should have had a penalty & a chance to get something out the game. We weren't shocking – looked tired. #LFC.

— Si Steers (@sisteers) December 29, 2013
The fatigue showed today. Threadbare squad. Most important January transfer window in years. No pressure.

— D E E P D A S T A R D L Y (@srijandeep) December 29, 2013
Squad depth told in the end. Ran out of steam. Looked tired. 1 shot in the last half hour when chasing a game? pic.twitter.com/IvoPBilvRM

— Ste Mc (@SteMc74) December 29, 2013

https://twitter.com/Robish13/status/417357480109170688
https://twitter.com/M_Sweeting/status/417357565887283200

Time to sell Glen Johnson I think. . Awful so far this season

— LFC 360 (@LFC_360) December 29, 2013
Allen & Sakho have been crucial to our improved performances. Pray that their injuries aren't long term

— Jay (@Jay82_LFC) December 29, 2013
I'm more concerned about our injuries than our defeats. #LFC

— Karl (@KarlThyer) December 29, 2013
I'd rather be where we are today than where we were last year.

— MärKLOPPolëtti (@markpoletti) December 29, 2013
Congratulations to Howard Webb on his transfer to Chelsea, so he can play with his best mate, Samuel Eto'o. #LFC #CFC pic.twitter.com/spEehnMbNG

— LFC Photo (@LFCphoto) December 29, 2013
#LFC finish the calendar year with 69 points and 84 goals from 37 league games played. Progressing.

— Andrew Beasley (@BassTunedToRed) December 29, 2013
Really don't think people should be hitting panic stations here.

Small squad – most looked tired too. Injuries taking its toll.

— AnfieldIndex (@AnfieldIndex) December 29, 2013

https://twitter.com/TheKopMagazine/status/417355560028491776