He broke his duck against Oldham, but Jim Fishlock can't help but think Iago Aspas will continue the curse of the number 9 shirt at Liverpool.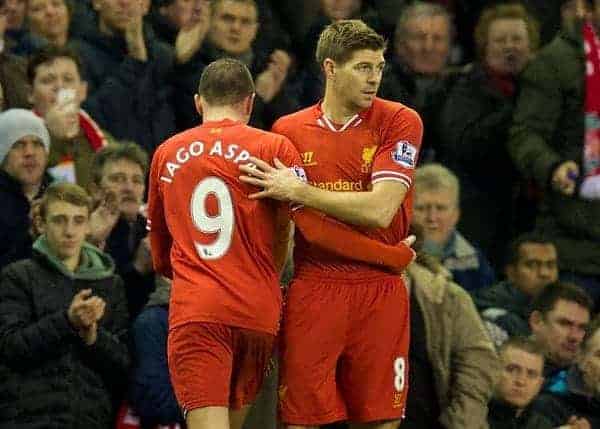 The list of Liverpool's greatest number 9s reads like a who's who of some of Liverpool's greatest players, not just forwards but wide men also.
You will see names such as Steve Heighway, a left winger who would scare defenders to death with his pace and direct runs down the flanks. There's also Ray Houghton, a wide midfield player rather than a traditional winger, Ray wore the number 9 shirt with distinction during a period where John Aldridge and Peter Beardsley made Liverpool's number 8 and 7 the most feared combination in British Football.
The number 9 though is synonymous with strikers and at Liverpool it has seen some truly wonderful and world class players wear that special shirt.
All clubs have an affinity with certain numbers, for most clubs it's an attacking shirt number just like it is with us at Liverpool. In today's world where squad numbers are used we always look towards the numbers 7 and 9. That is purely down to the previous players who have worn those shirts and the success they have achieved whilst wearing them.
Take the number 7 shirt, in the future there may be a debate over whether Kenny Dalglish or Luis Suarez was the best number 7 in the club's history. They are both incredible players and it would take a braver man that me to say which one should come out on top in that particular poll.
This is about the number 9 shirt though and as I am of a certain age then I am lucky enough to have witnessed three incredible men wear the Liverpool number 9 jersey. Those men are Ian Rush, Robbie Fowler and Fernando Torres. In the British game there have not been many better strikers than Rush or Fowler, and for the time he was with us there were not many better than Torres.

I only caught Rush's second spell at Anfield but I saw enough of him for Liverpool and Wales to realise what an incredible finisher he was, his movement was exceptional and he was one of Liverpool's best defenders. Constantly closing down and hassling back 4's when they had possession. It would be fair to say his second spell at the club was not as successful or profitable in terms of goals as the first but his record of 346 goals from 660 appearances will take some beating and he will always be a club legend.
Robbie Fowler was one of us, he had stood on the Kop as a young man and dreamt of playing and scoring at Anfield. A dream that became reality and scored a wonderful array of goals throughout his two spells as Liverpool's number 9. One of the games most natural finishers, 'God' scored 182 goals for the Reds and was a key part of the memorable cup treble in 2001.
Then came Fernando. Something of a gamble when Rafa Benitez brought him to us at the start of the 2007/08 season he repaid the then record fee many times over during his spell at Anfield. Great in the air, electric pace, strong off both feet and incredibly difficult to knock off the ball, Torres looked as though he was built for the Premier League and for Liverpool Football Club. He combined with Steven Gerrard to form one of the most feared partnerships in World football. In his four and a half years at Anfield, Torres found the back of the net an impressive 81 times.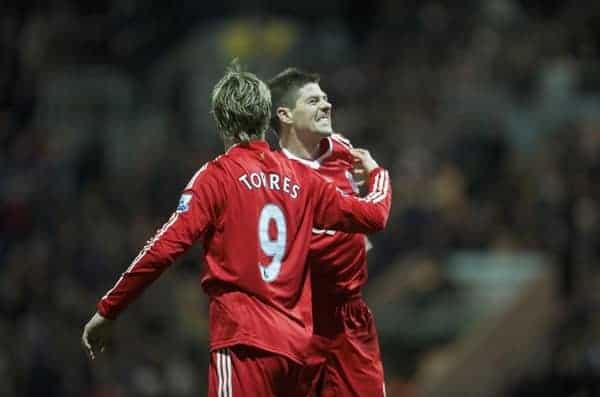 So, you're probably reading this and thinking, if that's what a curse does to you then I'd like some of that. I'd probably agree with you for a short period of time and then I would mention to you the summer of 2002.
In the January of that year, Gerard Houliier made the controversial decision to sell 'God' to Leeds United and replace him with Nicolas Anelka on loan. Another great number 9 I hear you say – and he was very good for us for the six months until Houllier got it all wrong and turned down a permanent move.
What happened that summer is a mystery to me but Houllier decided it was time to curse the sacred number 9 shirt. Declining Anelka, instead arrived everyone's favourite pantomime villain, El Hadji Diouf, for £10m. What a nightmare of a two season spell we endured with him, initially played as a striker it wasn't long before he was shifted to the right flank. After numerous disciplinary issues he was then shifted out of the door, initially on loan but never to return to Anfield and thankfully never to wear the Red Number 9 shirt again.
What followed was a spell of nearly men wearing that special shirt. Djibril Cisse was brought in and he came for a big fee -£14m, then a club record. However, a broken leg, a change in manager and a change in position meant that it never quite happened for the French striker at Anfield. He didn't disgrace himself but he didn't do the shirt justice either. He did score a penalty in a Champions League final shoot-out though.
Fowler then returned to wear his favourite shirt and again, it didn't quite happen for him the second time around, but from a sentimental point of view it was great to see him wearing it and scoring in it a few more times.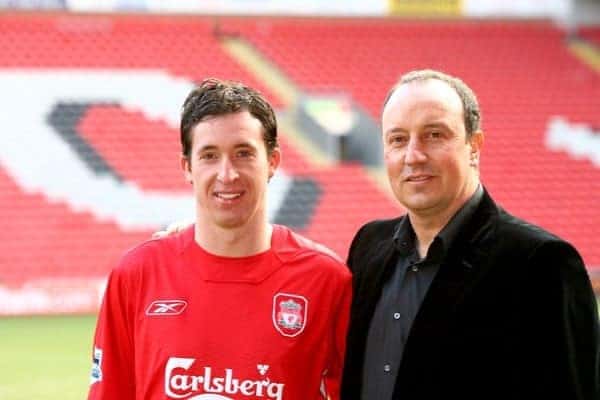 Then came the Torres years and all was great and wonderful with the world and the Number 9 shirt once more, there was no curse, there was no issue at all, everything was wonderful until January 2011.
The King had just returned, he had ridden in to save our season, to help us climb the table and improve on the mediocrity of Roy's reign. All the signs were there, it was our time to shine again, we had Torres on the pitch and Kenny on the bench, what could go wrong?
Well the first thing that went wrong was that Torres was sold to Chelsea for the incredible fee of £50m. With that amount of money in the kitty Liverpool would just go out and get a top class replacement, someone who can thrive in the red shirt, someone that can score goals in the famous number 9. And you would be right to say that, you just wouldn't have said, go and get Andy Carroll – well, not for £35m anyway – but Dalglish and Damien Comolli did.
And with that the curse has struck again, albeit aided by the extortionate transfer fee! Poor Andy was never up to the task, he was rarely fit and when he was the team could not work out how to play to his strengths. He had his moments, just like any player does. His goals against Manchester City at Anfield will be a highlight of his short Liverpool career as will his winning goal in the FA Cup semi-final victory over Everton at Wembley.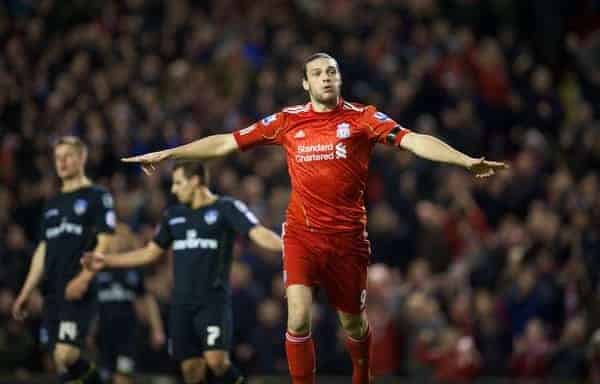 Then Brendan came in and Andy went out and Liverpool were left without a number 9, we were left with only one striker for a large portion of that season also. Relying on Luis Suarez and Raheem Sterling to get us through until January when Daniel Sturridge was brought in.
Now here was someone who could take on the number 9 shirt surely? A confident almost cocky young man with supreme belief in his ability would love the challenge of the famous shirt – surely?
No! Sturridge went for his old Chelsea number of 15. Now does he believe in this curse like I do? I'm not sure but when given the option again at the start of this season Sturridge once more went for the number 15 shirt. Not only that but he has branded DS15 so the chances of him ever taking on the famous old number are extremely slim. Which is a shame as his goalscoring form since arriving would certainly have put any talk of a curse to bed.
It wasn't to be and just to add fuel to my fire in walks Iago Aspas. The Spanish forward hadn't been on many Liverpool fans radars, in fact the first I heard of him was when Swansea City were linked with him earlier in the summer.
He was soon signing on the dotted line though and most of us fans all thought he could be a decent squad player, could do a job off the bench in tight games and hopefully be a good alternative to Sturridge and Suarez up top. I can't imagine many of us thought he'd be handed the number 9 shirt.
Handed it he was though and up to now he does not look like the sort of player that will do the Liverpool shirt justice, never mind the Liverpool number 9 shirt – despite breaking his scoring duck against Oldham on Sunday.
Of course, there are those of you who don't really pay much attention to squad numbers but as I said at the start there are certain number that you should not hand out 'willy nilly' and at Anfield the 7 and 9 are at the top of that list – those should be reserved for the star men, the prestige players sporting the prestige numbers.
Aspas may go on and prove me wrong but while he's in possession of the Liverpool number 9 shirt I am convinced that the curse will carry on.