Liverpool supporters' union Spirit of Shankly have written an open letter to both Arsenal and Liverpool senior management calling for fair treatment for matchgoers for the forthcoming FA Cup fifth round tie at the Emirates Stadium.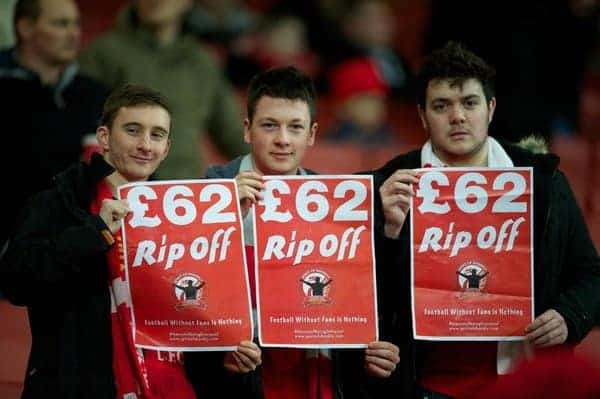 The two sides were drawn against each other in the competition after the Gunners saw off Coventry City and Liverpool beat Bournemouth in the fourth round over the weekend.
The tie will be played on the weekend of the 15/16 February 2014, just a week after Arsenal visit Liverpool in the league.
The letter, written by Chair Jay McKenna, points out to Ian Ayre and Phil Dutton of Liverpool, and Ivan Gazidis and Ivan Worsell of Arsenal:
The league game saw Liverpool fans charged £62 per ticket for a fixture played on a Saturday evening. The cost of the match along with the late kick off saw many fans priced out and for those who went there were many difficulties using public transport to get home. We have been informed by Arsenal supporters that if we receive a 9,000 ticket allocation at Category A prices, this would mean that ticket prices could range from £62 to £93 for Liverpool Supporters.
Spirit of Shankly are requesting an earlier kick-off time than the 5.30pm league game between the sides in North London back in November.
They also urge the clubs to consider the ticket prices for away fans, citing Coventry City's £25.50 price for their fourth round tie at Arsenal on Friday night.
And finally, they ask the clubs to ensure Arsenal grant away fans with a 15% allocation, as stated in the Football Association's rules on FA Cup matchdays.
However, the BBC report on Monday:
[sic] An Arsenal spokesperson told BBC Sport the FA Cup fifth round clash between the two sides would almost certainly be classed as a Category A or B match, with a lowest potential ticket price of £35.
Spirit of Shankly are currently calling for fans to complete a survey on ticket prices, to use as evidence in campaiging for fair ticket prices. You can complete this survey here.